Text: Estela Zatania
Photos: Ana Palma
22nd FESTIVAL DE JEREZ
Rafaela Carrasco "Nacida Sombra"
Tuesday, March 6th, 2018. Jerez de la Frontera
Tuesday, March 6th at the Festival de Jerez, began with an interesting encounter at the Centro Andaluz (CADF) where journalist Marta Carrasco, specialized in dance, interviewed the veteran maestro, Manolo Marín.  Among other things, Marín explained that in his youth, in the nineteen-fifties, shows had a varied character in which flamenco shared the stage with popular Spanish song, regional dances, "especially the 'jota'", and other culturally associated performances.
At seven o'clock, with a persistent rain that did not dampen audience enthusiasm, at the Sala Compañía Ezequiel Benítez presented his new recording, "Quimeras del Tiempo-Recuer2".  The young Jerez singer is especially adept at bulerías cuplé which he used to open the recital, followed by soleá, dedicated to the memory of María Bala, a much-admired singer from the Sordera family.  Fabulous guitar accompaniment was provided by two emerging figures, José de Pura and Paco León, in addition to the rhythm of Chicharito, Israel Tubio and José Peña.  Tangos, fandangos por bulería, malagueñas, guajira antigua, fandangos naturales and bulerías.  Noteworthy guest artists were dancer María del Mar Moreno and singer Jesús Méndez, both well-loved in Jerez, and by flamenco fans in general.
  Photo gallery "Ezequiel Benitez" Ana Palma
---
RAFAELA CARRASCO "NACIDA SOMBRA"
Teatro Villamarta, 9:00pm
It's clear that meticulous preparation and investigation went into this new work of Rafaela Carrasco who uses dance to highlight the writings and life experiences of Teresa de Jesús, María de Zayas, María Calderón and Juana Inés de la Cruz, that comprise the narrative thread for an openly feminist program in this month of March, designated Women's Month.
I have the custom of not reading the synopsis of a work until having seen it, in order to avoid conditioning my reaction to musical, vocal or dance performances.  But on this occasion, the complexity of the proposal demanded at least minimal preparation on the part of theater-goers so as not to get lost in the similar interpretations of dancers (Florencia O'Ryan,  Paula Comitre and Carmen Angulo), dressed in similar costumes, and with an off-stage voice that sounded muddy from row 16, seat number 25.  Personally, I prefer flamenco works not be subject to explicit concepts or scripts.  Who hasn't seen the failure of well-prepared shows whose creators had little faith in the power of flamenco without intellectual decoration?
Two of the best current voices in flamenco provided the sparks to hold interest: it's hard not to feel "flamenco" when the vocal cords of Miguel Ortega and Antonio Campos move the air.  The versatile guitars of Jesús Torres and Juan Antonio Suárez "Cano" also did exquisite work producing beautiful music that efficiently set the mood.
Rafaela's solo dances, in particular the alegrías and soleá, saved the day, and made us remember the power of flamenco that pulled us into its sphere so many years ago, with no return ticket.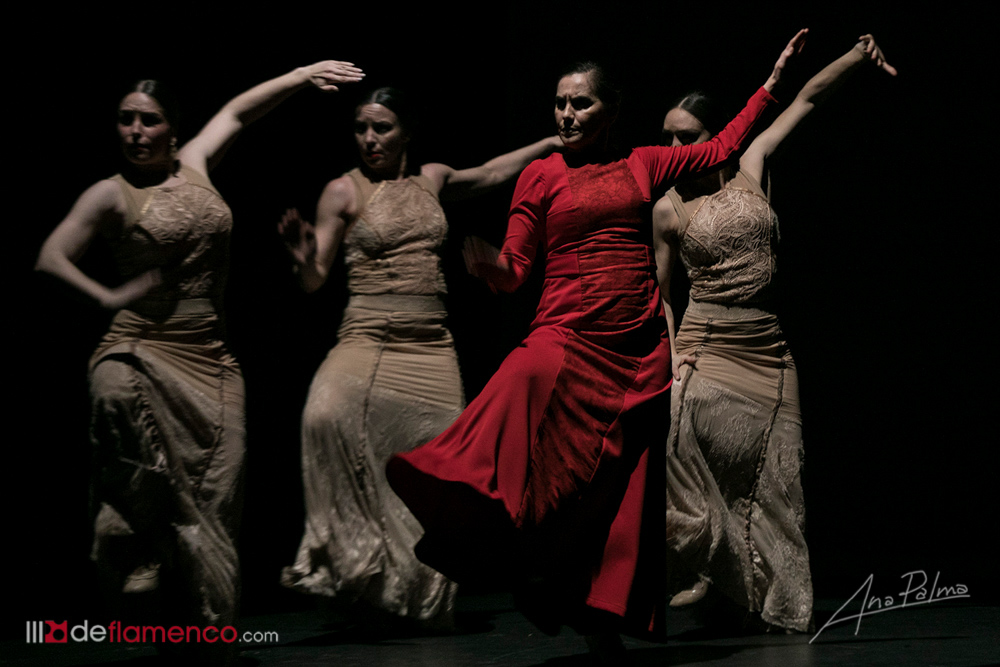 Video:
---