When you go to as many recitals and shows as I do, you learn to read audiences; like people, each one has a personality.  There's always applause, but it can be polite or euphoric, normal or rhythmic, short or long…  The audience might give a standing ovation…everyone, some people or no one, at the end of the performance or after certain numbers…
Last night at the venerable Jerez Villamarta theater, I don't have the exact box office tally, but no more than 30% of the seats were filled for a young singer who is one of the top stars of current flamenco.  Nevertheless, Francisco José Arcángel Ramos, "Arcángel", can't complain too much because the audience belonged to him.  Without being friends or relatives…because you can always tell…there was a tremendous show of respect, the most intelligent and sincere cheering at just the right moments, and rhythmic applause at least three times when it was clearly not the end of the show.
Arcángel came to Jerez within the series "Flamenco Viene del Sur" with the customary apprehension artists feel in this city where flamenco fans, with few exceptions, are only interested in local artists.  And so it was.  This was not your regular audience for this type of presentation.  The majority were well-to-do middle-aged couples…you don't see these people at Mateo's flamenco bar at eight in the morning after a night of fiesta.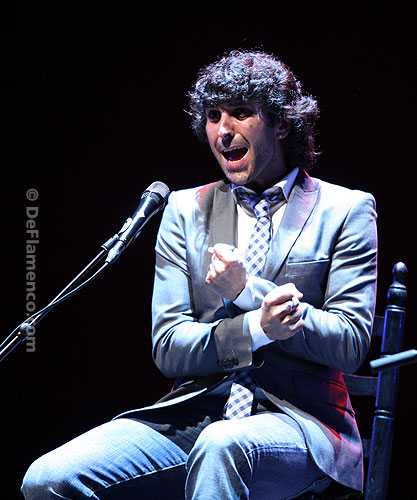 And I'm telling you all this because it's very revealing.  Because what is perceived, fairly or not, as the unsavory life-style of traditional flamenco, the late nights, the drinking and such, does not correspond to the product this young man from Huelva has for sale.  Arcángel offers a different perspective: exquisite melodies, tonal perfection, carefully crafted interpretation and a tremendous love for flamenco that allows him to have an admirably large repertoire.  On this occasion, he didn't follow the announced program and avoided singing Jerez specialties like siguiriya and malagueña, although he fearlessly interpreted several bulerías sets, including one of "bulería corta" which some people want to call "de Jerez" even though styles from many other places are included under this umbrella, and plenty of classic cuplé with repeated winks to Caracol.
It couldn't have been a more classic program by this singer who speaks in every interview of being the future and the evolution of cante.  Oddly enough, he has a thoroughly retro singing style.  If it were possible to substitute the guitar accompaniment for that of Manolo de Badajoz or Miguel Borrull, it would be a perfect audio portrait of flamenco from the thirties and forties of the last century.  But the guitar of Miguel Ángel Cortés keeps us firmly anchored in the present while plotting the future.  He sometimes upstages the singer, but is one of the best musicians in flamenco.
Crystalline precision and abundant melisma for an assortment of abandolao, fandangos naturales, soleá por bulería with soleá, classic tangos, mining cante…  The brilliant phrasing and touch of Cortés did a fine job with some old-style bulerías, swift and fascinating, like quicksilver made music.  The famous alegrías arrangement which, though not in the Cádiz line of Pericón or Manolo Vargas, is equally valid, a perfect hermetic jewel served with painful sweetness.  Arcángel defines minimalism in cante.  It's not the kind of flamenco they do sitting around the kitchen table in Santiago, it's not Borrico or Fernanda, but there is a mysterious beauty, and if you look at the current top stars of flamenco singing, this is the kind of cante people are buying these days.
Fandangos de Huelva could not be left out…nor could the Mellis, twin brothers who put the ultimate retro touch with their suave choruses, and even sang individually this time.  The discreet percussion of Agustín Diassera rounded out the small group.
For the final number, Arcángel was alone on stage with his foot-operated synthesizer.  On the spot he recorded sounds of his voice, hand-claps and finger-snaps to compose a hypnotic drone to compás which he then used to accompany his own voice for a version of La Salvaora, while simultaneously playing a cajón.  It could easily have degenerated into a circus act, but the beauty of the resulting music and the sincerity of the singer managed to keep the moment dignified.  Following this was a somewhat stiff forced fiesta finale that could easily have been omitted.
Shortly afterwards, at the peña Los Cernícalos, we were able to enjoy a conference by the maestro Manolo Sanlúcar who spoke at length of various problems and challenges related to flamenco guitar, underling the absurdity of experienced people such as himself being barred from teaching at official centers for lack of associated degrees.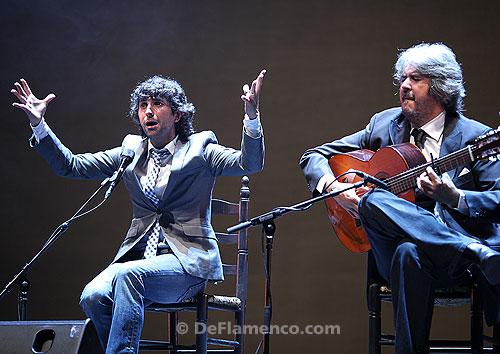 ---