50 Festival Internacional de
Cante de las Minas de La Unión.
Israel Galván "La edad de oro", José Mercé
Sunday, August 8th, 2010. 11:00pm. La Unión (Cartagena)
Special 50 Festival Internacional del Cante de las Minas.
Text: Estela Zatania
Photos: Rafael Manjavacas
Sunday August 7th, and with half the country at the beach, here we are "in the mines" of La Unión where the 50th anniversary celebration of the flamenco festival is in full swing.  The day's cultural calendar included the presentation of the book "Carmen Amaya en Argentina" by Francisco Hidalgo, and a special prize for cinematographic art was given to filmmaker Carlos Saura.
Important goings-on at the Cathedral of Cante where a double program started with Israel Galván and his most perfect creation, "La Edad de Oro".  With only three elements in all – dance, guitar and voice – it was unavoidable that the very much missed Fernando Terremoto was on everyone's mind as he had been the singer for this work ever since it premiered several years ago.
The guitarist continues to be the wonderful Alfredo Lagos, and his brother David Lagos put voice to the surreal episodes – because these are not dances in the conventional sense.  I'd already seen "La Edad de Oro" five or six times, which allows for a good perspective on how the work has developed.  The small cast of three men, highly capable and in perfect communication with one another, is a circumstance that lets this masterful piece grow, breath and evolve.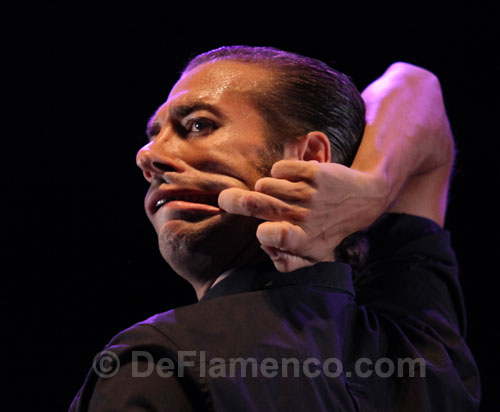 So much virtual ink has been used to talk about Israel, at this point it's hard to know what remains to be said.  Or maybe not.  Because his is a dynamic sort of genius in constant creative flux.  Like all great artists, he always surprises, even when doing the same thing as always, because the only constant feature of Galván is his ability to never do the same thing as always.  His approach to dance does not allow him to resort to muscle memory of steps rehearsed to distraction.  He employs a far more direct, visceral process.  Israel listens to the sounds that reverberate inside his heard, the music of silence and the vibrations of voice and guitar, he molds the air at will and transmits the resulting message through the vehicle of his body.
Israel Galván has no use for the standard format of long dances with a clear beginning and dramatic finish.  Like a travelling salesman, he lays out a catalogue of possibilities.  Nor does he limit himself to body movements: there are strange sounds from his mouth, the rapping of knuckles on shoe soles and the use of teeth to evoke the sound of castanets.  As we mature we learn to inhibit our more infantile impulses.  Israel by contrast does not sacrifice any options.  His artistic persona, half innocent half mischievous, within a permanently profound landscape, assigns maximum worth to purity of spirit.  At each moment we are faced with his implicit challenge: "Who says I can't do this anyhow?"   There are fragments and insinuations of standard forms and dances – siguiriya, farruca, tientos, bulerías, alegráis – that allow the spectator to hitch a ride for the dizzying trip the dancer provides; but don't blink lest you miss something, because there's no down-time between steps in Israel's dancing.
Alfredo Lagos on guitar is impressive as always.  Who unexpectedly got the audience in a lather was David.  He is currently the most qualified and solicited young singer from Jerez, although much underestimated in his own hometown.  Galván had the good sense to give him plenty of opportunity to stand out on his own, and the results were spectacular especially in malagueñas, fandangos, siguirya with cabal and some very Jerez-sounding bulerías.
In the second part of the program, Mercé and Moraíto, the most stable and beloved voice and guitar team of the current flamenco scene.  They came to La Unión backed up only by the guarantee of their own capacity, without so much as someone to do palmas.  The repertoire is always the same, and no problem with that whatsoever.  When these two open the flamenco tap, duende hastens obediently to the scene.  It wasn't the pop repertoire of choruses and songs Mercé also manages, but straight-ahead cante.  When he moves away from the mike to sing at the edge of the stage, his rich flamenco voice fills the large venue, and he completely wins over the audience with a bulería verse about miners.
Three encores were necessary to satiate the audience's hunger for Mercé: fandangos, "Al Alba" and "Aire".  And bathed in that happy flamenco glow we went out to find a table on the terrace of the "Avenida del Flamenco" in front of the theater where we're being treated to so many powerful emotions.  The beach can wait…..
More information:
Special 50 Festival Internacional del Cante de las Minas.
---