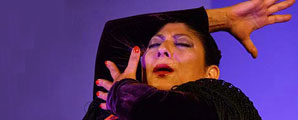 XLIV Reunión de Cante Jondo
Saturday, 14th july, 2012. 2300h
La Puebla de Cazalla, Hacienda La Fuenlonguilla
Text and photos: Estela Zatania
FOUR DYNASTIES AND ONE "LOCAL" HERO
Cante: José Menese, Esperanza Fernández, Juana la del Pipa, Jesús Méndez. Solo guitar: Pepe Habichuela. Guitar accompaniment, Manuel Valencia, Salvador Gutiérrez.
Dance: Manuela Carrasco and her group. Cante: Enrique el Extremeño, Rubio de Pruna, Emilio Molina. Dancers: Oscar de los Reyes, Rafael de Carmen, el Choro. Guitar: Joaquín Amador, Paco Iglesias.
This year there was less rosemary strewn on the ground…the recession has effected even this…but the unfailing dedication of La Puebla de Cazalla, and the perseverance of the organizers of the Reunión de Cante Jondo, inspired in the guidance of Francisco Moreno Galván, made it possible for the historic event to be held.
Quite a respectable bill of artists attracted enough people to once again fill the beautiful patio of the Fuenlonguilla hacienda.  A somewhat shortened program, five hours instead of the usual six or more, far from feeling like a "cut", made for a more civilized evening for people not accustomed to the marathon length of traditional festivals.
| | |
| --- | --- |
| | |
| Manuela Carrasco | Esperanza Fernández |
A series of parallel activities such as guitar and cante recitals, conferences, documentaries and a photographic exhibition about Mario Maya were offered over the course of the week to flesh out the forty-fourth edition of the festival, although, as the master of ceremonies commented, in La Puebla no one refers to this event as a "festival"…they just call it the "cante jondo".
The guitar solo that traditionally opens each part, was the responsibility of the much admired maestro from Granada, Pepe Habichuela, who played a classic soleá with contemporary touches.  Singer Jesús Méndez, with the guitar of Manuel Valencia and the palmas of Miguel Salado and Macano, filled the slot reserved for young hopefuls.  He started with the form that would also be the traditional closing of the night – tonás (with pregón) – showing the clear influence of Antonio Mairena so typical of his San Miguel neighborhood, and with the unmistakable aggressive delivery of Jerez.  Noteworthy was the siguiriya with a powerful ending of cababes.
Juana "la del Pipa", the "voice".  Better-known for her characteristic raspy voice than for her singing, the lady was accompanied by Manuel Valencia.  Attractive at fifty-something, dressed in black with a sparkly scarf and large red flower in her hair, she began with a single verse of tientos to prelude some disposable pop tangos, closing with a bit of dance.  The soleá had more substance, but in the fandangos, the histrionic approach was a little over the top for this part of the flamenco geography where sobriety is more valued than theatrics.  In the bulerías she sang to end, there was no need to overact, because they're cantes in constant use, wholly authentic and with the aroma of Jerez.
| | |
| --- | --- |
| | |
| Jesús Mendez | Juana la del Pipa |
Esperanza Fernández, and that makes four flamenco dynasties: the Habichuelas, the Méndez of San Miguel, the Fernández of Santiago and now Esperanza with lineage from Triana and Lebrija.  This is a singer who has seldom appeared at the Reunión de Cante Jondo.  She came accompanied by the fine guitar of Salvador Gutiérrez.  A malagueña of la Trini was ended with jabera, jabegote and a fandango del Albayzín almost approaching that of Frasquito Yerbabuena…Esperanza doesn't take the easy route.  After some intense siguiriyas, she interpreted what would be the only alegrías of the evening, those of Cádiz and Córdoba.  A flat, unshaded delivery was finally alleviated by bulerías with classic cuplé from Triana, tasty cantes from Lebrija and a little dancing to exit.
The second part opened with two guitar solos by Pepe Habichuela.  His playing is somewhat outdated, no point in saying otherwise, flamenco has evolved dramatically in this man's lifetime, but we continue to admire his masterful command; he is the living history of flamenco guitar.
| | |
| --- | --- |
| | |
| José Menese & Pepe Habichuela | Bobote en el Fin de Fiesta |
Manuela Carrasco has been gracing the stage of this festival for decades.  Her backup of ten men maintained the energy that enveloped the dancer at every moment; the excellent voices of Enrique el Extremeño, Rubio de Pruna and Emilio Molina, guitarists Joaquín Amador and Paco Iglesias, José Carrasco on cajón, a very attractive and well-disciplined trio of male dancers, Oscar de los Reyes, Rafael del Carmen and el Choro, and Bobote for good measure.  The controlled hell-raising to the pulsing 'romance' rhythm serves as presentation and appetite-opener, and Manuela the goddess appears swathed in her immense shawl, elements which never vary because they work again and again; great artists manage to make everything seem like the first time.  A caña danced by the three men came off a bit retro; group choreographies in flamenco are hard to sell as art, and the audience didn't get it.  Fandangos de Huelva and Manuela's famous soleá was the dramatic finish.
José Menese.  The master of ceremonies cited the well-known phrase: "if Menese didn't exist, they'd have to invent him", and the patriarch of La Puebla flamenco, so well-loved by his people, took the stage, albeit with diminished faculties, but bravely defending his classic repertoire.  He spoke at length, visibly moved, about the passing of Enrique de Melchor before launching into taranto, farruca, tientos, soleá and cabales, the latter sung as an independent cante, although siguiriyas and toná liviana were also thrown in…this singer knows his cante.  Most surprising was the inexplicable lack of communication between Menese and Pepe Habichuela who accompanied him.
The tonás facing-off was easily "won" by the men on this occasion, followed by the bulerías finale and all the while Diego Clavel's absence was felt.
---