16th Festival de Jerez 2012
Rocío Molina "Vinática"
Carrete de Málaga "Carrete en Vivo"
Sunday, March 4th, 2012. Jerez de la Frontera
Text: Estela Zatania
Photos: Ana Palma (photo gallery)
MÁLAGA DAY AT THE FESTIVAL DE JEREZ
Midday at the San Ginés Bodega, the regular press conference was held with the presentation of the book "La Repompa de Málaga" by Ramón Soler, Paco Roji and Paco Fernández.  Rojí gave a summary of the career of the Málaga singer who managed to earn a place in the history of flamenco despite having lived to barely 22 years of age.
In the evening, a flamenco journey to the past and to the future with two Málaga dancers, surprising and original, each in their own way.
CARRETE DE MÁLAGA "Carrete en vivo"
Sala Compañía 7:00pm
Dance: José Losada "Carrete de Málaga", Luisa Chicano. Cante: Juan José Amador, Manuel de la Curra. Guitar: Luis Santiago.
What a character landed at the Sala Compañía last night.  Some of us had seen veteran dancer Carrete de Málaga before, alumnus of the dives that spotted the Costa del Sol during the tourist boom that brought legendary places such as the Taberna Gitana, El Jaleo and the Pagoda Gitana among many others.  That movement led in turn to the fragmentation of Málaga's flamenco community, and José Losada, "Carrete", became an anachronism who made a living with his half-comic dancing based on a traditional line.  At the 2007 Bienal de Málaga, the world of flamenco discovered Carrete who is now in the process of becoming a quirky cult figure.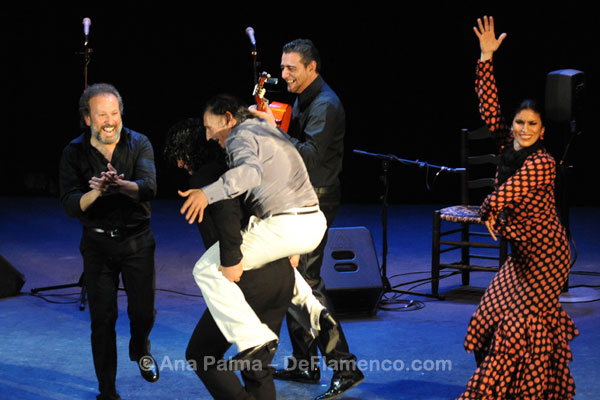 His favorite look is a morning coat, top hat and cane, and he's just suave enough to pull it off with elegance.  Carrete is no clown, and his instincts are clearly flamenco.  He is a vestige of the classic picturesque bohemian of the kind that used to abound in flamenco, subsisting from party to party and fair to fair, alternating improvised songs and dances with anecdotes and pranks.
The audience made up mostly of young dance students and tourists wasn't quite sure how to react, especially when Carrete showed his naked chest to exhibit muscular undulations in rhythm.  But he also danced his alegrías and bulerías with a sort of elegance all his own.  Dancer Luisa Chicano gave a more serious performance with soleá to the compás of bulería por soleá, and the participation of singer Juan José Amador was also a guarantee.
---
ROCÍO MOLINA "Vinática" – Video
Teatro Villamarta 9.00pm

Dance, idea, choreography and musical script: Rocío Molina.  Cante: Jesús Méndez (guest artist). Guitar and original music: Eduardo Trassierra.  Palmas and compás: José Manuel Ramos "Oruco", Miguel Ángel Ramos "El Rubio". 

It's going to be hard to comment on Rocío Molina's new work "Vinática", because of how little of it I saw.  I arrived fifteen minutes before it began, and didn't leave my seat until after the final applause, but the extreme darkness throughout the show made it very difficult to see much of what was going on.  The craze of black on black with scant illumination has reached an extreme that last night left a lot of people unhappy.  When you can't see interpreters' facial expressions, human warmth is lacking – it's like watching robots in compás, no matter how well they sing or dance.  Most of the time it was also impossible to see the hands of the great guitarist Eduardo Trassierra.  Those of us who know a little about guitar like to see the novel harmonies and ways of constructing and executing them.  These are details that diminish the overall experience, but I have to conclude that Rubén Camacho, listed on the program as lighting designer, was only carrying out Rocío Molina's wishes.
Before the "official" beginning of Vinática, we see Rocío Molina with her back to the audience, doing small curvy arm movements with her right arm…for more than a half hour.  This is a sign of the determination, the will to work and the need for self-expression of the young dancer from Málaga.  Two men on one side, and every couple of minutes they move to where Rocío is to raise wine glasses in a toast to the rear of the stage.  You hear distant piano music and off-stage voices that cannot be understood, and six or seven life-size stick figures populate the set completing the surreal effect.
Singer Jesús Méndez, guest artist for this performance, so different from what we saw in January at the Nimes Festival, is the nexus that serves as anchor to relate the work (which might be difficult to digest for flamenco fans of classic orientation) to Jerez.  The dances that leave a mark on the retina are traditional alegrías (within the contemporary concepts cultivated by Molina), siguiriyas and bulerías, all three frankly impressive; I've run out of words to praise the talent of Rocío Molina.
If the level of dance, guitar and cante is extraordinary, somewhat less satisfactory for yours truly was the theater experience.  The insistent air of sadness and heaviness fed by the darkness that doesn't let up, becomes oppressive, even when Rocío's dancing is youth and joy, or when she dances with a self-illuminating tambourine or, in fact, when she does anything at all.  Her movements fascinate and her technique astounds.
At the end, the dancer appears, tethered to a swath of fabric several meters long, held tense by someone or something.  The effect is hypnotic when she toes the front edge of the stage, allowing herself to lean precariously toward the audience.
There is dance and there is theater.  Sometimes the two come together in a way that is mutually enriching, and both grow.  In "Vinática", the struggle between dance and theater doesn't quite resolve, and each spectator will have his or her interpretation of what we saw last night.
At midnight at the Peña el Pescaero, there was cante in the traditional vein with Joaquín el Zambo accompanied by the guitar of Niño Jero.
---