Twelve Cordoban winning artists to pay tribute to Fosforito
Seven shows of singing, dance and guitar make up a series that will bring flamenco to various points of the city in conjunction with the Concurso Nacional de Arte Flamenco de Cordoba.
November 6, 2013
Twittear
A new series of flamenco shows with complete the varied program scheduled to take place during the twentieth edition of the Concurso Nacional de Arte Flamenco de Cordoba beginning November 10th with an inaugural concert by Estrella Morente at the Gran Teatro of Cordoba.
The series "Premios Nacionales de Cordoba" includes the collaboration of flamenco associations and the Musico Zirya Conservatory, features a dozen former prizewinners from previous editions of the Cordoba contest with the main objective of "opening flamenco to the entire city to make people aware it is one of our strong points".
Participating artists include singers Antonio Porcuna "El Veneno", Rafael Ordóñez, Domingo Herrerías, Antonio Mejías and David Pino; guitarists Alberto Lucena, Antonio de Patrocinio 'Hijo', Juanma "El Tomate", Manuel de Palma and Gabriel Expósito and in dance, Rafael del Pino 'Keko' and his group.
All performances are free entrance to capacity and will be held over a period of seven consecutive weeks through December 12th.
PROGRAM
Series of National Prize Winners "In Tribute to Fosforito"

From 1 November to 12 December
Organized by: Delegación de Cultura y Centro de Flamenco Fosforito.
In collaboration with: Peña Flamenca "Rincón Flamenco", Peña Flamenca de Córdoba, Peña Flamenca "Rincón del cante", Peña Flamenca "Fosforito" y Conservatorio Profesional de Música "Músico Ziryab".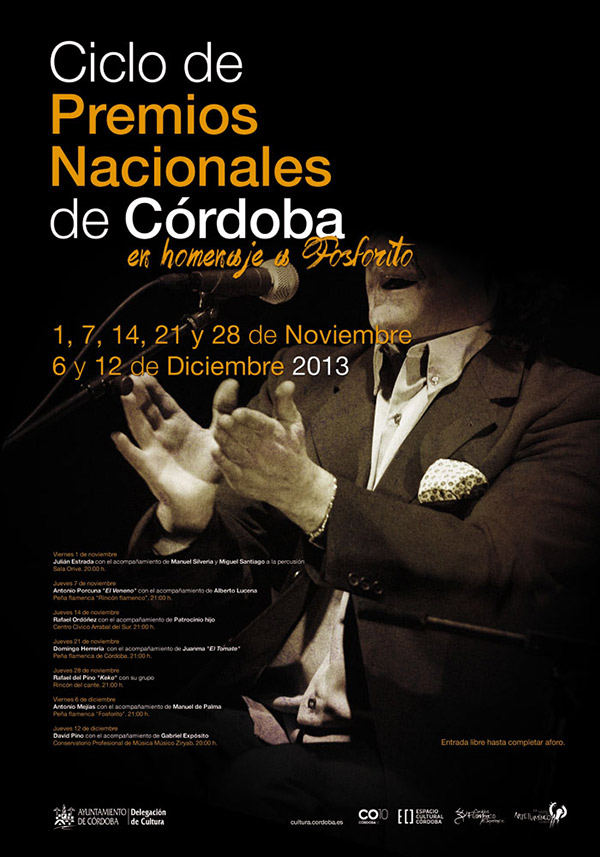 Friday 1 November
Julián Estrada with the guitar of Manuel Silveria and Miguel Santiago on percussion.
Sala Orive.
Time: 8:00pm

Thursday 7 November
Antonio Porcuna "El Veneno" accompanied by Alberto Lucena.
Peña Flamenca "Rincón flamenco".
Time: 9:00pm

Thursday 14 November
Rafael Ordóñez accompanied by Patrocinio hijo.
Centro Cívico Arrabal del Sur.
Time: 9:00pm

Thursday 21 November
Domingo Herrerías accompanied by Juanma "El Tomate".
Peña flamenca de Córdoba.
Time: 9:00pm

Thursday 28 November
Rafael del Pino "Keko" and his group
Peña Flamenca Rincón del cante.
Time: 9:00pm

Friday 6 December
Antonío Mejías accompanied by Manuel de Palma.
Peña Flamenca "Fosforito".
Time: 9:00pm

Thursday 12 December
David Pino accompanied by Gabriel Expósito
Conservatorio Profesional de Música "Músico Ziryab".
Time: 8:00pm