Estela Zatania
Jerez singer Juan Moneo El Torta passed away the morning of the last day of 2013 at the age of 61
"An important day to leave, as was only fitting for this man"
Jesús Agarrado Moneo "El Guardia", guitarist
The social networks, wherever there were flamenco followers, were overflowing with messages about the recent passing of Juan Money Lara "El Torta".
Everything about him was impulsive and unexpected, even his death, right on New Year's Eve.  The impact on the world of flamenco is tremendous, but in Jerez there are no words to describe the magnitude of this loss, yet another in the unfortunate string of premature deaths of this city's best flamenco interpreters.
The loss of any being is cause for sadness.  But this particular being, touched by the gods with the magic wand of inspiration, enjoyed the admiration of numerous diehard followers of all ages.  Unpredictable and irregular, his communicative power made him a cult figure both in and out
of Jerez, beyond any singing ability.  A charismatic bohemian with a touch of madness, the kind of flamenco star of times past.
I remember in 2011 at the Dutch Bienal when el Torta gave a recital with Diego del Morao on guitar.  That night he projected an intensity that startled the reserved Amsterdam audience.  At one point, a woman sitting next to me, clearly concerned, whispered nervously in my ear "do you think we ought to call an ambulance?"  I glanced at Torta, and upon seeing him the same as always I told her no ambulance would be necessary, that this was business as usual for el Torta.
He had an absolutely Jerez style of singing, while at the same time highly personal and anarchic.  The typical repertoire of the San Miguel neighborhood, but with something more.  Classic cante that he himself could not identify as far as styles or historical background, nor was there any need to do so.  He composed songs that became classics among his followers; in performances, the first few syllables of a verse would be enough to trigger wild applause and shouting worthy of a rock star.
In addition to a handful of recordings, his art was immortalized in Carlos Saura's film "Flamenco".  On March 1st he was to have sung at the Festival de Jerez.
The end of his life took place with all the serenity he never achieved while alive.  Asleep at home with his wife and small son, his heart stopped working and the legend found a place in the history books.
Juan Moneo Lara from Jerez de la Frontera, province of Cádiz, was born in 1952.  Brother of Manuel Moneo, he was known as "El Torta".  He sang in flamenco clubs and festivals of the area.  In 1972 he won the prize for soleares at the Mairena del Alcor contest.  In1985 he sang at the Canasteros tablao in Madrid, and the Círculo de Bellas Artes.  He was a regular at the Jerez tablao el Duende.  In recordings he specialized in soleares and bulerías.  In addition to being a faithful exponent of Jerez culture, he was interested in renewing the melodic line of certain cantes, and since 1991 he had collaborated in various recordings within the Flamenco Vivo collection, most notably "Colores Morenos" in which he sang on his own.  More recently he recorded a CD/DVD "Momentos" (2007) recorded live at Madrid's Juglar club.
For "El Torta", making a record was always a tremendous struggle, he was more at home in small venues or festivals where he could vent his knowledge and the full power of his art.  Nearly all the verses he sang were his own.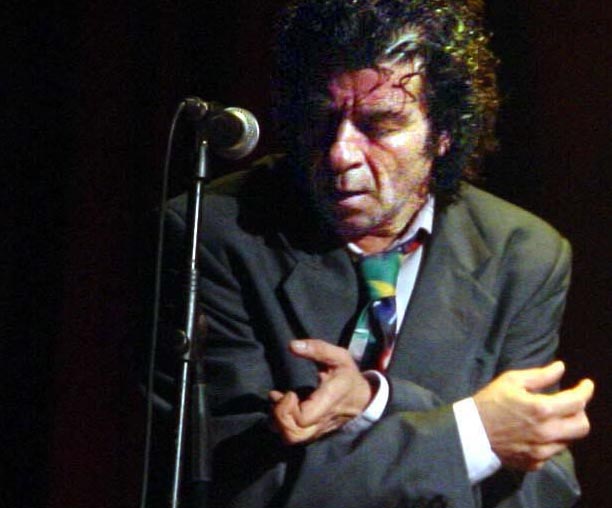 ---
El Torta – Festival por Tarantos