Interview: Rafael Manjavacas
Photos Sala García Lorca: Martin Guerrero
We're talking to Martin Guerrero, manager of the Fundación Casa Patas, which organizes the series San Isidro Flamenco at the Sala García Lorca that features unique flamenco concerts bordering on bravery as coordinator Antonio Benamargo says, without any amplification.
San Isidro Flamenco – Program (May 9th – June 21st
Hear the interview at our Audio Blog (spanish)
This is really something you started, isn't it…
I'm very pleased with this project, it was Antonio Benamargo's idea, and I loved it from the first moment.  It's about bringing real flamenco singing, which has always been a part of Casa Patas, but in this special way that makes it more accessible.  With the good fortune we've been having that the audience is responding, and in general the media support the project.
Martin Guerrero & Antonio Benamargo at the presentation of the San Isidro Flamenco 2014 series
There was a sort of vacuum…we have the large festivals, Suma Flamenca and other events in which cante is less the focus.
Cante is in the big festivals, but the challenge at the Sala García Lorca is to establish a space with a regular program, not as isolated festival dates.  Cante flamenco was losing ground in small venues, and the Sala García Lorca aims to recuperate that niche for it.
Even in the knowledge that there is no economic viability…
No no, as we've shown, it definitely takes a huge effort, I say there are four essentials: the programmer's capacity, Antonio Benamargo and his capacity to program so many good artists…then, the venue and the required infrastructure to make the whole thing work, not to mention the artists' collaboration, they've been able to see the importance of the project and want to participate.  And the fourth essential element is the audience support.  Also the media and people from the world of flamenco who think highly of the project.  All these combined forces have made it possible to get this working.
The Sala García Lorca belongs to the Fundación Casa Patas, but upon giving it a name of its own, you've detached it in a way from the tablao.
We strive to honor the truth, and we don't like to do things half-way, but I understand it's difficult to differentiate Casa Patas from the Fundación.  The former is a business, and the Fundación is a non-profit organization, it wasn't easy to fit this program into the tablao itself, which is already thriving.  So we found this space and did some refurbishing to start up this project.
How many people does it hold?
About 95 seats for the audience, a few benches so no one has to remain standing, about a hundred people in all.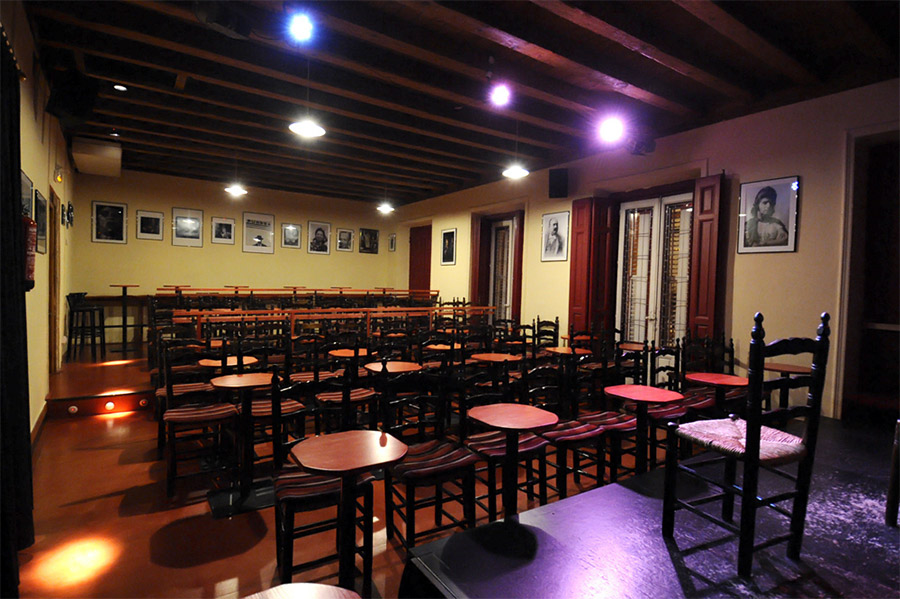 The audience has responded well from what I see each weekend.
Extremely well, we went to great lengths, Antonio Benamargo on his part, Casa Patas and the Fundación to spread the news as much as possible, with very interesting proposals and fine artists who have inspired the interest of the general public.  The acid test was finding out if the venue would function…if the sound wasn't good, it would never have worked.  We have an audience of flamenco fans, very respectful, who inspire the performers with their cheering, the artists really feel the warmth and we're having some truly wonderful flamenco nights.
That was some fiesta the night of Juana la del Pipa, with Jesús Méndez, Macanita and Manuel Valencia who were just passing through with the Gira del Norte.  This year you're not going to have any problem filling the calendar.
Actually, I'm going to have a very serious problem making the selection, I'm trying to refocus the format to see if I can put what I really want.
The venue started up in November of last year, and the roster of artists has been incredible.
Absolutely, I'm very pleased, and indebted to Antonio Benamargo, he holds nothing back, all the resources and knowledge are at the disposition of the Sala García Lorca.  From November, and until the end of this series it's going to be 40 performances, with young but major figures, others a little older like Duquende, Macanita and El Falo, and others who are major stars in the history of flamenco such as Pansequito, Cañeta de Málaga, José de la Tomasa…
I imagine a lot of people come back, the flamenco fans…
Yes, some people have a standing reservation for the whole series, others select certain shows depending on what they can afford and others come to specific performances.  The general public has reacted very well, we're receiving congratulations from many quarters, for being able to program great singers in such a small space and without amplification, the best way to enjoy cante, the audience considers this a great luxury and they come back.
The performers notice it too, they feel at ease in this space.
That's very important…the artist has to make an extra special effort, without echo effects or monitors…but they manage to overcome the challenge and feel good fueled by the audience reaction.  We're having evenings of very high artistic value which can only come about because the performers are at ease.  Singers are especially sensitive, and at the same time, especially generous, if someone is feeling good, they give their best possible performance.
There have been memorable evenings…the other night with Duquende and the whole audience standing and asking for an encore.
Many terrific nights… When José de la Tomasa came, I remember something his guitarist, Paco Cortés said; he told me that José had sung that night like he'd never seen him before.  And that's how it's been overall, finding the "duende" is very complicated.
There are many singers that it's actually hard to catch working in Madrid, unless they're singing for dance…the Sala García Lorca is the first place we're able to see them here in the capital singing on their own.
There are many flamenco fans discovering people like Pedro el Granaíno, Gema Caballero and Rocío Márquez…they're discovering these people here in Madrid, even tourists are starting to come.  Today on Trip Advisor someone was talking about the intimacy and quality of the venue.
I assume there will be another season coming up…
Without any doubt, we'll do everything in our power to keep the ball rolling and program the 2014/15 season, an effort that will surely have its compensation.

---