Text and coordination: Estela Zatania
Ten years ago, in November of 2003, Deflamenco published a special report to commemorate the fortieth anniversary of the passing of legendary flamenco dancer Carmen Amaya who would have been 90 years old.
This year, 2013, when the world of flamenco is celebrating the dancer's centennial, we are republishing this series of interviews originally intended to give dimension to the personality of the Catalonian artist.

The flamenco legacy of Carmen Amaya continues to be relevant.  A way of dancing that depends on rhythm and strength, intensity and power.  A form of expression that was a break from the gentle sweetness that had characterized flamenco dance until that point.  Soon writers and journalists were making use of breathy words such as "passion", "fury" and "fire" to describe flamenco.  It was an image Hollywood was quick to capitalize on, and Carmen Amaya personified that popular fantasy.  Producer Sol Hurok advertised Carmen as the "human Vesuvius", and flamenco came to represent the essence of Spain for the entire world.
With poetic symmetry, flamenco fans have just also celebrated the centennial of another revered figure, the man who was Carmen's guitarist and companion for many years, the maestro Agustín Castellón "Sabicas".    Carmen and Sabicas, Sabicas and Carmen, two giants whose destinies came together to transform flamenco from the ground up, leaving a legacy that only becomes more evident with the passage of time, because it is not possible to understand today's flamenco without these two individuals.
Coinciding with Carmen Amaya's centennial, there is an exposition in New York City through August 3rd, "100 Years of Flamenco in New York", organized by the New York Public Library at the Vincent Astor Gallery at Lincoln Center.  The exhibit highlights Amaya's importance and popularity during the years she circulated in the Big Apple.
---
Part one: Entrevista a Domingo Alvarado, cantaor (Jerez de la Frontera)
Part two: Luisa Triana, dancer and choreographer (Triana, Sevilla)
Part thress: Pepita Funez, dancer (Madrid)
Part four: Sara Lezana, bailaora (Madrid)
Part five: Pepita y Goyo Reyes, dancers, choreographer (Madrid). Teo Morca, dancer and choreographer (USA)
Part sixth: Lucero Tena, dancer and castanet soloist (México)
---
Introduction
"Her name has always been a part of my life. First it was my mother always telling me about her…how she danced, what a good person she was. Even now at eighty she still talks about how she came on stage, that majestic presence, that temperament, her electrifying personality. She had everything. There'll never be another. "And the woman…that humanity she had that made her special. My family lived in Somorrostro, where Carmen was born, so they were neighbors. My older sister tells how she performed in the theater in Barcelona…all the tickets were sold out and many gypsies from Somorrostro couldn't get in, either because they couldn't afford it or because there were no tickets left. When Carmen found out, she went right to the neighborhood and danced for her 'gitanicos'". Dolores Giménez, president and founder of the Asociación Cultural Flamenca de Madrid.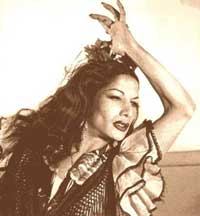 On November 19th, 1963, a few days before U.S. President John Kennedy was assassinated, Carmen Amaya died in Begur (Girona). That was forty years ago, ninety since her birth. But the collective memory of this person and her dance continue to be absolutely current for the new generation of flamenco dancers – stars like Antonio Canales, Juana Amaya, Juan Andrés Maya and José Antonio himself of Spain's National Ballet who just premiered his work "Leyenda" based on Carmen Amaya, continue to find inspiration in this petite individual who transformed flamenco dance for good.
Deflamenco wishes to pay tribute to Carmen by declaring the month of November "Carmen Amaya Month". We won't go over the details of her biography, for that there are magnificent books such as "Queen of the Gypsies" (Sevilla Press, 1999) by Paco Sevilla, "Carmen Amaya o la Danza del Fuego" (Espasa Calpe, 1994) by Mario Bois, "Cuando duermo, sueño que estoy bailando" (Libros PM, 1995) by Francisco Hidalgo Gómez or "Carmen Amaya la bailaora genial" (G.P. Barcelona, 1964) by Salvador Montañés, just to name a few, but rather, through the words of people who worked and lived with her, we hope to reconstruct a vivid impression of who this person really was and peel away the layers of myth to feel her presence. Throughout this month of November we shall be offering these intimate testimonies.
"That's how we all ought to live, doing everything as if our life depended on it, as if we might die at any moment". Antonio Canales, flamenco dancer, speaking about Carmen Amaya in an interview.
---
"There was a sadness in her soul I don't know how to explain, and she never said anything to anyone"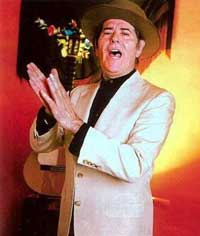 I had the honor of working with Carmen on a tour of the US, Canada, South American and other countries that lasted three and a half years. I met Carmen in New York when Antonio Mairena who was touring the States with Antonio spread the word that Carmen was looking for a singer. When he returned to Spain he called Porrinas de Badajoz, but Porrinas wouldn't fly. So Mairena rented a place so he could hear me and he told the manager "this is your man". Carmen's husband Juan Antonio Agüero wasn't convinced because I wasn't gypsy, but when she heard I was from Jerez everything changed…I got the job because I was from Jerez! [laughter].
"Affectionate, modest and humble, a very good person to work with…"
So the manager called me up and said "Now I'm going to introduce you to Carmen". We went to the hotel and there was Carmen in bed. When she saw me she said "well well well, I don't know about your singing, but you sure look good…sing some bulerías". The guitar and palmas began to sound and I started to sing. Carmen exclaimed "Viva Jerez de la Frontera, unbelievable!" I sang a couple of verses and she embraced me and said "finally I've got a good singer". That's how I met her. Shortly afterwards we debuted in Carnegie Hall on September 30th, 1955, for three days, a huge success, especially for Carmen. The tour ended in Havana on August 25, 1958.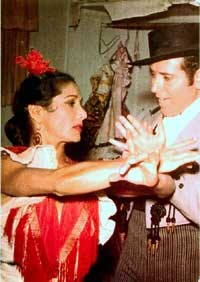 "Spanish through and through, very gypsy, very Andalusian, and she cherished her Catalonian roots".
Carmen Amaya was a special kind of person. Affectionate, modest and humble, a very good person to work with and she gave you confidence, she brought us up to her level, she was a genius of dance and made you feel secure. She was quiet and shy around people she didn't know, very religious with a firm belief in God. She didn't have extravagances but was superstitious about some things. Carmen Amaya wore her fame in a very natural way, and she put herself on everyone else's level in the artistic world, but she wouldn't tolerate any lack of respect and knew how to command it.
Spanish through and through, very gypsy, very Andalusian and she cherished her Catalonian roots. She had no interest in politics and she missed Spain a great deal, but she also loved South America where she worked a lot, she was very successful and they really loved her.
"Look, you just sing some soleá, then seguiriya and we'll end with alegrias, and I'll dance to your singing"
She loved to eat well. Her favorite food was a steak sandwich with tomato. She liked to be at home and sleep, she slept a great deal.
I never saw Carmen rehearse…she'd warm her feet up a bit, and her voice and the castanets. Goyo Reyes was first dancer and he set the Spanish dance choreography for the company, then Carmen would fine-tune it. She really enjoyed those dances, not only flamenco. I remember seeing her go over the classical numbers with the piano. Her own dance was something else, she knew it so well. She managed to inspire herself from within based on what she knew, it was all inside.
"It was like one of Pablo Romero's bulls coming at you, it was enough to shake anyone, too much…"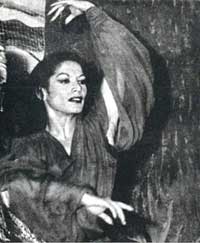 One day we were rehearsing with the company for the Carnegie Hall debut and I went up to her and asked "Carmen, when do you and I rehearse?" "Look, you just sing some soleá, then seguiriya and we'll end with alegrias, and I'll dance to your singing". That anecdote really stuck in my head. When we finally debuted and I saw her with that guitarist by the name of Sabicas who was by her side, a genius of flamenco guitar, and I saw those arms of hers pushed back playing castanets, gypsies didn't play castanets but she who was more gypsy than all of them put together, she played castanets…she danced a solea, it was amazing, she came straight at me when I began the salida for soleá. I was in such a panic my eyes were crossed, it was like one of Pablo Romero's bulls coming at you, it was enough to shake anyone, too much…and she was so intense I gave everything I had that night, within the limits of my abilities, I gave everything. That appearance of hers, and the audience reaction afterwards, it caused such an uproar I thought I was in the Villamarta Theater in Jerez, and it was Carnegie Hall. That's one memory I cherish.
"She loved profound cante, and also fandangos, and singers who had a personal style. She loved strong black coffee…"
Carmen was very devoted to her family and she loved to be with all of them. She had some difficult times with her husband, but not once…I mean, the family always came first. She adored children and loved all her little nieces and nephews, but unfortunately she couldn't have children. She was very fond of cooking and was a good cook. She loved strong black coffee, and playing some game before going on stage.
The way I see it, Carmen was very happy as long as she was in the theater or on stage. I was with her a lot, and I observed her, I had profound respect for that woman, so the way I see it Carmen, from the time she got into the theater, from the dressing-room to the stage, between getting made up and dressed, it was a wonderful thing, she was so happy and optimistic, this fortitude blossomed each time. She used to tell me: "give every little bit on stage, don't hold anything back, throw yourself into what you do".
Deep in her soul there was a kind of pain and she often felt sad. In the dressing-room she was transformed, but outside, I could see a certain childlike quality, and she suffered a lot. Off-stage there was a sadness in her soul I don't know how to explain, but she never said anything to anyone".
"There are no flamenco artists that great and who communicate as well artistically as Carmen and Sabicas did".
I loved just being with her. She would tell me stories about the tablaos in Barcelona when she was a young girl, the artists she knew, Manuel Torre, La Macarrona…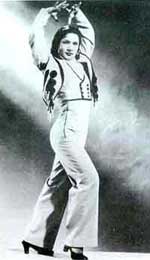 When we recorded Queen of the Gypsies we did it all in one day. There are no flamenco artists that great and who communicate as well artistically as Carmen and Sabicas did. I was the only one scared out of my wits because I was very young and they were such great artists.
In 1956 we were in Hollywood and the embassy in Washington asked us to do a special show for the consul, Conde Motrico. Sabicas didn't want to go because he wouldn't fly so I went with Carmen and her husband. We did the show and afterwards Carmen's husband and me went out for drinks and came home very late. Because of that I had no voice the next day and Carmen was afraid I wasn't going to be able to sing. Then on the way back the airplane had some serious problems, the landing gear wouldn't work and everyone was terrified. When the plane finally landed and we went to pick up our baggage Carmen realized that my voice had cleared up from the fright. From that day forward, every time I'd get hoarse she'd say "hey watch out, you better get your voice back quick or we're going to put you in an airplane!"
Carmen was a genuinely nice person and it was easy to get attached to her. I never addressed her with the informal "tú" form…neither her nor Sabicas, me being Andalusian and those two so high-class. Carmen Amaya was as good a person as she was an artist.
For my last CD I wrote some verses for alegrías that were dedicated to her:
Que Cai tenía el arte
de San Fernando la sal
que Cai tenia el arte
su baile por alegría
no se puede aguantá
su furia y temperamento
y en Jerez era el compás.
Anoche soñé contigo
soñé que tu bailabas
anoche soñé contigo,
tu baile en mi corazón
las penas me las quitas
Carmen Amaya, Carmen Amaya
Carmen Amaya, Carmen Amaya
to' el mundo te imita
nadie te iguala.

Cádiz has art
San Fernando has salt
Cádiz has art
her alegrías dance
was the best in the world
her power and temperament
and in Jerez was the compás
Last night I dreamt of you
I dreamt you were dancing
last night I dreamt of you
you danced through my heart
and took away the pain
Carmen Amaya, Carmen Amaya
Carmen Amaya, Carmen Amaya
everyone imitates you
no one equals you.
Domingo Alvarado's statements were gathered and transcribed  by Dominico Caro in New York City in October, 2003.
---
Part two: 
Luisa Triana, dancer and choreographer (Triana, Sevilla)
About today's dance…..I think Carmen would look for more art in the technique, and the magic of genuine flamenco
I was in direct contact with Carmen from 1940 until 1943 when she and my father, Antonio Triana, were partners. In New York after 1955 when I was starting out on my own, we picked up again.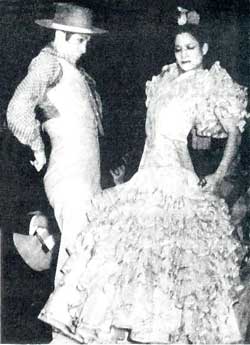 When I was a little girl the thing I most remember are the get-togethers she used to have at her luxurious house in Hollywood in the neighborhood called "Los Feliz". Her little sister María and I, and a couple of other kids would play, and they gave us bread with tomato and oil, the "pa amb tomaquet" that's so typical of Catalonia. We had a grand time, and even today, every time I eat bread with tomato, I remember those days. 
"She knew she was an extraordinary being"
I remember the rehearsals at the Hollywood Bowl with the symphony orchestra, in that huge shell, the atmosphere was very different from what she was used to, she complained she couldn't hear or feel the music. But in the end she gave everything in her dancing like always. My father had to put up with more than anyone…because he was the director, in addition to first dancer, and the only one who could speak some English to be able to deal with the ins and outs of the production. I remember on stage, the shows were unforgettable…Carmen touched everyone's soul.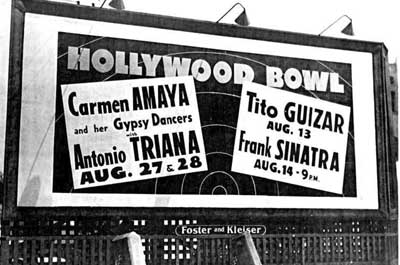 Billboard for Hollywood Bowl 1943 
My father was with her for more than three years, he set and directed the shows. I think she did the classical dances because in those days being a "ballerina" had a lot of prestige, she knew she was an extraordinary being, but never pretentious, and I think she showed what she could do by including classical dances.
She was always faithful and true with her companions, and generous with her family. In 1955 when I was about 23 and was beginning to make a name choreographing and dancing on my own, without my father, I went to New York to work at the Chateau Madrid, where she had also been working, and I was able to really get to know her.
"She wanted to show the main path of flamenco"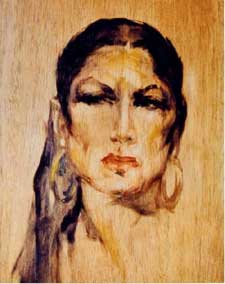 She went to see me perform and invited me to her apartment in Manhattan where for several weeks we tossed around ideas about things she wanted to present. One of them was she wanted to show the main path of flamenco (the compás, the different forms). Her idea was to go through all the forms without stopping until getting to her alegrías. In other words, we'd begin with fandangos, then on to tangos, farruca, a few other things, until getting to her number. It was going to be a unified work, something that would have been quite a novelty in those days, but done with absolute authenticity. We were never able to do it because I had a commitment at Carnegie Hall. Her tour began just a few days earlier, and there was just no way to combine both things, but at least I had the opportunity to see what a good person she was, she took me as a member of her family and gave me advice…in those days she was very happy with Juan Antonio, her husband.
"The day she died…I couldn't believe it…the first thing I did was take out my brushes to paint her portrait…"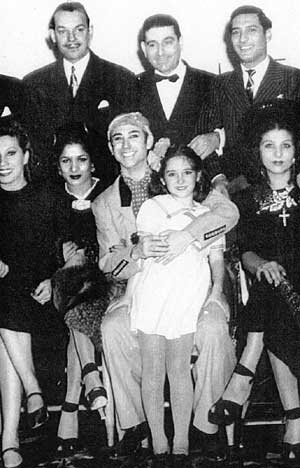 More than Catalonian, she felt her gypsy roots… She loved to talk, and tell anecdotes, and I think she missed her family, although she had become saturated from having worked all those years for them. To see her so happily married was a powerful influence on me and I got married a short time afterwards.
I remember the day she died in 1963. I was in California, already married and out of contact with her and with my theatrical life in general. It was a tremendous shock, I couldn't believe it, I wasn't even aware of her illness. The first thing I did was take out my brushes to paint her portrait… It didn't come out at first, but after a time I was able to get a face that represented the way I remembered her, and I was fortunate enough that the Centro Andaluz de Flamenco in Jerez bought the painting and it's on display. I never knew her when she was ill. That was later on…she was strong as an ox when I knew her.
"Every show had its magic…things that weren't captured on film"
About today's dance… I think Carmen would look for more musical art in the technique…and the magic of authentic flamenco. To see Carmen in person would touch your soul. She used her technique to "create art", the musicality of her feet would transport you to another level, it was pure creation, each show had its magic, her alegrías couldn't be matched, and audiences never wanted it to end, things that weren't captured on film. That's why any flamenco fan who never saw her perform live, can't understand how important she really was.
---
Part three: Pepita Funez, dancer (Madrid)
"Humble and simple in every aspect of her life, but on stage she would transform into this  unique being…like a strange force…" 
I was with Carmen from 1949 until 1963, especially between '59 and '62…friendship and work were the common bonds. I remember she was very shy, even childish at times.
She would insist on doing silly things, like putting on a bathing suit of mine that was much too big for her…or climbing up an olive tree to pick olives that were still green in the garden of the house they supplied for the whole company in Palm Springs, and then packing the olives, all of us laughing the whole time…although her husband wasn't as kind to her as she deserved. She was very quiet and only when she felt extremely comfortable did she open up to her friends.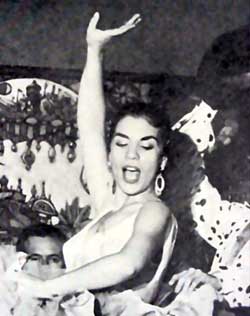 She had this thing about using mascara, 'Estrellita' brand, this kind you had to spit into the box…she'd rub the little brush in the mascara and smear it on her eyelashes making a mess of her face and cracking everyone up, including herself. She was never without her unfiltered Camels.  
She had no friends on stage, she was such a serious professional she wouldn't accept anything that was less than perfect. But as soon as the rehearsal or show was over, she'd turn into a friendly, loving, caring person, so generous that she'd give you whatever she had at that moment.  
She was very superstitious about throwing salt over her shoulder, and another funny thing (that I share with her), was she couldn't stand to see nuns from the back and had to go running ahead of them to look at them from the front, which always got us laughing like mischievous children.

"To have had children, at least one, that would  have been the biggest thing in the world for her"
Being famous and having money, those things meant nothing to her…all she cared about was her family, her work and her company. She was humble and simple in every aspect of her life, but on stage when she would transform into this unique being, with incredible magnetism, like a strange force…
She never denied being Catalonian, despite identifying so strongly with Andalusian gypsies, especially in Granada. I didn't often hear her speak in Catalonian, but once in a while. She never spoke about politics nor ill of anyone. When she was touring abroad she was always homesick for Spain and longed for the tour to end so she could return for a while. Argentina was another country she spoke of with fondness, as well as Mexico.
"Good cante was her weakness…and she would  have been the happiest person in the world had she been able to sing serious flamenco cante"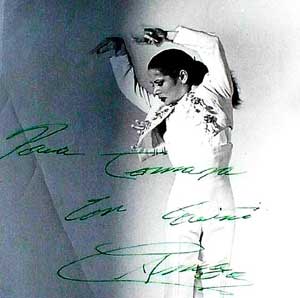 Once in a while as happens to all of us sometimes, she needed a place for herself, to be alone with peace and quiet, which wasn't that easy with all her sisters, nephews, etc… To have had children, at least one, that would have been the biggest thing in the world for her. Her life came down to work, rehearsals, family…although she was always being invited to an endless round of parties and get-togethers…but what she really wanted was to be alone with her husband and to receive the attention she expected and deserved. Before getting married it was Paco, her brother, who gave the orders…he would send her back to the hotel as soon as the show ended, he'd decide where, when and how things were to be done and he took care of hiring people…she didn't seem to have much to say and accepted everything her brother decided, like a good gypsy woman, until her husband Juan Antonio took Paco's place.
"She liked doing the dances to orchestra, she really enjoyed it even though it wasn't her 'thing'"
Good cante was her weakness…she would have been the happiest person in the world had she been able to sing serious flamenco cante. She loved to go window-shopping, for clothing, shoes…something she was rarely able to do because of all her professional obligations. She clearly knew what was important in life, but always wanted to give more than she was able, which is possibly what led to her illness and premature death. She felt unwell at times, but never imagined it was anything as serious as it turned out, or if she knew, she never let on. She didn't take care of herself…eating when she could, whatever there was, which more often than not, for various reasons, might just have been a can of sardines…in general, she wasn't very demanding for herself and adapted to any situation.
"Dancers Faíco, el Farruco y Juan el Pelao were often mentioned as having been extraordinary"
She was very strict for rehearsals, demanding yet patient, repeating things as many times as necessary to get it right, which meant you went on stage with tremendous confidence. She would command with her eyes, and sometimes she would tense her jaw and stare intently, shaking her head and pacing around as if she were taking stock. No one dared suggest anything to someone like that, it would have been unthinkable. I have no doubts that she could have mounted a show on her own…and if someone went off in the palmas, she knew right away who it was, without even looking. I never saw her rehearse on her own – if she wanted to, she would do it while the rest of the group was rehearsing, but most often, not even that…her command of what she did was so complete. And every day her dance would be different in one way or another.
She liked doing the semi-classical Spanish dances, really enjoyed them even though it wasn't her "thing" so to speak. It was like a pastime for her… Of dancers, Faíco, Farruco and Juan el Pelao were the names she always mentioned as extraordinary. Of guitarists, her favorite was always Sabicas, without a doubt, and there were sentimental ties between them which for one reason or another did not flourish. She liked Antonio Mairena a lot, and it's well-known that she tried to hire him. 
"I don't think Carmen would approve of today's dancing, although she was incapable of openly criticizing anyone".
Many professionals don't really know just who this genius was, and some seem to feel there's a lot of exaggeration about her, but only those who saw her dance realize how important she really was. Perhaps some are aware of the dramatic changes Carmen Amaya brought about in women's dance…and I'd even say in men's. With very few exceptions, I don't think Carmen would approve of today's dancing, although she was incapable of openly criticizing anyone, it's wasn't her style.
I remember one day she wanted to use the washing machine in Palm Springs and even though we warned her not to put in too much detergent, she put so much the soap bubbles spread through the house and we laughed so loud even the neighbors wondered what was up. We had to disconnect the washing-machine and everything else in the middle of all that chaos, and call for help to get rid of it all with a vacuum to be able to clean up the awful mess she made. The memory of that anecdote triggered laughing fits for days and weeks…

I was living in Los Angeles when I got the news that she had died, perhaps the first terrible shock of my life. I heard it on television and although I already knew she was ill, I couldn't imagine that someone so outsized and so loved could ever be absent from this world.
---
Part four: 
Sara Lezana, dancer (Madrid)
"It'll be a long time, if ever, before another dancer is born with such a dynamic spirit"
I met Carmen Amaya during the filming of the movie Los Tarantos, in February of 1963 [Sara Lezana played the part of the girlfriend]. At that point she was already a legend in the world of flamenco, and although it's been forty years since then, the memory continues to be vivid.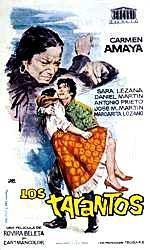 Carmen was a petite woman, lean and high-strung, with a great big personality. Her dark eyes drilled right though you. She was a simple earthy person, and very professional in her dancing. 
I remember when we were filming on Montjuich, it was horribly cold and she wasn't feeling well. It was hard work, but she never complained, she ate like a bird, drank a lot of coffee and smoked a great deal. We had to get up at the crack of dawn to go to makeup, she was very concerned about her appearance, always wanted to be pretty, she was something of a coquette and very feminine. She had this youthful character, I'd almost say juvenile in many ways. She wasn't a cultured woman, but she had the arrogant carriage of someone who had traveled and lived intensely. 
"She was very concerned about her appearance, always wanted to be pretty…very feminine"
One of the most interesting memories I have is of when we filmed the famous scene where she sings and dances bulerías on the mountain. That day there were a lot of things going against her, it was bitterly cold and windy, she was ill, and on top of everything else, the small stage they had put for her to dance on was a disaster. Without any warm-up, she did a little rehearsal and they kept the first take. When it was over we were all so taken aback, the whole crew, all the actors and technicians, everyone, we all applauded excitedly, what an impression that made…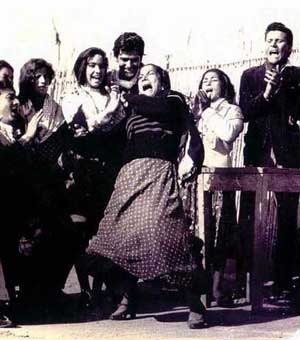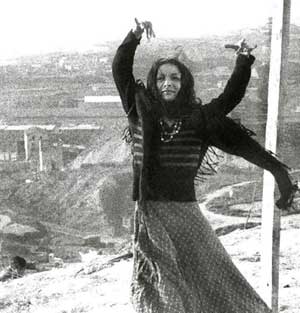 http://www.colitafotografia.com/
When we finished shooting the film the producer organized a dinner for the whole crew, I said goodbye to her and went to Madrid. One day near the end of summer that same year I had a call from Daniel Martín [he played the boyfriend] who asked if I wanted to go up to Bagur to see Carmen because she was very sick, so my mother and I went with him. When we got to that run-down old farmhouse, there she was in the kitchen with her brother Paco, some other relatives and several members of the company. She was sitting on a bench alongside the chimney and she didn't look well at all. To lift her spirits, her brother said that when she got better they would go to Madrid and open a flamenco tablao.
"Her technique was simple, but her way of employing it was very complex"
That was the last time I saw her alive, in Bagur. A few months later the actors' union voted Carmen best actress of the year and I collected the prize in her name.
Over the years I've had the opportunity to see dozens of dancers, both classical and flamenco, but no one ever had such an impact on me as Carmen Amaya. She didn't really leave a school, but she created and revolutionized the whole concept of dance. Her technique was simple but her way of employing it was very complex. Carmen's dancing is timeless, her style cannot be imitated.

As the poet might write, "It'll be a long time, if indeed ever, before another dancer is born with such a dynamic spirit"
---
Part five: 
Pepita y Goyo Reyes, dancers, choreographer (Madrid). Teo Morca, dancer and choreographer (USA)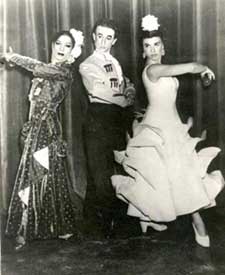 PEPITA Y GOYO REYES, dancers, choreographer (Madrid)
"She drank gallons of strong coffee and ate like a bird…I don't know where she got the strength from"
My husband Goyo and I joined Carmen's group in 1949 and she was like our sister, a wonderful person. She was just another one of the group, I never saw her get angry with anyone, she was an infinitely patient being. The most important thing for her was her family, when we went to London in 1951, her grandfather came with us, her aunt Faraona did a little dance to justify her salary, and her niece and nephew, Chuny and José Antonio, 4 and 5 years old. They used to come out to dance because the audience demanded it, and you wouldn't believe how good they were, especially Chuny.. Carmen Amaya, Goyo & Pepita
She had no extravagances, but she drank gallons of strong coffee and ate like a bird…I don't know where she got the strength from.
She was tireless, but never rehearsed her dances. She would go out on stage and dance what she felt. She never set the choreographies, there was a genius in the group (forgive me for saying it), who was my husband Goyo who choreographed the shows.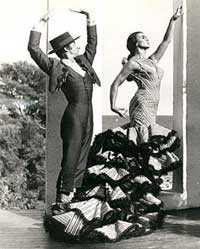 I remember once when we were working in Barcelona, in 1952…when the second show finished she called us all up on stage where there was champagne and hors d'oeuvres. "Hey gang" she said, "this is for our wedding". She and Juan Antonio Agüero had gotten married, and you can just imagine how surprised we all were! She was so unassuming she didn't want there to be a big fuss as would have taken place had the wedding been announced beforehand.
She was exactly like a sister for us. We loved her and I could talk enough about her to fill a large book…
TEO MORCA, dancer and choreographer (USA)
"That was 50 years ago, and I can still taste Carmen's champagne"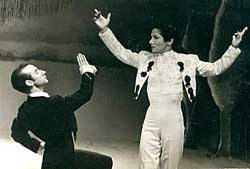 I first met Carmen Amaya in late 1955 while on a cross country tour with Lola Montes. We arrived in New York and went to see Carmen at the Chateau Madrid where she was performing. Her dancing inspired awe.
Then in 1957 she came to perform in Los Angeles at the Huntington Hartford Theatre, and again I went to see her. She invited me to see her rehearsals at Rainbow Studios and this is when I realized how much more Carmen was than just flamenco, as she was directing all the classic and folk dances that she presented in her company.
At this time, she was contracted for a three month engagement at a tablao restaurant in Hollywood called the Casa Madrid, the classiest place of this type in town. I'd put together my first flamenco group called "Los Flamencos" with the guitarists Benito Palacios, Rogelio Reguera and singer Pepe Segundo, and we were to follow Carmen Amaya into the Casa Madrid after her engagement, so I was able to go nightly to see her dance and it was truly something as she gave her all, night after night, in this tablao, with two shows 6 nights a week.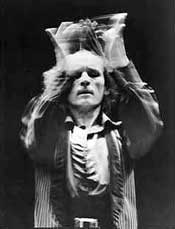 When her engagement was over, I thought she would be out of town by the time we opened at the Casa Madrid, but when I came out the opening night to dance my alegrías, there was Carmen in the front row giving jaleo. I almost had a heart attack. She was front row center with a table full of great flamenco artists of the area. After the show I went out to say hello. I was at the far end of the table, Carmen got up to bring me her glass of champagne and said, "muy bien chico". That was 50 years ago and I can still taste Carmen's champagne.
---
Sixth and final part: 
Lucero Tena, dancer and castanet soloist (México)
"…diminutive, all nerves, feline countenance, clenched jaws…"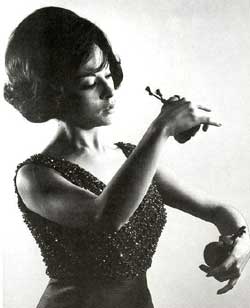 Now that forty years have passed since the disappearance of the best flamenco dancer of all time, I've been asked to talk about my relationship with her, and I am profoundly honored to do so as a way of expressing my gratitude for everything she gave me. My name is Lucero Tena, born in Mexico City, currently a Spanish citizen and giving castanet recitals. I was living in Mexico when I met Carmen Amaya and my background explains how and why I met this great artist. I was studying classical ballet with Nina Chestakova for eight years, and Spanish dance with Emilia Díaz from Madrid who taught me all the wonderful dances of Spanish folklore, eighteenth century bolero and the classical dance of Spanish composers like Falla, Albéniz, Granados, Turina, etc. She always spoke of the two most glorious interpreters of Spanish dance: classical dancer Antonia Mercé "La Argentina", and the great flamenco dancer Carmen Amaya.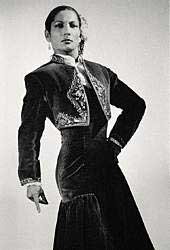 My burning desire to know both women was within the realm of possibility with Carmen, if not with Antonia Mercé who had since passed away. Carmen arrived in Mexico and I was thrilled to attend her debut..magical, majestic, electrifying, true art in all its glory, just as my teacher had described, even beyond my expectations. I had to meet her immediately so I went to her dressing-room. There was this small woman…diminutive, all nerves, a feline countenance, clenched jaws…she was still in tension from the performance. I told her I was a 'ballerina', that my teacher Emilia Díaz had spoken about her and that meeting her was the most emotional moment of my life.
She took my hand, gave me a kiss and I embraced her. My mother who had come with me said I should let her rest and that more people were waiting to congratulate her. During the six months Carmen was in Mexico I went to see her perform and be with her every single day, and I finally got up enough nerve to ask if she would give me classes. She graciously answered that she didn't teach but that I could attend her rehearsals, which I did for several months. I learned to love flamenco just from seeing the great Carmen Amaya.
"…Ana Pavlova, Pau Casals, Andrés Segovia, Carmen Amaya…"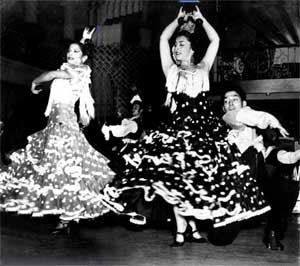 During the rehearsals there was a change of program that called for some orchestrated regional and classical Spanish numbers in addition to flamenco. I remember one of them was Rimsky-Korsakov's "Capriccio Espagnol" where the classical part was interpreted by her first dancers, Goyo Reyes and Pepita Ortega, and there was a section Carmen danced with her sister Leonor (Leo). When Leo fell ill with hepatitis the doctor ordered absolute bed rest, and when the day of the debut arrived Leo couldn't dance. During a meeting with the company, Carmen, who had mounted the dance for herself and her sister (the rest of the show was choreographed by Goyo and Pepita) said firmly: "Lucerito, the little Mexican girl can take Leo's place".
I was sitting on one side observing the meeting with my mother and they called us over to the table to ask if I would join the group to take Leo's place. I remember being so surprised I was dumbstruck, but my dear mother gave me a kick under the table so I just managed to blurt out "YES!"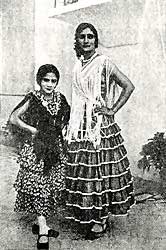 And that was my beginning with the unequalled Carmen Amaya, and I say "unequalled", with no successors, because ever since I was a young dancer I've always said that there has been an Ana Pavlova, a Pau Casals, an Andrés Segovia and a Carmen Amaya. It was a fantastic life experience to travel with my Carmen (whenever I speak of her, and even when I used to speak with her, she always was, and will be "my Carmen") throughout different cities in Mexico and then the United States, from New York's Carnegie Hall to the inauguration of Hollywood's Huntington Hartford Theater. Carmen had one glorious success after another, she was electrifying, she moved audiences to tears. For nearly three years, until 1957, I traveled with my Carmen, and on days off my mother and I would visit her in her hotel room where she would always be embroidering, she loved that, and sometimes we'd go for a walk…she loved parks and she'd run and laugh like a child, climbing up trees. This was a woman with incredible inborn intelligence, and boundless humanity.
"Carmen Amaya led the way in flamenco dance as did Sabicas in flamenco guitar"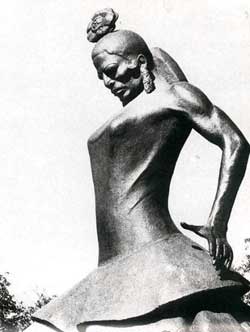 She defended and adored her family and was always very in love with her husband Juan Antonio Agüero. I once asked her what thoughts went through her mind on stage and how she dealt with the fear, the nerves, the crushing responsibility, and her answer was: "when you go out on stage, think that you're in a magic world where you're the queen, and throw yourself into it forgetting all your problems and disappointments…don't look at the audience, you must rise above the reality and when you're living and enjoying your art, then you'll be communicating". Amazing! Those words have always stuck in my mind and will always be my guide.
After the USA Carmen went to South America. Although I was delighted to be with her, I had learned what I could about flamenco, and so many other things, and it was time to move on. I left the group and told Carmen my greatest dream was to travel and discover Spain. She said that was the right thing to do, that we would see each other in Spain and she would be very proud of me.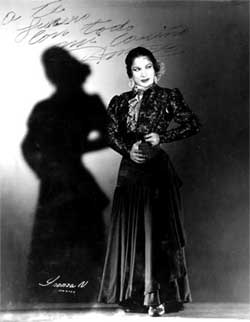 Four years later our paths again crossed when she came to Madrid and went to see me at the Corral de la Morería. That night was incredible. Word had got round that she was coming to see me dance, and the tablao was packed to the rafters with people who wanted a glimpse of Carmen. My whole body trembled with nerves and emotion. I remember how incredibly beautiful she was that night, and how well-dressed: a pearl-gray gown and satin shoes. I dedicated my performance to her and afterwards went to her table to say hello…she kissed me and said she was very proud of me and that I really knew how to move the 'bata de cola', something I'd learned from her. So many women just stoop down to pick up the long train of the bata. She never bent down but rather kicked it up into the air to catch it, and I always did it just as I'd seen her do…she would raise it high over her head like a peacock. I remember that night her husband Juan Antonio told me they were on their way to Barcelona to visit Dr. Puigbert before the European tour.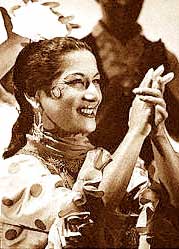 There's an LP that was recorded in New York, "The Queen of the Gypsies" ('La Reina de los Gitanos'), where I had the honor and the pleasure of doing palmas. I wouldn't want to forget to mention another great name in Carmen's company and that was Sabicas, that artist of the guitar. When Sabas played and Carmen danced, it was like going to another world. Carmen led the way in flamenco dance just as Sabicas did in flamenco guitar.
I feel as if I could say so much more about the great Carmen Amaya and only regret not knowing how to do it better…
---
END OF THE SERIES
"Carmen Amaya… ever since then everything pales by comparison, I have never in my life seen, nor shall I ever see anyone dance better than that gypsy woman". Juan Maya 'Marote', the late guitarist from Granada. 
---