Rafael Manjavacas
We're chatting with guitarist José Carlos Gómez from Algeciras as he stops off in Madrid for the presentation of his record "Origen" at the Círculo Flamenco de Madrid. He talks about his career, the flamenco guitar in general, and his recording.
"There are many guitarists, but what's missing is creativity"
Guitarist José Carlos Gómez of Algeciras, child prodigy, began taking clases at the age of 6. "I first studied with Flores el Gaditano, then Salvador Andrade who had studied with Antonio Sánchez, Paco's father, and he taught me all the falsetas".  He didn't do badly at all, by 11 he was giving concerts, and by the age of 16 he had accompanied the famous Canela de San Roque.
He arrived in Madrid to work with the company of Merche Esmeralda "thanks to María Bandera who knew me from Algeciras, and who sacrificed a performance at the Veranos de la Villa in order to give me an opportunity".  Once in Madrid, he entered the Ballet Nacional de España: "I joined in 1991, and stayed for six years, I traveled a lot, and began to compose music, it was an incredible apprenticeship, but in the end, it was also limiting".  During that time, I was able to participate as second guitarist with Serranito, and share tours with the maestro.  A health problem – I needed a kidney transplant – caused him to rethink his life, leaving behind the stability of the BNE, and returning to Algeciras.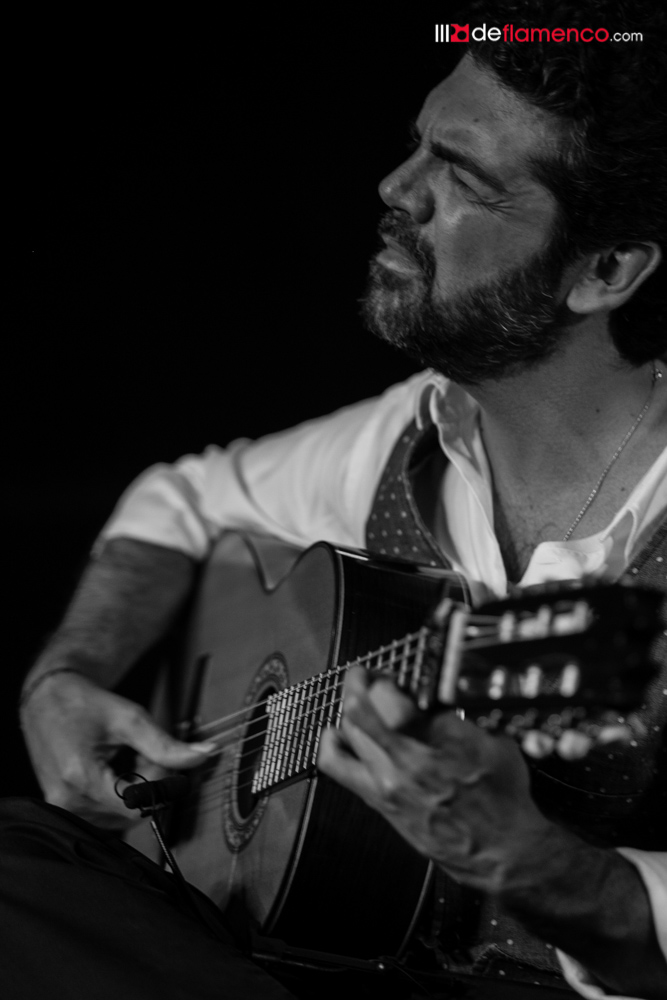 Once in Algeciras, Alejandro Sanz called him to play on Niña Pastori's record "Cañaílla", where he did the alegrías "Sobre la Arena" y "Manolillo el Canastero".  That led to a long tour with María, and the opportunity to work with many other artists. "As a result of the success of "Cañaílla", I was able to work with Duquende, Sara Baras, Marina Heredia, El Pele, Armando Manzanero, Serrat and of course, Alejandro Sanz".
José Carlos also made a couple of recordings singing: "it's something I didn't think I could do, I thought that to sing, you had to have a big voice, but they convinced me that with very little voice, you can also communicate".  In the end, a person who likes to write songs and lyrics, needs to express that via records.
In "Origen", he felt the need to get back to the flamenco guitar, but "it wasn't easy to return, that meant 8 or 9 hours a day practicing".  He admits he had this project on his mind for a long time, but "it was when Paco left us I decided to get down to business, embrace the guitar as a way of being closer to him, and in gratitude".  A bare-bones record that allows the guitar center-stage: "there's no voice, no bass, only guitar, palmas, some knuckled rhythm and a hint of percussion in the rumba and a tanguillo".
It was a record waiting to be made: "it's the recording I wanted to hear, nowadays there are many guitar records that don't sound flamenco any more, they seem diluted somehow, I want to hear a soleá that sounds like soleá, a granaína that sounds like granaína, but that also has something new to say, that returns to the roots with something new".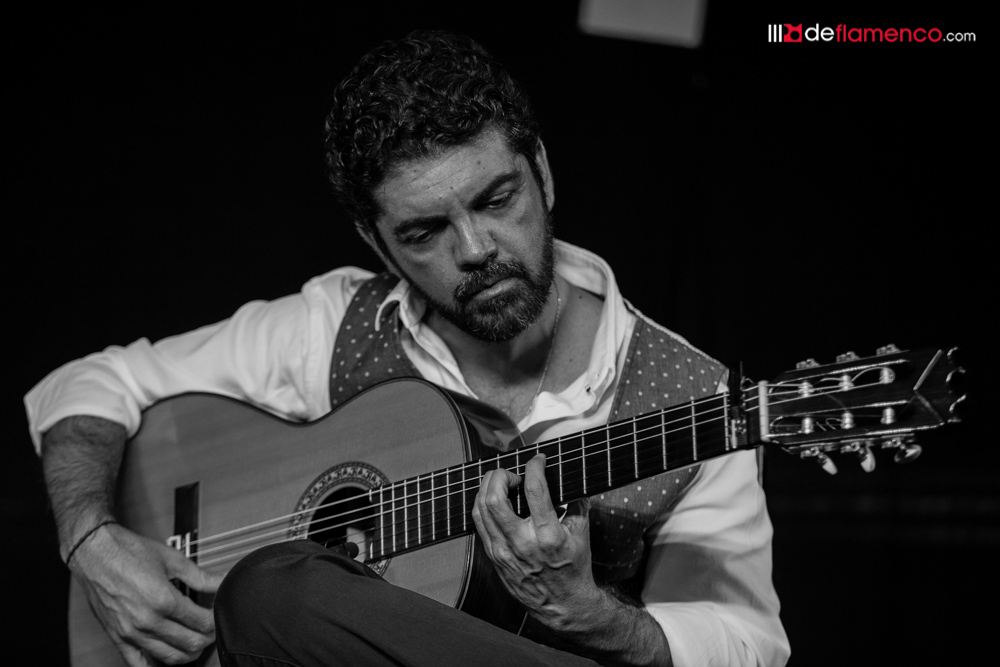 "Origen" is also Algeciras and Campo de Gibraltar, "an area that has been mostly ignored, I want to defend the artists of my zone.  Like when I played for Canela, summers on the beach of Rinconcillo sharing experiences with José María Bandera or when Pepe de Lucía came with Potito who was 11 at the time, or when I had the opportunity to work with Moraíto and Tomatito".
An entire generation of guitarists marked by Paco de Lucía, just as happened in singing with Camarón, makes it hard to see beyond the horizon.  José Carlos admits that "a guitarist with such a strong personality was my only guiding light for a very long time".  Lately however, I've been listening to Borrull, Luis Maravilla, Sabicas, Montoya…discovering a lot of what they gave to flamenco guitar".
And if we ask ourselves what's left after Paco, the answer is, "there's a huge vacuum that is hard to assimilate…there are many guitarists, but what's missing is creativity, and that it all comes out as flamenco.   Paco was creating at every point of his life, and never stopped being flamenco.   Now they talk about thrones, and who's going to take Paco's place, but no one can reach that level, all that's left is each one trying to work in his own way, it's very hard for me to talk about Paco".
Getting a style of your own, that's what you always have to try for, it's already complicated in dance and cante, imagine what it takes with the flamenco guitar.  "It's extremely difficult, and nearly all current guitarists are under Paco's sway so to speak, sometimes people tell  me you can hear it in my playing, but it comes out without trying, I guess it depends on the people you've worked with and the music you've played, a style isn't something you try for, the style comes to you".
Flamenco guitar has long been the Cinderella of flamenco, "I always say us guitarists are at the bottom of the pecking order, we have to practice the most, work the hardest and spend hours every day to keep up the level, setting music for dancers, taking care of the singing, and then our names show up on programs in tiny letters.  Although Paco did a lot to legitimize the figure of the guitarist, we're still lagging behind".
As far as the established format for flamenco guitar concerts, aside from people like Vicente Amigo or Tomatito, many guitarists have to find a formula to work, José Carlos Gómez has it clear: "just like the record 'Origen', what I like is the format of flamenco guitar with some rhythm, knuckles, handclaps…the guitar is the star of the show.  Sometimes, if you keep on mixing with other things, it loses its identity, and if so, then we're left with nothing".
When it comes to the record industry, in these times of self-publishing and self-promotion, José Carlos already has a head start, since he's been recording his own work for years: "the good thing is the freedom you have, the bad thing is you have to be on top of everything, it takes two roles, that of interpreter and that of executive".  And in these times of social networking, the show-window has changed, "now you have to call attention, not only be creative, you have to be original and try be noticed, nowadays anyone's an artist, they just make a video singing on the stairs of their house, and already they want to make a record".
"Irenea" live at the Círculo Flamenco de Madrid.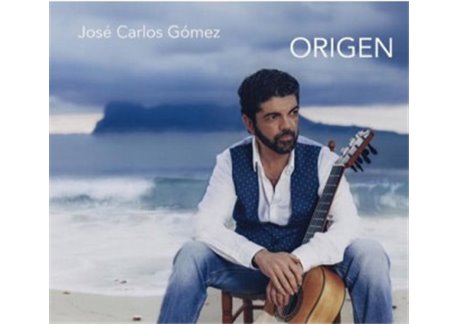 ---