Interview: Pablo San Nicasio Ramos
Interview photos: Rafael Manjavacas
"To see your dreams come true, you have to be very brave"
Cecilia Gómez is a woman riding the crest of the wave of fame and flamenco.  Perhaps it's a little bittersweet, because it was the non-flamenco media that were the first to put her on magazine covers.  But it's never too late, and now, from her dressing-room, right before one of her performances as Cayetana de Alba, she has shared with Deflamenco what it feels like to be at the top.  It's her Madrid debut leading the bill for a half month at the Teatros del Canal.  It was high time to find out how, where and when this Cádiz dancer who can claim to have fulfilled her dreams, came to the top of flamenco.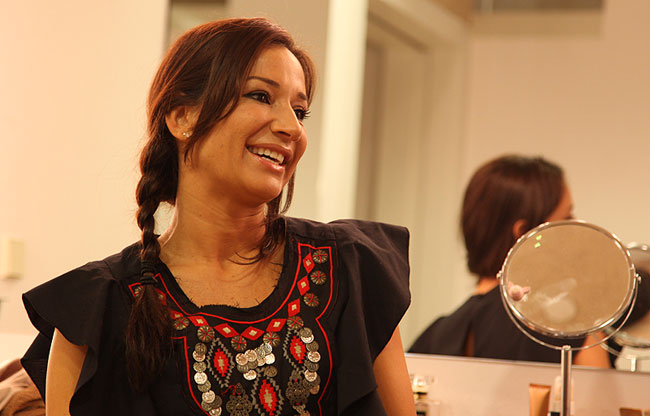 Ours is the first specialized medium to interview you.  For someone who's been in flamenco a whole lifetime, that might be painful for you…
It's strange.  In the world of flamenco we all know each other, and we know how professional each one is.  In my case, there was some prejudice due to past interest from the gossip magazines, as if I'd been doing this for a couple of days, and that's not the case at all.  And consider that not only myself, but everyone in the group is well-known within flamenco, although anonymous for the general public.  Wonderful people who, like me, have been doing this for a lifetime…at least they deserve some attention.  Being ignored like that wasn't just towards me, it was them also.
The previous time I came to Madrid, last year on the Gran Vía, when I debuted this show, I invited everyone, specialized or not, and they all knew who I was.  And at that time the critics didn't talk about the show, just about me, they were prejudiced against me, often without even having seen the show.  But the theatre filled up all the same, the audience liked the show, repercussions were far-reaching and all I can say is I'm very proud about it all.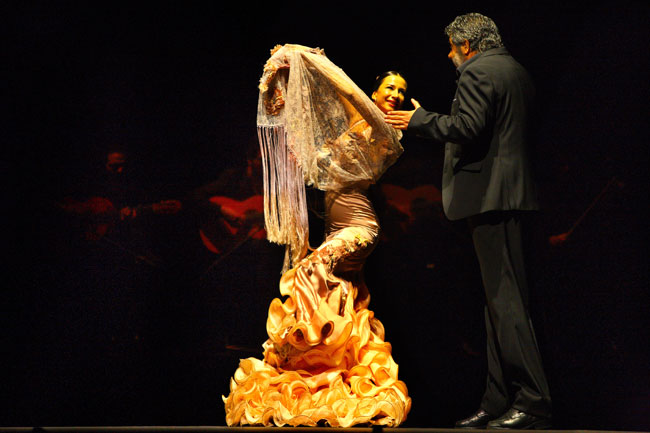 How did your career go?  Because maybe that prejudice comes from your having jumped to being the head of a company of your own, just like that…
Well, that did occur to me, I had the libretto registered and my admiration for the central character goes way back.  But I wanted to wait until Sara Baras, with whom I'd been working eight years, suspended her career to have a baby.  At the same time however, the gossip magazines began to get wind of this project due to my relationship with a certain person….whatever, it always happens.  Then the project came together, with Jesús Quintero, the help of Vittorio y Lucchino and everyone else.  A lot of people…Guadiana, José de la Tolea, a terrific helping-hand from Paco de Lucía who gave us one of his pieces…  To explain it all seems excessive, although the media didn't have any tact at all.  They brought up everything, and I made no effort to give explanations or to prove otherwise.  That wasn't my aim.  I just kept to working and preparing the project.  That takes more guts than answering certain rumors.  My horizon was above all that.  And now that time has gone by, I'm proud that the show stood up and continues to thrive.  Listen, the general press gave free publicity to this, and the box-office is doing well, all the better.  The other day I was talking with Pepe Viyuela, who's here next-door with "El Pisito".  He says that now it's the way it was years ago, we live from the box office, which is very complicated.  And we're still here.

"They brought up everything, and I made no effort to give explanations or to prove otherwise.  That wasn't my aim.  I just kept to working and preparing the project". 
It looks like you've got a company for some time to come.
It's a permanent company, and we're looking to the future.  We're going to take this show to South America, Valladolid, Málaga, Rome…despite the ups and downs, and we're already thinking about the next show.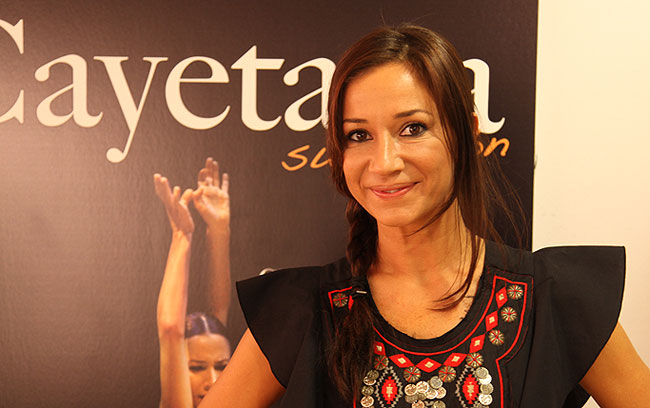 There are some tremendous names in this show.
We got Paco de Lucía thanks to Viejín…we used a piece from his record in which Paco plays, and he let us use it with no problem, which for us is a great honor.  Antonio Canales helps with the stage direction.  His stage sense is fundamental, aside from being a master dancer.  Then there are things of Diego Carrasco, of Viejín like I said…
On Sunday you brought him out for a bow.
Because he deserved it.  He's a genius.  He tells the guitarist do this, do that, the tangos like this…he's all goodness and tranquility.  That day there was a problem with the sound, and instead of saying anything, he calmed me down and was very supportive.  He turns everything around and finds the positive side to everything.  Just imagine, after the show we stayed in the dressing-room for one hour dancing…incredible.  The younger people respect him a lot, and we ask his advice whenever possible.
The future you were telling me about….
That'll be something else.  We'll have to reinvent ourselves and we'll be a lot freer, because here, although I don't really transform into Cayetana, it's something that can condition you when it comes to expression.  I'm going to try to be more myself, my true feelings, my way of dancing.
I want to get rid of any shy approach I may have had up to now.  They tell me at times it seems I'm apologizing for dancing, always on the defensive.  This is something I've partly managed to shake off after seeing the audience reaction.
The reason I ask is in case you plan on answering anyone who might criticize the possible cornyness of the work…the bulls, the painting, the nobility…because at this point you must be chomping at the bit.
More typical than Carmen, there isn't anyone, and she's been that way all her life.  Whatever you do, you have to do it well, that's all that matters.
What no one mentions is that I dance alegrías dressed as a princess, and it's very hard to do, dressed like that.  Or that the bata de cola is a catwalk dress, not a dance dress, and that's another world…in that sense people weren't objective.  And then, for example, the Duchess of Alba has done a lot for flamenco, referring to it as the greatest artform of this country.  She's posed for the most important photographers dancing flamenco, when she could just as easily have shown her face and left it at that.  She's helped and admired many flamenco artists, it would be unfair not to point that out.
"I want to get rid of any shy approach I may have had up to now.  They tell me at times it seems I'm apologizing for dancing, always on the defensive.  This is something I've partly managed to shake off after seeing the audience reaction".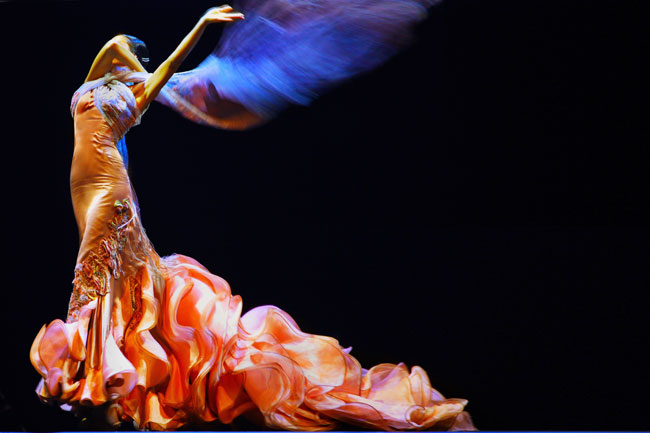 Sara Baras said you were just another member of the company.  Did you take that as an insult?
No, what she did was take the pressure off me, so people wouldn't be so hard.  And so I wouldn't pay attention to possible attacks, and could see myself as a professional of flamenco with the same level as the rest of the company. 
Was it a difficult change going from corps de ballet to being at the top of the bill?
Actually, yes.  More than artistically, it was a business change.  Now I understand the sleepless nights, the reaction of the people…but it's always worthwhile when you see the people stand up for you.
[At this point, Cecilia is overcome with emotion, and you can see a tear or two]
Please forgive me, this is very charged.  It's complicated…you'd think I don't have the strength to carry the responsibility of a company.  And gratuitous personal attacks, not talking about art…that hurts.  But when you see people touched by what you do, communicating from the audience that they understand your message…that's good enough for me, and it's worth the investment just for that, like Juan Palomo, I cook it, I eat it…it's not easy.  And you're not going to start explaining to people that you just had it out with the bank, or you've been working hard for months.  I even read in one place that I was being supported by "Hola" magazine…I couldn't have been more indignant.  I can't get worked up any more and sacrifice my health.
I haven't done anything bad to anyone, I just work.  This operation is very expensive, and it takes a lot of sacrifice to make it worthwhile, the audience, I repeat, the audience is what gives everything or takes it away.  They can say I'm a media presence, but look, the people who talk about my ex…let me tell you, when the bull comes out, it doesn't know about media presence.  In flamenco the spectators don't either, they just know whether or not they like you.
What kind of shield do you use to protect yourself?
Well, knowing that I can pay everyone, that we're all comfortable and wonderful improvisations come out on stage.  Which is where they have to come out, there's a fantastic rapport, everyone knows each other well.  And knowing that there's no problem if one day people don't come.  At least I know I've fulfilled my dream, and for that, you have to be very brave.
---