Text: Estela Zatania
Photos: Ana Palma
22nd FESTIVAL DE JEREZ
Tuesday, February 27th, 2018. 9:00pm. Teatro Villamarta, Jerez de la Frontera
Flamenconautas, Compañía Internacional de Flamenco
"Vamo' allá"
Artistic director and choreographer: Javier Latorre. Stage direction and script: Francisco López. Music: Flavio Rodrígues, Alfonso Aroca, Sergio de Lope. Guest choreographers: Gala Vivancos, Chloé Brulé, Karen Lugo, José Maldonado, Shoji Kojima. Special collaboration: Shoji Kojima, Javier Latorre. Guest artists: Yuka Imaeda, Juan Gómez "Chicuelo". Dancers: Ana Chiu,, Ana Latorre, Carmen Coy, Ekaterina Tsvetkova, Fabio Rodrígues, Felipe Clivio, Gabriel Matías, Irene Correa, José Maldonado, Karen Lugo, Natalia Zaykova, Pablo Egea, Stacy Liao, Jesús Perona. Musicians-Guitar: Flavio Rodrígues, Tino Van Der Sman. Piano:  Alfonso Aroca. Voice: Londro. Wind instruments: Sergio de Lope. Percussion: Perico Navarro.
Long before Paco de Lucía began to appear in recitals playing music with people whose names were hard to pronounce, the presence of non-Spanish interpreters in flamenco shows was already an almost common reality.  In fact, decades before.  People didn't make such a fuss about it, because flamenco started out as music, then became a global phenomenon, and only now does the condition of being a foreigner seem worthy of note.
Fast forward to the present.  Flamenco is, as we read on the program, "a living entity that evolves and reinvents itself".  The project "Flamenconautas, Compañía Internacional de Flamenco", is an important road-marker on that cultural voyage: nearly all the members of the company are non-Spanish.  Perhaps for this reason, the program is based on the most classic sort of flamenco…or maybe it's despite that, who knows…  The show is dotted with avant-garde moments, such as the "Regreso a la Huasteca" by the impressive Karen Lugo, a dancer we discovered some years back in this very festival.  But the (long) program also includes farruca, guajira, fandangos, zorongo (danced by José Maldonado in one of the most interesting moments), caracoles (admirable choreography), zapateado, caña, bulería por soleá, martinete siguiriya and bulerías – no one can complain about a scarcity of "real flamenco".  Sometimes you don't know if these interpreters seek acceptance "despite" being from other countries, or if they accept being judged with the same yardstick we employ for any Spanish artist.
The numbers speak for themselves: 13 dancers from 8 countries, and 8 musicians of 4 nationalities.  In the arts in general, the international variety of the interpreters is a given, and it doesn't seem necessary to insist on this point.  No one is surprised if an opera singer isn't Italian, or a ballet dancer isn't Russian.  This project, aside from the admirable efforts of so many people who have sacrificed so much for flamenco, represents the official desire to attract an even bigger international audience, while at the same time validating flamenco as an Intangible Cultural Heritage.
Especially noteworthy was the wardrobe, the choreography, the varied program, the presence of that veteran warrior of dance, Shoji Kojima and the enthusiasm and professionalism of all the participants.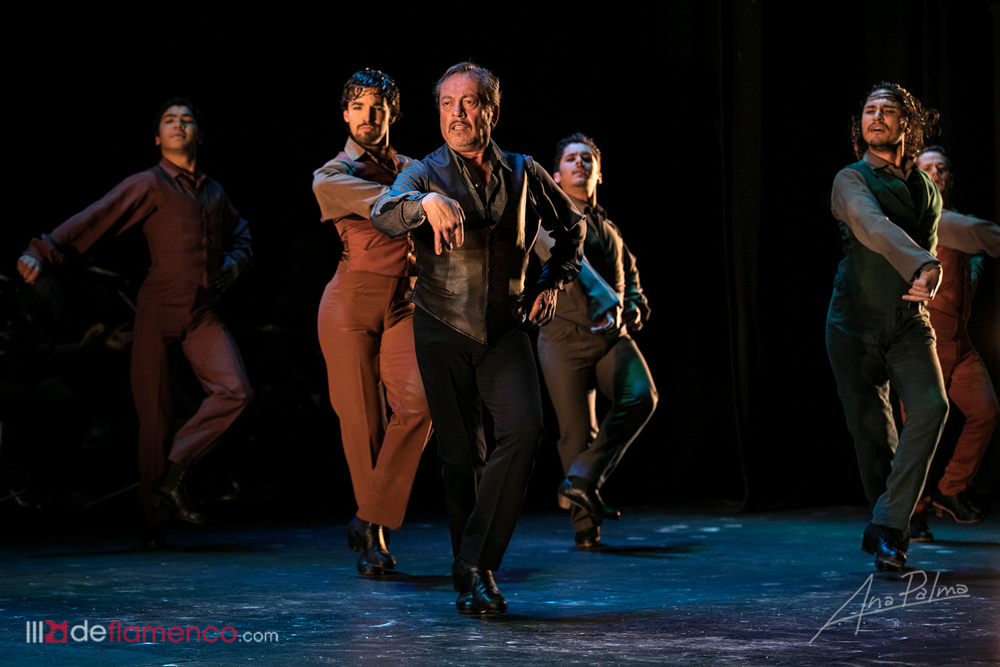 José Barrios "REDITUM, BAILANDO FLAMENCO".
At seven p.m., in the Sala Compañía, the José Barrios company presented the work titled "Reditum, Bailando Flamenco".  It's a show in the discreet line of extreme darkness so often seen in the series consigned to this venue.  A basically gloomy show that sometimes keeps us from being able to see the artists' faces, except for the well-lit tanguillos, when your eyes are so thankful they do a high five.  The dancing of José Barrios is based nearly entirely on footwork sections, separated by brief rests, as well as a segment with bata de cola…black…for alegrías.  Also, siguiriyas, farruca and sevillanas, among other pieces.  The voices of Paco del Pozo, Ana Ramón and Sara Corea, the guitar of Isaac Muñoz, the wind instruments of Diego Villegas and the percussion of Luis Dorado provide the fine back-up, and violinist Víctor Guadiana was one of the most interesting interpreters.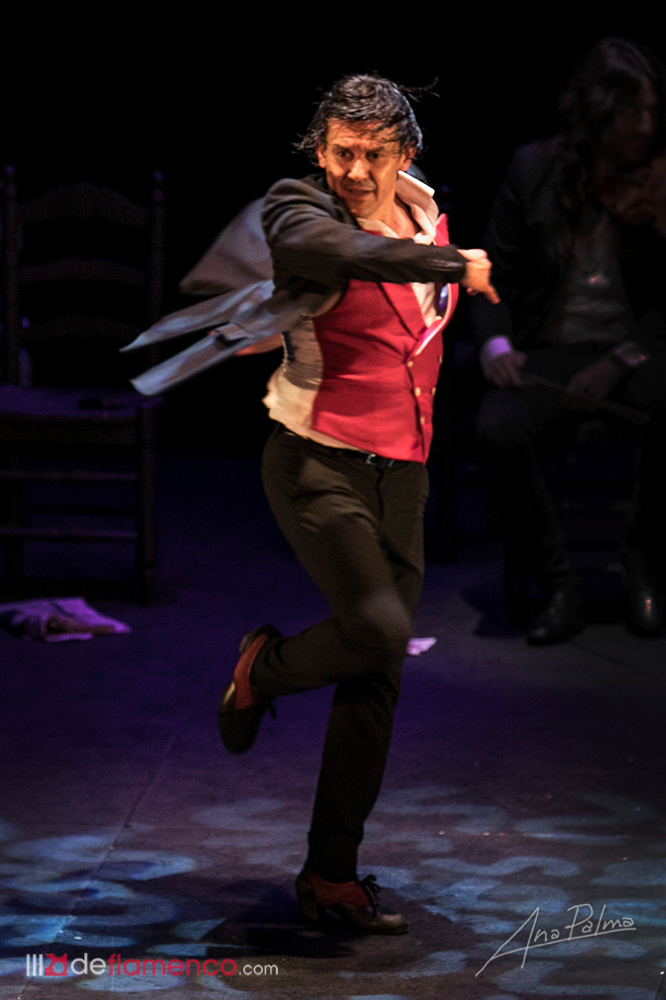 María Terremoto "RAICES"
At the González Byass winery, the aroma of sherry and oak barrels was the perfect backdrop for the first important appearance in this Festival of young singer, María Terremoto.  An off-stage voice began the presentation with an intensive whirlwind course in the family traditions of Jerez singing.  María, daughter and granddaughter of great singers, is the fresh new face of flamenco in this city.  In fact, there was a certain feeling of witnessing the birth of a star.  At just 18, the young woman exhibits surprising command, not only of the singing…soleá por bulería, bulerías, fandangos and in particular, siguiriyas to raise anyone's gooseflesh…but also of having a powerful stage presence, speaking to the audience and sweeping her long blond hair to one side with the expansive gestures of Hollywood star.  The pop music she interpreted, and which she seemed to quite enjoy, was not up to the level, nor much less, of her flamenco singing.  But with her strong clean self-assured delivery, it's likely she is capable of reaching any goal she takes on.
The guitar-playing of Nono Jero was noteworthy, as were the three young singers, Rafael del Zambo, Manuel de la Nina and Enrique de Remache, in addition to Melchor Borja on piano, Carlos Merino on percussion, the choral singing of Ana González and Inma la Carbonera and the rhythm of Manuel Valencia and Manuel Cantarote.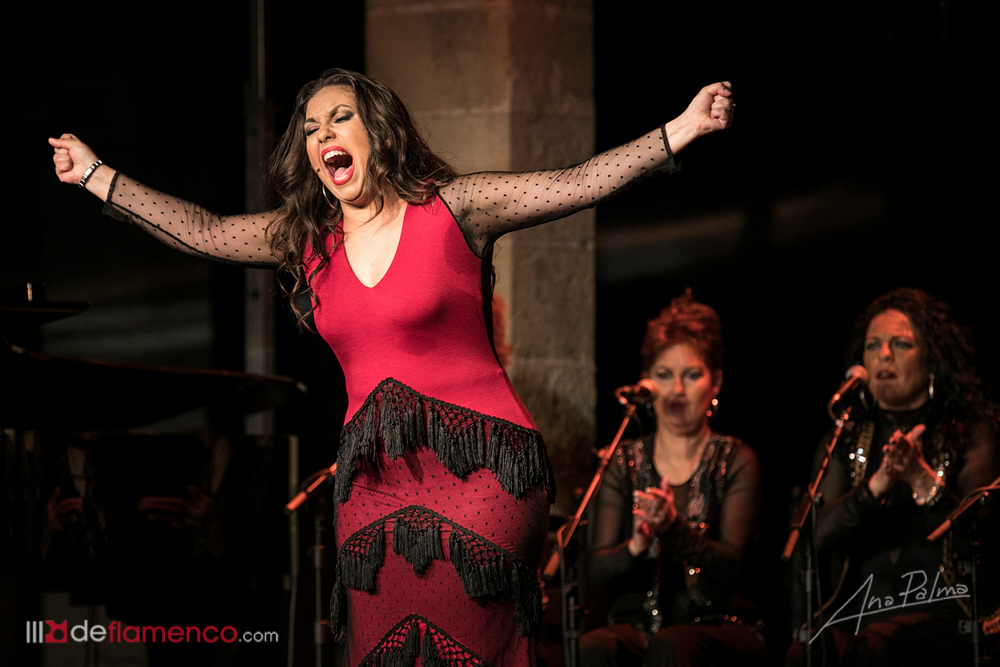 ---