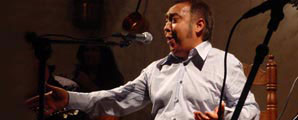 The return of Fernando Terremoto
Friday, September 18th, 2009. 10:30pm.
Jerez de la Frontera
Text and photos: Estela Zatania
One of the most admired and beloved flamenco singers of all time was Fernando Fernández Monje, "Terremoto", who passed away very prematurely three decades ago, leaving a vacuum in Jerez cante that is impossible to fill.  But he also left us his son, Fernando Terremoto, who is turning forty this year.  Surrounded from birth by the best flamenco ambience, his first artistic expression took form via the six strings of a guitar.  But destiny decreed he was to be a singer, and all flamenco fans can be grateful Fernando has managed to recognize and develop that path with brilliant results.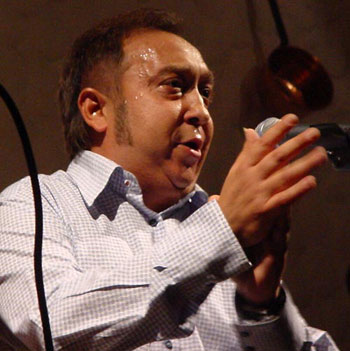 A full resonant voice, unmistakably and totally flamenco, the sound so reminiscent of his father, instinctive compás, cante learned via oral transmission of a sort that hardly exists any  more, and the intelligence to put it all together.  Due to health issues, Fernando has been out of sight for many months, but last Friday, at the Asociación Cultural Flamenca Fernando Terremoto in Jerez de la Frontera, before an emotional audience of fellow performers, journalists and relatives, the singer showed he's ready to get back into circulation, and he hasn't lost one bit of his impressive faculties as some had feared.
With the guitars of Alfredo Lagos and Manuel Valencia, the palmas of Carlos Grilo and Luís Cantarote and the percussion of Ané, Terremoto offered a complete recital in two parts.  With the room packed to overflowing, and with the presence of people like Miguel Poveda, Macanita, El Bola, Antonio Reyes, José Valencia, Antonio Campos, Juan José Amador and José María Velázquez-Gaztelu among many others, Fernando began with the best bet, the comfortable bulería por soleá that Jerez singers dole out as easily and spontaneously as the rest of us breath.  Malagueña, siguiriya, bulerías, the same power as before, but with more expressive dimension.
In the second part, Fernando was more relaxed when he announced he was going to sing some themes from the new recording he has in preparation.  His version of "Canastero", Camarón's little jewel that those of us of a certain age so lovingly remember, updated and polished after 35 years in limbo, ending with bulerías for that beautiful bit of music "Has de ser mi compañera".  Original songs set to bulerías, and even serranas to the same compás.  And why not?  It's the rhythm that's doubled creating a dynamic of tension, while the cante remains intact.
The closing fiesta couldn't have been more moving….and numerous!  One after another danced, and Juana la del Pipa sang, but the moment which left no dry eye was when Fernando's small daughter belted out surprisingly strong secure bulerías for her father to dance, an unforgettable historic moment.
Welcome back Fernando, we missed you…
| | |
| --- | --- |
| Juana la del Pipa con Fernando Terremoto | Fin de fiesta |
---