Sara Baras presented "Medusa" at the Cante de las Minas
The Cádiz dancer presented her most recent creation at the Cathedral of Cante, dedicated to Paco de Lucía.
August 17, 2014
Photo gallery: Rafael Manjavacas
Twittear
Special Report 54th Festival Internacional del Cante de las Minas
There was a packed house to see "Medusa", the latest work of Sara Baras which debuted one month ago at the Teatro Romano in the Festival de Mérida. It was a tough job to combine flamenco with a work of Greek mythology in which the dancer was in charge of interpreting and staging Medusa, more appropriate perhaps for more classical stages.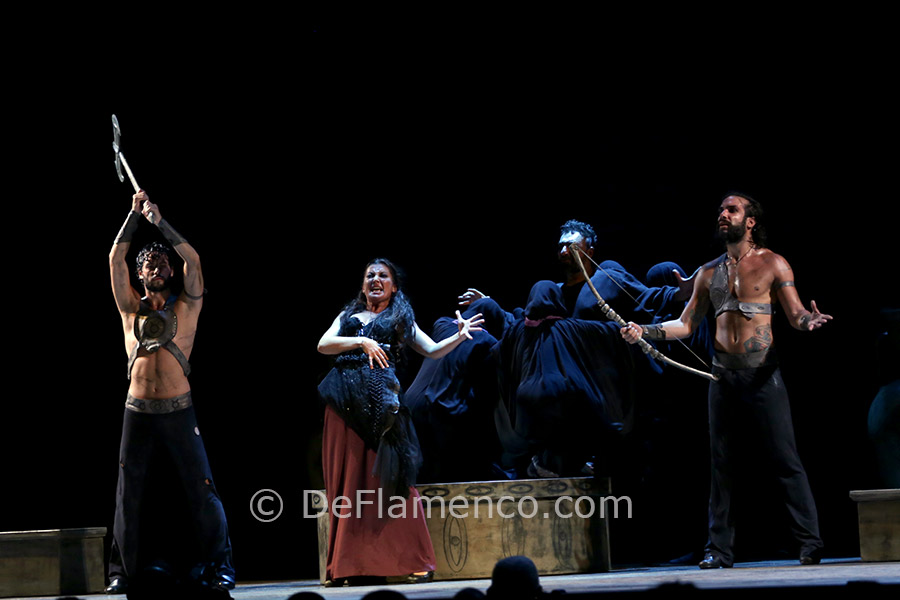 Medusa, with live music by Keko Baldomero, and the collaboration of José Serrano and Juan Carlos Vellido as guest artist, is a show that takes place in two parts. First, at the Temple of Athena Sara plays an innocent young girl, Medusa. Dressed in white, she danced with the energy and vitality of youth. In the second part, after being raped by Poseidon (David Martín), everything changes, the stage turns black and the central character's expression changes from young girl to a disgraced abandoned woman, full of anger.

An hour and a half of theater, full of strength, heelwork and contrasting sweetness reflected in her face. Sara is radiant and attractive interpreting the goddess Medusa who was condemned to turn to stone anyone who would gaze upon her, and to have a head full of snakes instead of hair, a transformation we clearly see as the show progresses.

In the end, the audience was enthralled, and the dancer dedicated her performance to Paco de Lucía and La Uníon. She also had words for Blanca del Rey, "This is for you, maestra", before dancing the last bit of the evening.