Texto: Pablo San Nicasio
Fotos: Annemiek Rooymans
Flamenco Clasico. 1st February
To shed a tear
With the great atmosphere that characterizes this festival, and carried away by a cheerful routine that takes our mind off economic woes, we're reluctantly faced with the home stretch.  According to the program, Catalonia is the region chosen this year to take the form of a show titled "Focus Catalunya".  And of course, Mayte Martín had to be on the program, being Catalonian herself, but above all, universal.  Because she even has fans in the Netherlands.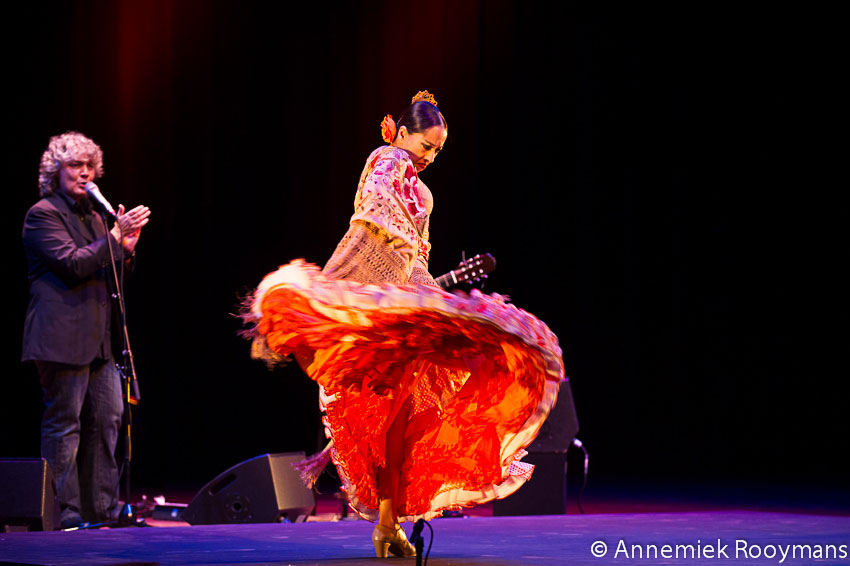 And she deserves them.  It's only normal.  How is it possible for a singer to interpret more or less the same repertoire for years, and still be able to provoke the shedding of a tear at precisely the same moment in even the most hardened fan?  Because the opening granaína, and the well-worn malagueña of the Sereno come in at the least saccharine moment.  It takes us unawares, cold.  But growing throughout the siguiriyas and cabales things start to change.  The garrotín, though familiar, is not easy, and the superb assortment of fandangos is not something everyone can manage.  Ok, it's true, Mayte keeps the histrionics under control, and her phrasing and clean tones are part and parcel of the final result.  We're still able to control ourselves.  But she knows.
María Teresa Martín Cadierno is a woman who knows what she's doing.  And just look at this fandango verse: "The day you die you'll take nothing with you, how can you be so innocent to think money will save you?"
Take careful note.
Belén Maya arrives on the scene.  Shawl and bata de cola, alegrías that move beyond folklore into virtuosity.  With a brutal silence and guitar tremolo (Caro was as good as his name) came the first crowning moment.
Mayte Martín took a full hour to sing just five cantes.  Her cadence is such that without needing to sing numerous verses, she stretches out the phrasing.  She's been doing it for years and her cantes are timeless.  A universe.  Cold say some clueless people.
But she knows what she's doing, we continue with bulerías and it's mostly cuplé: María de los Mercedes, Compromiso…you get the idea.  All this you've read up to now is small change compared to the extraordinary ending guajira.  Belén and Mayte, Mayte and Belén, with the guitar of Juan Ramón Caro who has his repertoire of "ida y vuelta" music well-registered on records.  Let`s hope they make a vídeo, because in addition to shared affection and art, there was…that tear that was shed.  I tried to hold back, but it was impossible.
It's all the same to me if they want a vidalita or whatever.  The main thing is that Mayte, yet once again, got me to shed that tear that makes all the difference in the world.  
---