Text: Estela Zatania
Photos: Ana Palma
XXI FESTIVAL DE JEREZ
Farruquito "Baile Moreno"
Saturday, March 4th, 2017. 9:00pm. Teatro Villamarta, Jerez de la Frontera
Special 21 Festival de Jerez – All the information
Dance: Juan Manuel Fernández Montoya "Farruquito", Juan Antonio Fernández Montoya "El Barullo", Antonio Moreno "El Polito", Gema Moneo, Marina Valiente. Voice: Antonio Villar, Pepe de Pura, Encarna Anillo, Mari Vizárraga. Guitar: Raúl Vicenti. Percussion: Ané Carrasco. Cello: Barnabas Hangonyi.

Lineage, family, "in the blood", roots, tradition, heritage…  These are words that come up when people talk about classic flamenco.  And when a family represents a school, aesthetic forms that are admired and copied, it becomes inevitable; art is not exactly inherited, but it is obsessively cultivated to preserve that which is valuable and moving, and along the way, provides a source of income.  That's how the flamenco machine works.
The Farruco family is an extreme case.  Beginning with the patriarch, no longer with us, Antonio Montoya Flores, "Farruco Viejo" as he's popularly known, a long string of dancers honors and gives testimony to the value and importance of Farruquism in current flamenco dance.  Even now, when the majority of dancers opt for a geometric line inspired in contemporary dance, a shortage of vocals and an excess of footwork, the grandfather's philosophy continues to attract admirers and followers.  After Farruco Viejo, was the first Farruquito, his sisters Farruca and Faraona, the current Farruquito, Farru, Barullo, Polito, Carpeta…  And now it's Juan el Moreno, Farruquito's little son who, at just four, stops the clock and gets into your head forever with just three moves and two crisp gestures.
I met Farruquito shortly after the tragic death of his young father, Juan Fernández Flores "El Moreno".  Having recently come of age, Farruquito had to assume the role of patriarch of this illustrious family.  Now, fifteen years later, that young man shares the stage with a son of his own in the pseudo biographical work, "Baile Moreno", dedicated to the memory of his father el Moreno.
But Farruquito's "works" are always subject to the dominance of rhythm and style, and no script is above that.  The "amalgam", or mixed rhythm, of soleá, siguiriya, bulerías and alegrías is the vehicle that transports all the interpreters to the flamenco zone.  Less magic is conjured up in the binary rhythm of tangos which is also included.
In "Baile Moreno" we see five dancers perform siguiriyas, alegrías cantinas of Farruquito, compás knuckled on wood, a wedding scene with the associated alboreás and the gypsies around the campfire, among other elements.  Also noticeable is the slick production as seen in the good sound and designer illumination.
The backup musicians are always first-class in Farruquito's shows: the voices of Antonio Villar, Pepe de Pura, Encarna Anillo and Mari Vizárraga, the guitar of Raúl Vicenti, the percussion of Ané Carrasco and the cello of Barnabas Hangonyi as well as dancers Gema Moneo and Marina Valiente provide the backdrop for this new visit to Farrucoland.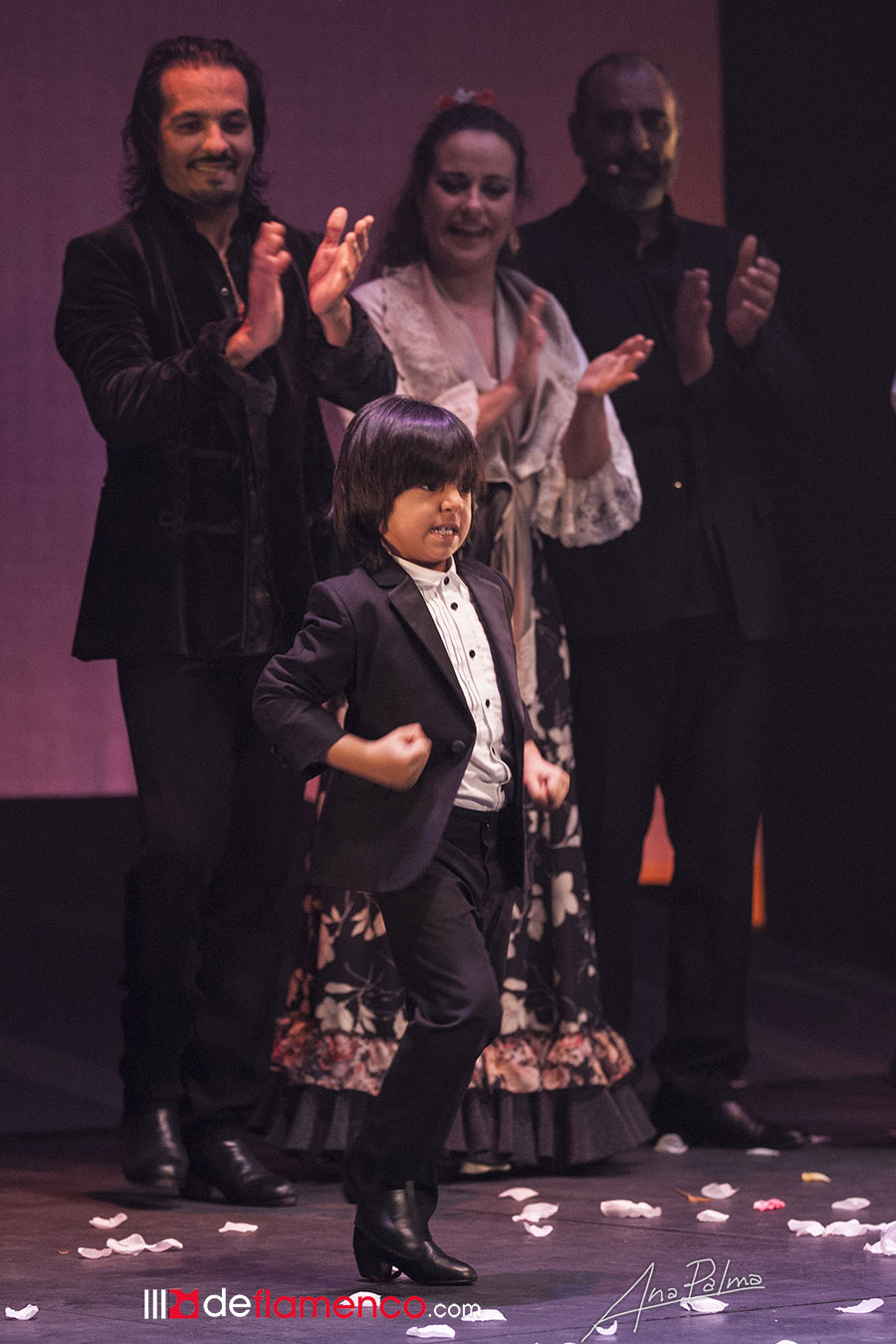 Photo Gallery, Farruquito "Baile moreno" by Ana Palma
Video:
---