Text: Estela Zatania
Photos: Ana Palma
Antonio el Pipa "Gallardía"
Antonio Molina "El Choro" "Aviso: Bayles de Jitanos"
Pedro el Granaíno "Tierra"
Saturday, February 20th, 2016. Jerez de la Frontera
Special 20 th  Festival de Jerez – All the information
The first Saturday of the Festival de Jerez, there was a smorgasbord of possibilities on the flamenco table.  Flamenco groups at two associations in the San Miguel neighborhood, in addition to the novel "Flamencook, Cocina con Compás" at the Bodega Gonzáles Byass and three performances on the main stages.
ANTONIO EL PIPA "GALLARDÍA"
Teatro Villamarta, 9:00pm
 
First dancer, artistic director, choreographer: Antonio el Pipa. Corps de ballet: Fabiola Barba, Laura Bejines, Ofelia Márquez, Celia Martínez, Pilar Ramírez, Vanesa Reyes, Margarita Ruiz de Castro, Cristina Vidal.  Cante: Felipa del Moreno,  Carmen Cantarrota, Sandra Zarzana. Guitar: Juan José Alba, Javier Ibáñez. Guest artists: Esperanza Fernández (cante), David Peña 'Dorantes' (piano).
Antonio Ríos Fernández, "El Pipa", is an institution in Jerez.  In 1997, his work "Vivencias" caused a sensation at the first edition of the Festival de Jerez, and caught the attention of the flamenco community.  Jerez needed a star dancer, and flamenco fans needed a work that would show flamenco in a straightforward fashion, inspired in classic and traditional forms.  Two decades later, the dancer continues to follow this line, and an admirable one it is.
"Gallardía" is the name of this show that debuted last year in Málaga.  Seville singer Esperanza Fernández, and pianist David Peña Dorantes are featured guest artists.  Eight female dancers who prance like catwalk models, perform group dances, and Pipa works on recreating his unmistakable style, half theatrical, half home-grown improvisation, bringing both together in a personal way.
Fine Seville singer Esperanza Fernández gave it her best shot, but she was unable to make up for the personality and impact of the unique Juana la del Pipa whom it is impossible not to miss in Pipa's performances.
The work has no story line, nor is any needed for siguiriyas, taranto tangos and alegrías danced with eight women in batas de cola, or the memorable soleá the dancer uses to close all his shows.  Esperanza offered her malagueña of la Trini ended with abandolao, and Dorantes once again seduced us with his beautiful composition "Orobroy", and other pieces. 
A somewhat uneven show, yet one which had some good moments as well as a few great ones.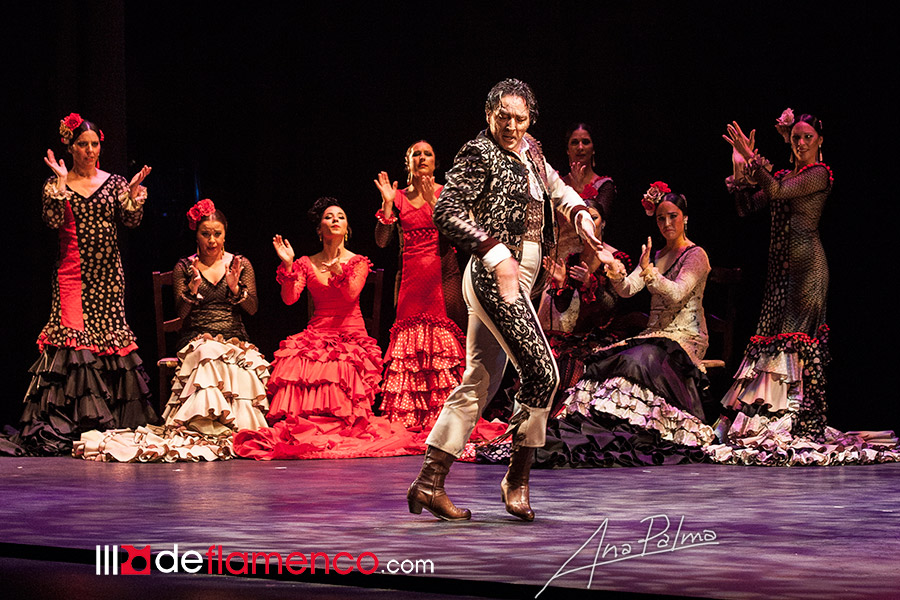 ---
ANTONIO MOLINA 'EL CHORO', "AVISO: BAYLES DE JITANOS".
Sala Paúl, 7:00pm   
Dance, director, choreogrphy: Antonio Molina 'El Choro', Gema Moneo. Guisio: Jesús Guerrero, Juan Campallo. Cante: Pepe de Pura, Jesús Corbacho, Moi de Morón. Percussion: Paco Vega. Artistic director, original idea, choreography, script, repertoire, musical concept, photography, text: Rafael Estévez.  Director's assistant and choreography: Valeriano Paños.
   
An unexpectedly important happening took place at the Sala Paúl at seven o'clock.  Years ago I'd seen Antonio Molina "El Choro", and thought he was an extraordinary young artist.  But then he seemed to get bogged down in lesser parts that did not allow him to demonstrate his talent.  Last night that early promise paid off.  El Choro managed to express his brilliant talent, intense personality and strength, not only physical , but interpretive and psychic as well.  He follows a classic/modern line inspired in the Farruco style, without being an imitator.  There is hunger for this type of flamenco, as could be seen from the audience's reaction.  Not even the explosive dancer Gema Moneo could upstage the dancer, although in actual fact they make a good artistic couple.
The title of the work, "Aviso: Bayles de Jitanos" ('Take note: Gypsy dances'), comes from a famous poster from 1781, and serves both as orientation and a mischievous wink.  There is no intent to reproduce historic dance forms, but rather to highlight the diversity of today's flamenco, and its multicultural origins.  The influence of the brilliant Rafael Estévez, who is listed as artistic director, choreographer and script-writer among other things, can be detected.
The guitars of Jesús Guerrero and Juan Campallo are original and creative.  Abundant crisp bulerías, and a noteworthy martinete danced by Choro to free-form rhythm with the singing of Pepe de Pura are high points.  Gema Moneo interprets a danza mora, a form which is again beginning to circulate after decades of disuse, and sings the zambra La Tana recorded by Carmen Amaya: an unapologetic celebration of gypsiness.  Tangos de Granada and jaleos show the communication between Granada and Extremadura.  A brilliant debut for this company.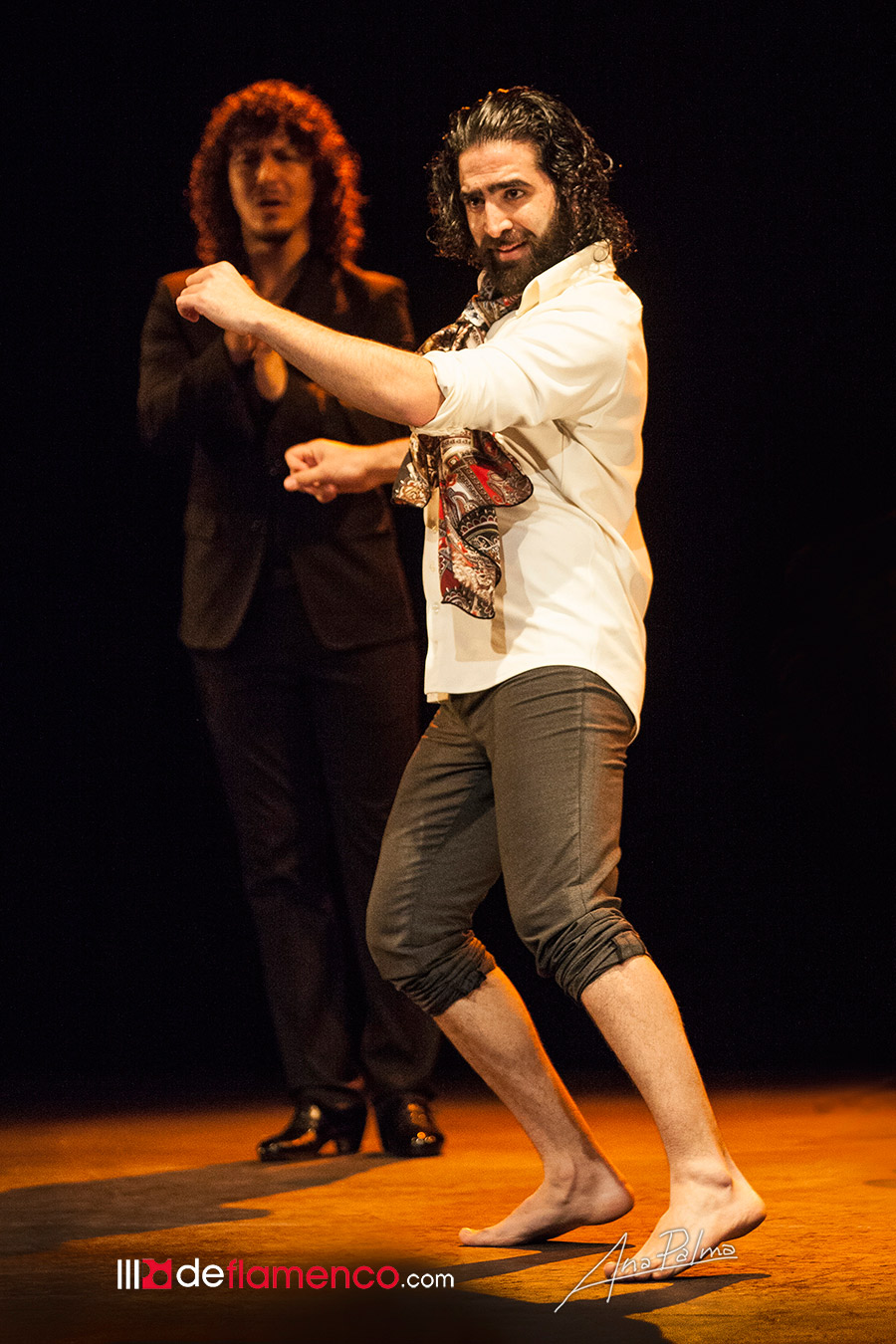 ---
PEDRO EL GRANAÍNO "TIERRA"
Sala Compañía, 12 Midnight
Guest artist: Juan Carmona Habichuela hijo 'El Camborio'
Pedro Heredia Reyes "El Granaíno" belongs to a new generation of Camarón followers.  Twenty-three years separate him from that legendary singer, but they share the same delivery, vocal texture and intent.  And yet, el Granaíno has a personality of his own, which justifies everything else.  I discovered him artistically in the company of Farruquito where he stood out from among eight singers the dancer had in his group at the time.  Shortly afterwards, he caused a sensation at the Festival de Jerez where he sang for La Farruca.  Since that time, he has been building his career, always moving forward.
The only half-full theater, possibly owing to the rain, could not dampen the enthusiasm of those present who were delighted with Pedro's voice and sensitivity in nanas, soleá, siguiriyas, granaína as only natives of Granada can do it, tientos, tangos de Granada, fandangos… All with the guitar back-up of the admirable Juan Carmona Habichuela Hijo "El Camborio" and José de Pura.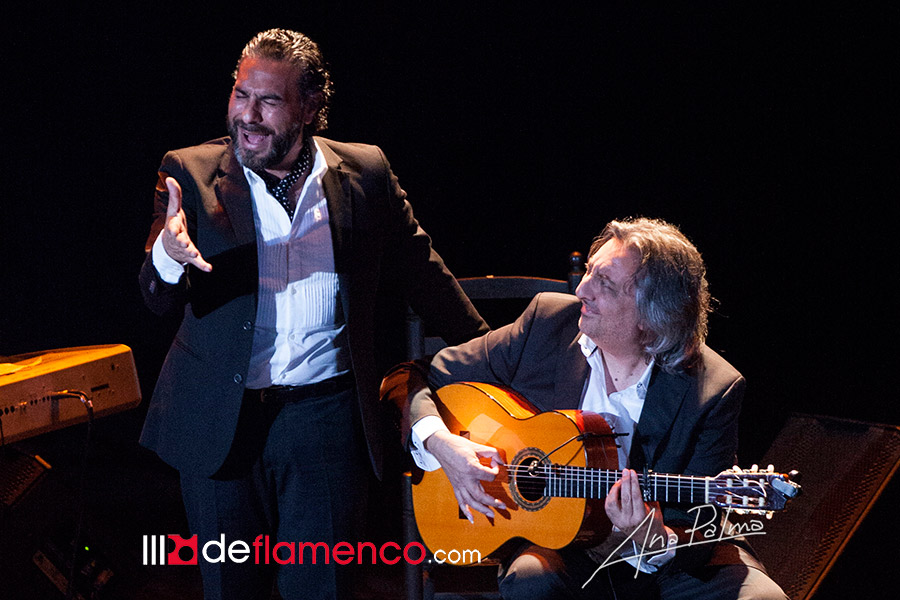 ---