Silvia Cruz Lapeña
The author of "Don Antonio Chacón", a book/recording with which he kicks off a collection that devoted its second volume to Manuel Torre, complains that the world of flamenco shuns knowledge.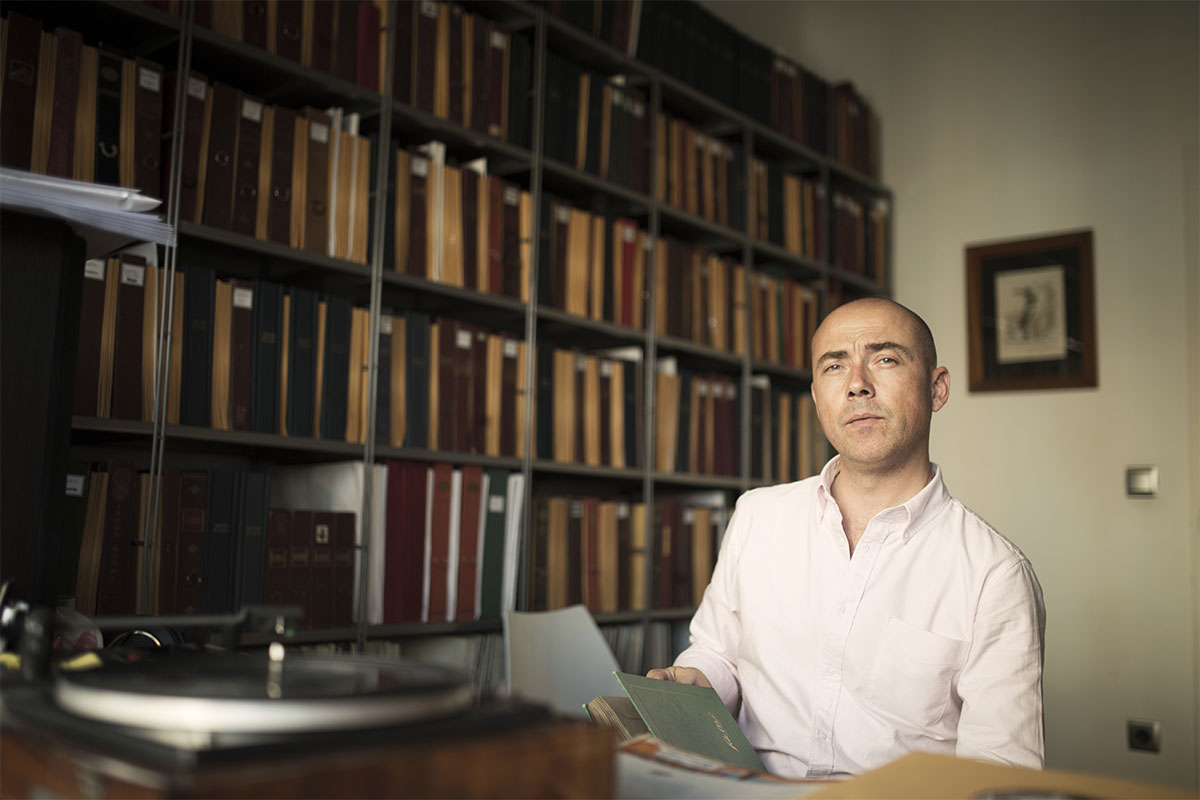 Carlos Martín Ballester, foto: Rufo
"Knowledge doesn't exclude passion" ('El conocimiento la pasión no quita') says Carlos Martín Ballester citing a verse sung by Antonio Chacón, to whom he devotes the first volume of a collection that aims to shed light on the music that preceded standard microgroove.  Light, not firewood, because if there's anything this collector is sure about, it's that flamenco continues to be short on rigorous academic standards, and long on confrontation.  "The subdued tone of this book can be attributed to the fact that it has been in the works for 20 years.  It is also due to the intention that it be this way, since the figure of Chacón continues to be surrounded in controversy, and there are certain battle lines that are better drawn with facts than with feelings".
Martín Ballester defends "flamenco without foxholes" in which flamenco followers no longer say things they've believed from having heard them so many times.  One of these things is that Chacón was a lesser singer.  "It's true he recorded more malagueñas, caracoles and granaínas than other forms, but you have to consider the circumstances.  If today's artists record without considering that this will be their legacy, how can we expect a singer to have had such vision in the 19th century?"
The man behind the collection believes that every singer seeks a niche, and does so according to each individual's capacity.  "Camarón recorded a lot of bulerías and tangos, since his career coincided with a moment of intense development of those forms.  But that doesn't mean he didn't know how to sing others".   He makes another comparison, this time with Antonio Mairena: "His work is a compendium, not only of knowledge, but also of knowing how to sell it.  That's why he created a history of flamenco singing that was tailored to his size, which was nothing less than a professional strategy.  This was not the case of Chacón".  Another falsehood regarding Chacón which is cancelled out by this book and CD, is that he was little more than a "tenor", or a "lyrical singer".  Explains Martín to Deflamenco.com: "It's meant to be an insult, and obviously he was much more than that.  That's why the condescension with which he was treated seems worse than the revanchist intent of that judgement".
Self-taught collector
Carlos Martín Ballester has been a collector for more than 20 years.  He has fine-tuned his ear and his taste in flamenco clubs and auditoriums, and more recently at the Círculo Flamenco de Madrid, an association he runs.  Also important are the 100,000 records in his collection, and it's no coincidence it's all flamenco, a genre of which he holds 200 phonograph cylinders, and about 5,000 78-rpm records.
He's self-taught because he was on his way to becoming a lawyer, but found it boring, and because to exercise his profession, no diploma is needed beyond looking, listening, learning and searching tirelessly.  When your background has no manuals to guide the way, it's important to be precise, something which obsesses the author of a volume which he refuses to call "complete works".  "This would be arrogant, because it's likely there is material out there we haven't located".
The objective of this collection is not to turn out definitive biographies.  "The idea is to offer the general public material which, generally speaking, is only enjoyed by collectors".  In this way the reader-listener has access to articles never before cited, and unpublished recordings, as is the case of a soleá recorded in 1928 that Chacón dedicated to a flamenco enthusiast, and which was not released at the time because it had "a lot of noise".  For this reason, the three recordings that come with the book are much more than complementary material.  When you hit the play button, Chacón comes to life without seeming manipulated, there is no intent to pass off the sound as new, nor to pretend a false retro sound.  The technique for dealing with the voice and music was carefully dealt with.  "We worked with records of high sound quality which I've transcribed in my studio with the best technical media".
Update
As far as the documentation, in addition to the newspapers and files handled by Ballester, the book includes texts written for the occasion by Ramón Soler Díaz, who analyzes the songs, and Guillermo Castro Buendía, who concentrates on the role of the guitarists who accompanied Chacón on the recordings: Perico el del Lunar, Juan Gandulla "Habichuela", Miguel Borrull and Ramón Montoya, whose superiority is confirmed by the author of the article. José Manuel Gamboa closes the volume with an analysis of Chacón's influence on singers of all time, some knowingly, others without even realizing it, which highlights the continuing importance (and unknown) length of the singer's shadow.
It's especially interesting to listen to these recordings following the comments of Soler and Castro for each cut.  It's like following the trail of a long-distance runner, one who was 15 years without recording, which confirms something Martín Ballester said: the recording facet was not taken into consideration nor was it completely necessary in the time of Chacón, whom he considers a "flamenco genius and worthy heir to the singing tradition of people like Curro Dulce, Silverio, La Serneta and Enrique el Mellizo, as well as being recognized for his creative capacity which served him to develop an entire branch of song forms".
Side B
The Madrid collector claims this series will have as many volumes as his strength permits, but the next one already has a name: it's going to be devoted to Manuel Torre.  It's good news that artists of this magnitude will have books of such a level, with quality paper and a design by María Artigas, and contents that are original, well-worked and academically rigorous, ingredients that do not always come together in flamenco books.  This is precisely Martín Ballester's complaint, that he can't understand the scant interest among flamenco enthusiasts in knowing data and history. When asked what that reluctance comes from, he says he doesn't know the cause, but is aware of the consequences: "Flamenco is still considered low-class precisely for that reason, because people don't realize that knowledge doesn't exclude passion".  Furthermore he believes that eliminating errors will give new strength to the sector: "Knowledge would make us more autonomous and we wouldn't be, for example, at the mercy of the programmer who sells used cars".
This man, accustomed to working with material that has a side B, doesn't overlook the fact that flamenco followers, including himself, are responsible for legends continuing to be formed. "Flamenco is a world full of contradictions: we want educated artists, but we also love the ones from families whose songs are in danger of extinction, and we want that to be all they know".  Chacón unknowingly confirms the idea of myth-making in interviews included in the book.  If we read them chronologically, you can see how he himself contributes to building his own myth.  It shows in a minor detail, perhaps just license-taking, but it's there: it's when asked when he began to sing.  Early on he answers at the age of 13, but in later interviews he says "ever since birth".
In that part of the book there's also a surprise.  When a journalist asks the singer about "cante flamenco", Chacón corrects him and says "cante gitano".  "Was he a Mairenist before the time?" we ask Martín.  "No" says the collector, who ends with astute sarcasm: "Maybe Chacón didn't sing so un-gypsy as his detractors would have us believe".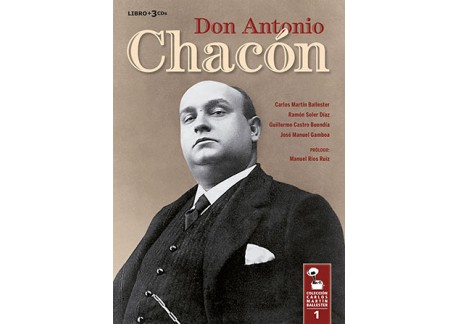 ---