After taking guitarists by surprise at the age of twelve when he shared the stage at New York's Carnegie Hall with none other than Sabicas and Paco de Lucía, Madrid's child prodigy of the flamenco guitar has finally given us his first solo recording fifteen years later.
But the descendant of Ramón Montoya is in no kind of hurry. The
time of flamenco is the time of life, but a life worked with the artist's
own maturity, and until Jerónimo felt he had enough life experience
to inspire him, he didn't want to record. And it was well worth
the wait, because the ten pieces here included earn him a place in the
elite club of top modern flamenco guitarists, and considering the level
of playing these days, that's nothing to laugh at. This is a carefully
crafted record, produced by the guitarist himself, with the collaboration
of some of Madrid's most noteworthy flamenco artists including el
Indio Gitano and José Antonio Galicia, both deceased. The first
work put out by the alma100 record company and one of the most passionate
and exciting solo guitar records to come out recently.
Jerónimo undoubtedly belongs to the
new generation
of flamencos who were weaned on cajón and palmas.
With the sound of Lucky Losada's cajón and the Camaron-like
voice of Antonio Amador «El Ciervo» which open the record
with the bulería La Cali, there is no doubt about the modern gypsy
character of the record. Just to make sure everyone gets the message,
Jerónimo starts out with one of these galactic arpeggios that goes
from the low to the high strings in a flash, an effect later employed
in several falsetas. The guitar dialogues with the cajón, playing
with a dynamic that allows this conversation, Jerónimo undoubtedly
belongs to the new generation of flamencos who were weaned on cajon and
palmas. In the tangos Antepasaos the guitarist makes use of unusual distortion
and tuning. Jerónimo is proud of his eastern roots which he now
puts in context with the musical sensibility of a young urban gypsy living
in the twenty-first century. A wink to Montoya's rondeña
in Desde el espíritu, with impressionist chords worthy of Debussy,
and legatos that go from the kind in the rondeña, to Villa-lobos,
a piece in which Jerónimo leaves no doubt about his complementary
classical training. To make it completely clear, the zapateado which follows
is called Wolfgang Amadeus Mozart. Written in minor key, with a piano
prelude written by José Ramón Jiménez that is part
jazz, part Andalusian, he follows in the tradition of the great flamenco
guitar soloists (who could forget Sabicas' Zapateado en Re or Paco
de Lucía's Percusión Flamenca) and offers his expressive
version for solo concert guitar.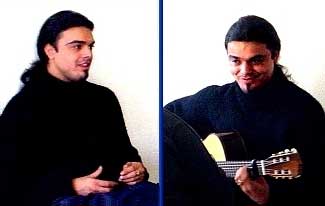 The pride shines through of belonging to an
ethnic
group which has lived and lives for music: the gypsies
One characteristic of «Momo» is most surely his sincerity
and honesty. A guitar recording must certainly have solo guitar, and he
continues alone to offer his spectacular and respectful version of the
soleá from De Montoya, Sabas a Paco. With the bulería La
Cotorra we are returned to dialogue and exchange between guitar and cajón,
this time with Ramón Porrina. In the verses written by Jerónimo
the pride shines through of belonging to an ethnic group which has lived
and lives for music, the gypsies. This brings him to a piece in which
he accompanies his brother Leo de Aurora from both flamenco persuasions,
a heartfelt tribute to a great artist, perhaps the greatest of manouche
guitar, the Belgian «brother» of Django Reinhardt. It is chilling
to listen to el Indio Gitano alone with his toná as a prelude to
the seguiriya El Planeta, where once again special tuning is employed
which accents the eastern character of the phrygian mode while recalling
the ancestral sound of cante. In addition to being an urban flamenco gypsy,
Jerónimo is also a hopeless romantic. Two pieces to finish off
and allow his lyrical nature to blossom freely, the granaína Algo
pa' mí and the beautiful ballad Enamorao del amor.
Text: Norberto Torres
Photos: Estela Zatania

---