Flamenco Festival New York
March 19, 2017
Jose Manuel Gómez "Gufi"
Twittear
Going to New York to see flamenco makes all the sense in the world. New York at one time became the second home for Sabicas (after Mañueta street in Pamplona) and Carmen Amaya (after the Somorrostro neighborhood, and her final home in Begur). Both triumphed at Carnegie Hall, together and on their own. Carnegie Hall is the temple of classical music, but also of jazz, bossa nova and Cuban music, but this year no flamenco was programmed there. Just down the block is the New York City Center, one of the temples of dance in this city. The theater has a capacity of two thousand, and the seats are very close to the performers. I manage to be on stage, and it's a powerful feeling. The audience is right on top of the artists. Even in the second row you have the feeling of being close. I've been advised that, if I get there early enough, I'll be able to see how New Yorkers learn flamenco. The teacher has the appearance being from Granada, but she's from New Mexico, and in half an hour, she's managed to get a hundred or so spectators settling into their seats with the feeling of having become "flamenco", doing a turn, a little footwork, some clapping and saying "ole!" more or less at the right moments. Then, Afro-Americans, Afro-Latins, mixed ethnicities, whites and Hispanics all get their picture taken with the teach. They take it all in with that touch of sass you have to look for in New Yorkers who are usually so serious.
Flamenco has been fashionable in NY ever since cinema was invented in the early twentieth century. The Flamenco Festival has been held in NY since 2001, an adventure organized by Miguel Marín, who has put together a unique show, "La Gala", that brings together four stars of dance in a well-constructed show by Manuel Liñán, guided by the singing of Rocío Márquez who is the connective thread for the four, Juana Amaya, Olga Pericet, Jesús Carmona and Patricia Guerrero, with singers and guitarists. In the backup, Paco Vega who seconds all the choreographies with his percussion. All the performers are of a high level, being noteworthy Juana Amaya with her tangos "arrumbados" and the long guajira of Olga Pericet.
The SGAE foundation premiered the series "Flamenco en Eñe", reflecting the jazz inclination of our flamenco performers; the absence of Manolo Aguilar (president of the foundation) was justified by his recently having quit the job. The stars of the night were Josemi Carmona, Javier Colina and Bandolero, who offered their show at Joe's Pub. The three have been through a lot in New York. Josemi with all sorts of shows since he was a child, Colina came through with Chano Domínguez and Bebo Valdés, Cigala and Lágrimas Negras, and Bandolero was with Morente and Omega. So they're quite at ease, especially Colina who pulls out an accordion to play a farruca in memory of Juan Habichuela, the man who returned from the New York World's Fair of 1964-65 with the recordings of Sabicas, that revolutionized the guitar-playing of the Habichuela family. Changes in the repertoire, they didn't do "El Incomprendido", and finished with "Moon River", both pieces related to this city. Pesca heard that song in the voice of Ismael Rivera in 1965, and "Moon River" is heard in "Breakfast at Tiffany's" (it's the theme-song), a possibility considered by the writer who has more legends than dollars.
I run into pianist Chano Domínguez who tells me he's settled in NY, and already has his own flamenco band, and a calendar of concerts. There are a number of Spanish-speakers at Joe's Pub (a place which is just a bit larger than the Nuevo Café Berlín), and it shows when we laugh at the comments made by Josemi, what a blast. It looks like ninety percent of the locals are able to catch the verses of these pieces. The reader will get the idea upon hearing how Colina sings like Camarón, or when they scrupulously follow the lyrics of beloved boleros. An undeniable success which is repeated with Alfonso Aroca, a pianist who ought to receive more attention in Spain, and who has made a recording that is a declaration of intent: "Orilla del Mundo". This weekend the band UHF closes out the series.
Olga Pericet put the icing on the cake with the Manhattan debut of her show "Pisadas", which made a strong impression on this writer. Maybe it was because New York seemed smaller, or perhaps because I was traveling with flamenco performers, and that's a big thing in itself.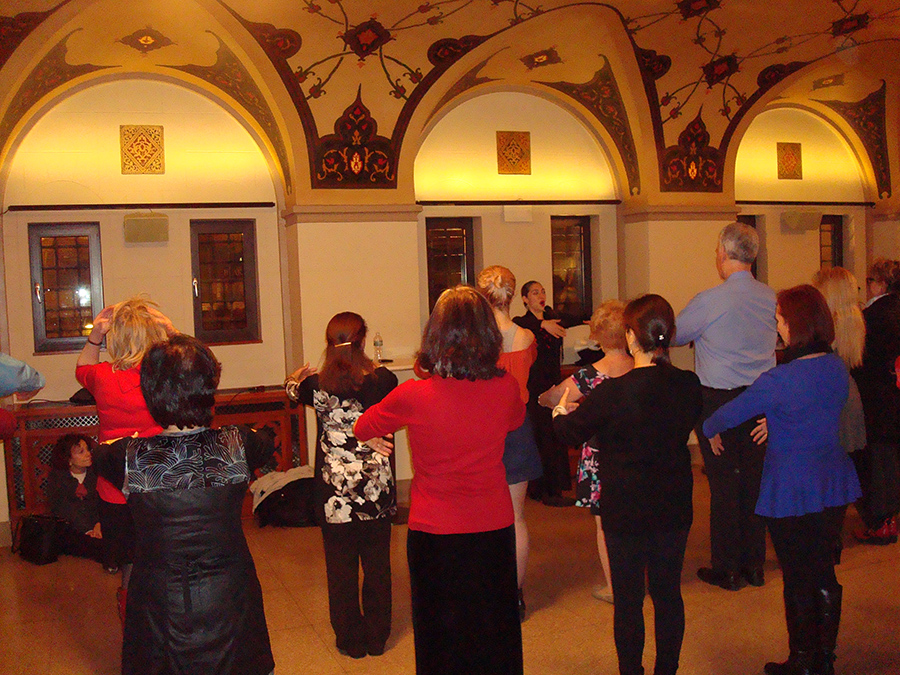 Moments before the debut of the Gala Flamenca in New York, a Mexican teacher offers an accelerated flamenco class including positioning, hand-clapping, footwork and olé! (Photo: Gufi)
Rocío Márquez is the voice that connects all the elements in the Gala Flamenca, seen here with Olga Pericet. (Photo Carole Edrich).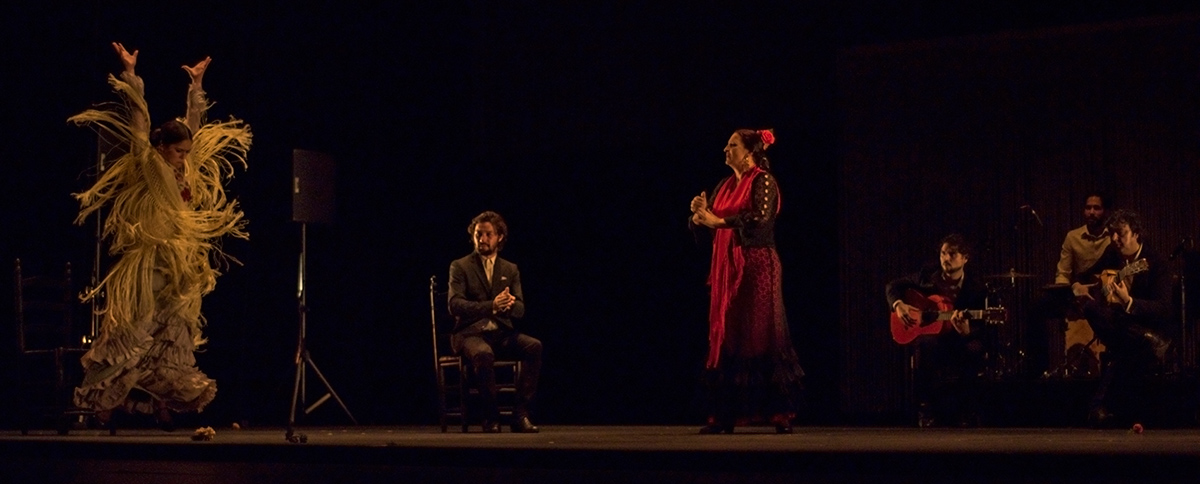 Juana Amaya is the connection with the elders. (Photo Carole Edrich).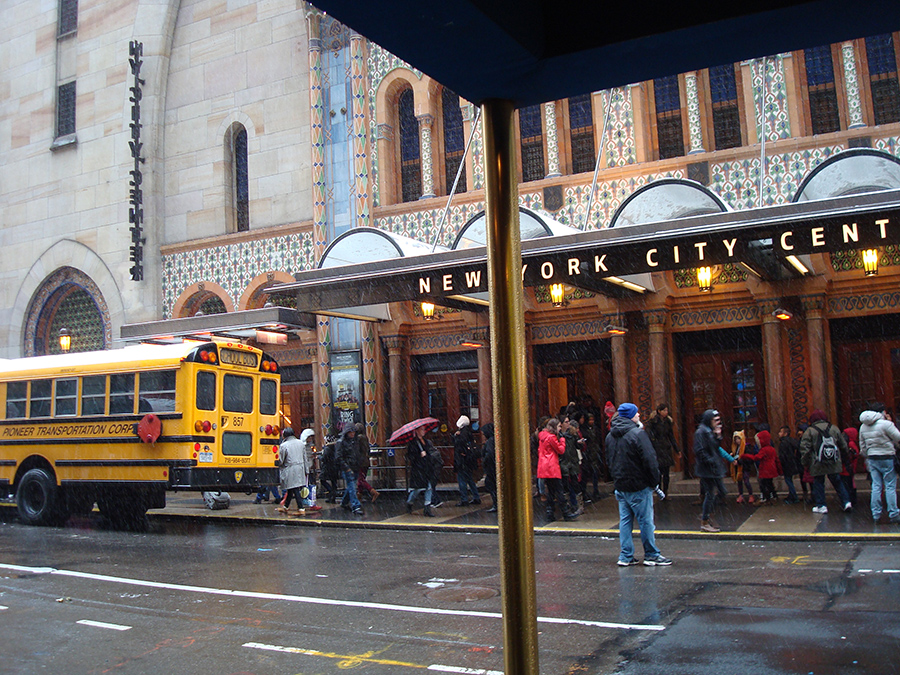 Snowing in the morning in New York, and 2000 children attend their first flamenco experience. Inside the theater, the children are grouped in rows according to their school, while outside, buses patiently await their turn to leave. (Photo: Gufi)
Josemi Carmona, Javier Colina at Joe's Pub, farruca on the accordion. (Photo Alejandro Mallado)
Alfonso Aroca bows to the standing audience at Joe's Pub (Photo: Gufi)
Olga Pericet dances the garrotín with a horned creature in "Pisadas" (Photo: Alejandro Mallado)