23rd FESTIVAL DE JEREZ
Edu Guerrero "Sombra Efímera"
Felipa del Moreno "Jerezaneando"
Wednesday, February 27th, 2019.

Estela Zatania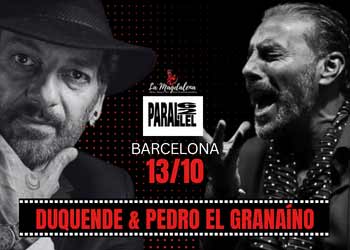 Publicidad DeFlamenco
---
EDU GUERRERO "SOMBRA EFÍMERA" (photos / video)
Teatro Villamarta, 9.00pm
Dance: Eduardo Guerrero. Guitar: Javier Ibáñez. Voice: Samara Montañés, Manuel Soto. Artistic director and stage design: Mateo Feijoó.
On Wednesday, February 27th at the Festival de Jerez, Cádiz dancer Edu Guerrero took the stage of the Villamarta theater and made it his own.  We can no longer speak about an emerging talent.  Guerrero is a reality, as well as a worthy representative of the modern conceptual school of flamenco dance.
And as is common in this line, the ambience is gloom and doom, darkness and melancholy.  Edu Guerrero is perfect for the part.  His physical presence is imposing: a physique made for dance, and a flamenco face that Picasso could have dreamt.  From row 16 of the theater, the dancer appeared larger than he is, and his long legs and arms give him a certain threatening feline appearance.
The repertoire as it appears on the program seems like business as usual: pregón, taranto, tangos, zapateao, romance, toná siguiriya, fandango, bulería por soleá.  But in actual fact, your eyes don't want to blink lest you miss some unexpected or novel stimulus.  Guerrero is fascinating all on his own, with no need for rhythm or even music, and there's that surprising cambré (backbend) you don't often see done by male dancers
Tangos gets us directly in the flamenco feeling, even as the dancing continues to bring novel forms.  Edu isn't satisfied with repeating what others have done.  A back-drop with large splashes of dark colors over light confuses the vision, perhaps intentionally.  In siguiriyas, singer Samara Montañés delivers the goods with the conviction of a solo singer.  Also noteworthy, singer Manuel Soto and guitarist Javier Ibáñez: nowadays, in addition to singing or playing guitar, flamenco works require back-up performers to be able to act, move around the stage and place props.
Among other declarations the previous day, Edu Guerrero expressed his concept of creating "based on one's own thoughts, without always thinking about the audience", as well as the ethical need to communicate a message.  High-flung ideas that can just about be considered fulfilled in this "Sombra Efímera".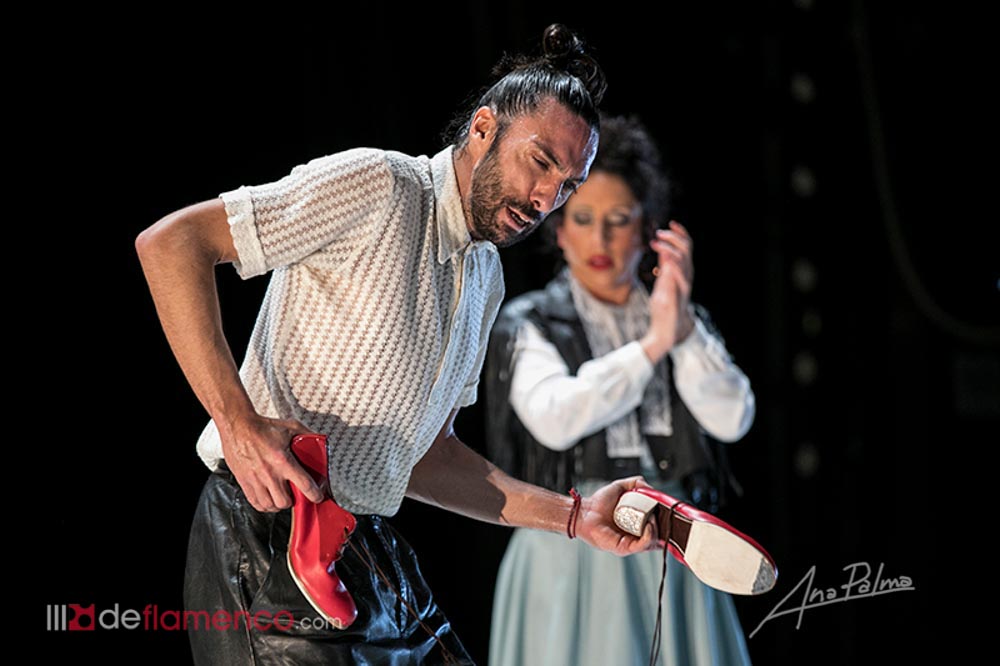 ---
FELIPA DEL MORENO "JEREZANEANDO" (Photos / video)
Bodega González Byass, 2400h
Voice: Felipa del Moreno. Guitar: Manuel Valencia. Piano: La Reina Gitana. Percussion: Luis de Perikín. Dance: Andrés Peña. Rhythm: Juan Diego Valencia, Manuel Cantarote.
At midnight, at the González Byass winery, a major change of gear with the straightforward elegantly racial flamenco of Felipa del Moreno, a beloved singer in Jerez.  And rightly so.  Her style is brave and clean, her repertoire, typical Jerez but with much more and Andalusian beauty that Julio Romero de Torres might have painted.  To start out, Jerez-style bulerías with rhythm knocked out on a wooden table.  With the young maestro Manuel Valencia on guitar, she continued with alegrías/cantinas in E position, with more aroma of winery than salt-spray, and that's not a complaint.  Self-assured, the kind of security that comes from singing for dance, with substance and strength.  She also knows how to pull her voice inwards for Levante forms and fandangos. Manuel Valencia's guitar solo is an exquisite mix of classicism with contemporary harmonies and touch.  La Reina Gitana on piano accompanied Felipa's malagueñas, and the soleá danced by Andrés Peña was the touch that won over the excited audience.