Tomatito "5TET"
Jueves, 16 de enero, 2020. 2100h. Teatro Bernadette Lafont, Nimes (Francia) – FESTIVAL DE FLAMENCO DE NIMES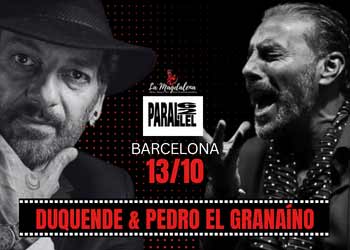 Publicidad DeFlamenco
The brilliant luminous guitar of Tomatito in Nimes
Estela Zatania
Guitar: Tomatito. Second guitar:  José del Tomate. Voice: Kiki Cortiñas, Morenito De Illora. Percussion: El Piraña. Rhythm: Álvaro Mata
Thursday at the Nimes festival brought a full schedule beginning at midday with the presentation by José María Velázquez Gaztelu, "La Guitarra en Rito", the magnificent series that showcased most of the flamenco of the era.
In the early evening, at the intimate Odéon theater, young Triana guitarist Joselito Acedo presented his new recording, "Triana D.F.", a title that reflects local pride in a specific flamenco identity of the Triananeighborhood.  He played several pieces on his own, original compositions within contemporary forms and harmonies, and others in group format with the voices of Ismael de la Rosa and Morenito de Illora and the rhythm of Manuel Valencia and Juan Diego Valencia.
At nine o'clock in the theater, Tomatito, artistic son of Paco de Lucía, presented his recital "5TET". This man, who often repeats the mantra "Paco es Dios", is now the standard-bearer for a new generation of guitarists. He was virtually orphaned when Camarón left us, and had to reinvent himself. For a couple of years it seemed he couldn't find his place, but managed to bring together his knowledge, ability and bravery to become one of today's biggest idols of young guitarists, managing to shine as a solo player in an era of great soloists of the flamenco guitar.
Appearing on stage, looking like Brian May from Queen, he triggered the most ecstatic audience reaction I've seen since Paco de Lucía's last concert. The mentor's work and personality are always present. Many have followed the path marked by the genius from Algeciras, but Tomatito retains a place of honor thanks to his fine instincts and originality, with an admirable technical level he never uses in vain because that would be less than honest.
Brilliant musicality, with a way of touching the strings that is a declaration of authority, rhythm that flirts with the forms while always delighting us with a flawless landing. All this defines the essence of a man who, at the age of 61, is still an adolescent whose favorite toy is flamenco.
He dedicated a piece to Vicente Amigo whom he came to replace, and offered a popular repertoire: La Leyenda del Tiempo, the luminous alegrías of Sanlúcar, a piece recorded with Michel Camilo containing a thread of Entre dos Aguas…bulerías, tangos… A rich menu to please the most avid followers of this line that has dominated the last half-century of flamenco guitar.
Tomatito was the first guitarist fully indoctrinated in the Paco line.  He never had to make the difficult transition from earlier forms because he was born directly into Paco de Lucía's musical idiom.  He dedicated one piece to his maestro with his voice full of emotion: "to the greatest genius that ever existed in all history". Amén.
Photo gallery – Sandy Korzekwa