23rd FESTIVAL DE JEREZ
Compañía Marco Flores "Fase Alterna"
(photos / video / spanish show review)
Sunday, March 3rd, 2019. 9:00pm. Teatro Villamarta

Estela Zatania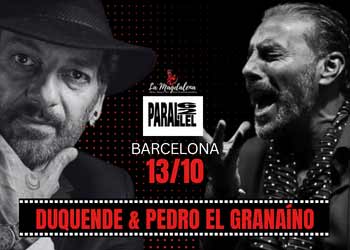 Publicidad DeFlamenco
Dance, artistic director, production: Marco Flores. Rhythm and dance: Ana Romero. Voice: Mercedes Cortés. Guitar: José Almarcha. Guest artist: Sara Cano. Choreography: Olga Pericet, Yoshua Cienfuegos, Sara Cano, Marco Flores / Collaborating artistic director: Olga Pericet.
We've now reached the half-way point of the Festival de Jerez.  Some 25 shows in 10 days, not to mention the parallel activities and performances.  My house hasn't been put in order since last Wednesday and all the fast-food restaurants in town recognize my telephone number.  But the sacrifice is well worth it, during the course of the week we've seen and heard some very high-quality moments from well-known stars and emerging talents.  As I mentioned in another article, this year there is a high percentage of "experimental" work as opposed to "conventional" shows.  The avant-garde line is exploring virgin territory in search of new forms that will open up the flamenco art-form "without breaking it" as a dancer friend of mine likes to say.  It takes a fine artistic sense, knowledge and instinctive good taste to separate that which is worthwhile from that which is merely novel.
Last night, dancer Marco  Flores from Arcos, again demonstrated he meets all those conditions, and for this reason was able to enter the promised land of meaningful originality and live to tell about it.
"Fase Alterna" is by no means a perfect work, in fact, there were some dubious moments.  But considering the degree of risk-taking, the outcome is admirable.  Marco Flores knows how to move with natural elegance that never flags, and extreme economy of movement.  The power of subtlety is not within easy reach of everyone.  And in this contemporary work with no hang-ups, there's also room for some classic bulerías worthy of a neighborhood patio or an international stage.
The cantiñas danced by Marco were "well-rounded" in the most literal sense.  The guitarist sat in an office-chair with wheels as the dancer danced around him, moving freely with the rest of the small group, as the guitarist followed the circular path, sometimes in diagonal, forcing everyone's gaze onto the dancer…such a simple gesture, yet so effective.
Fascinating, there is no other word for the last scene when Marco dances to the music of Bach with his own filmed image: he's not the first one to have done something like this, but possibly pulled it off best.
Also used to great effect was the deliberate dissonance of the guitar which frazzled the senses.  And always present, a subtle sense of humor on the verge of coming to the surface.  There is flamenco singing, sometimes fragmented…threads of petenera, serrana, granaína, levante, fandango del Albaicín, milonga, tangos, farruca and the above-mentioned cantiñas.
In the end, it seems that creating something new within the existing norms is more worthwhile than breaking all the molds and waiting to see if your novel creation is accepted.