24th FESTIVAL DE JEREZ
Olga Pericet "Un cuerpo infinito"
Carmen Herrera "La luz que me alumbra"
Wednesday, February 26th, 2020
---
OLGA PERICET "UN CUERPO INFINITO"
Teatro Villamarta, 9:00pm
(photo gallery / video)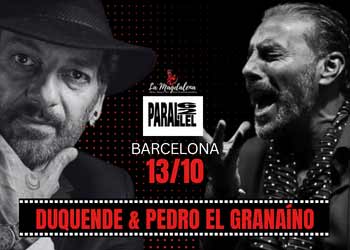 Publicidad DeFlamenco
Artistic director, choreography and dance: Olga Pericet. Guest choreographers: Marco Flores, Rafael Estévez, Valeriano Paños. Music director: Olga Pericet, Marco Flores. Guitar: Antonia Jiménez. Vocal: Inma "La Carbonera", Miguel Lavi. Trumpet: Jorge Vistel. Percussion: Paco Vega. Choral quartet: Elvia Sánchez, Cristina Teijeiro, Jesús Lara, Pablo Monteagudo.
It's possible the main difference between a good show, and one not so good – because "bad" shows don't usually make it to important festivals – the main difference is between thinking "what am I doing here?" while you're watching it, or "wow, I'm so lucky to be here!" Too infantile for you? Okay, let's rephrase that. There are works that you spend the whole time looking at your watch, and others that open your mind to an inner world that you didn't know you had, and which provides sensations and images you'd never dreamed of, and time ceases to be relevant.
Olga Pericet's work "Un Cuerpo Infinito" is of the stimulating enjoyable types, at many levels.  It's full of references seemingly foreign to flamenco, or anything remotely Spanish, nor does it rely solely on dance and music.  There is a search for the essence of Carmen Amaya, with no intention of showing her in any literal way.  Everything that surrounds the talented Pericet is susceptible to becoming part of her mental spiritual landscape.  There are some strange moments, in the best sense of the word.  Charming moments.  Humorous, lots.  And why not?
Olga Pericet flies you to the moon which is physically represented throughout most of the show, in a more or less abstract way. The choral quartet dressed as astronauts relates to the lunar presence in this show which might well be the first science fiction flamenco show.
There are fragments of tangos del Piyayo and de Triana, farruca, the garrotín so linked to Carmen, soleá, alegrías, a delightful scene representing the swing era of the forties… The guitar of Antonia Jiménez and the voices of Inma "La Carbonera" and Miguel Lavi pull us back towards flamenco in this imaginary universe where art is not explained, but rather felt.
---
CARMEN HERRERA "LA LUZ QUE ME ALUMBRA"
Sala Paúl, 7:00pm
(photo gallery / video)
Dance: Carmen Herrera. Voice: Miguel Ángel Soto 'El Londro', José 'El Mijita', May Fernández. Guitar: Miguel Salado, Javier Ibáñez. Percussion: Carlos Merino. Rhythm: Carlos Grilo. Bandurria: Héctor Valle, Eduardo Torné. Laúd: José Valle. Special collaboration: Banda Sinfónica Ciudad de Jerez.
Jerez dancer Carmen Herrera, much admired in her hometown, brought a thoroughly vintage show to the Sala Paúl, her second appearance at the Festival de Jerez.
The dictionary says the word "vintage" is derived from French argot associated with wine, and indicates that which is aged or of a historical period.  The adjective perfectly describes this dancer's repertoire.  Among other pieces, we heard garrotín, tanguillo de Cádiz, farruca and soleá, following a strictly conventional approach in choreography and accessories. May Fernández from Cádiz maintained the nostalgic journey with her interpretation of the lyrical song "Ay mi Sombrero", accompanied by the Banda Sinfónica Ciudad de Jerez.  One lovely moment was when we heard the brief recitation of a poem written by the recently deceased poet, journalist and critic from Jerez, Manuel Ríos Ruiz.
Carmen Herrera – José Carpio Mijita – Festival de Jerez