Festival flamenco café Berlín – Esperanza Fernández & Miguel Ángel Cortés – 2º Festival Flamenco de Club del Café Berlín.
José Manuel Gómez Gufi
Esperanza appears in a white tunic looking like a Greek or Roman figure, then announces "soleá de Triana with caña.  By her side is guitarist Miguel Ángel Cortés, and it all feels like "if you're going to start listening to flamenco, you'd best start here".  With the classics, and that's how it was with nearly all the verses and songs.  The audience assembled was typical of the Café Berlín, attentive, enamored of the music and knowing how to let out an "ole!" at the right moment, while also knowing the value of art and its relationship to silence.  In other words, encouragement without flourishes.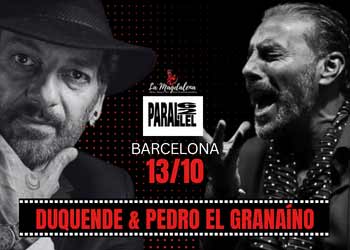 Publicidad DeFlamenco
Esperanza explained that she was "very happy to be in a festival such as this at a jazz club like this one", and that's the legacy of the Berlin which has built its legend on historic jam sessions with an abundance of Latin American flamenco people.  In fact, I think the first time I saw Jerry González in Madrid (aside from Piratas) was with Esperanza Fernández who exclaimed something like "what flamenco follower hasn't had a jazz musician in their life?"
From Triana, her home, she goes to Cádiz with alegrías – tiriti tran – singing things already known even to people who just walked in the door: "mire usted que gracia tiene este país, que hasta el hambre no la vamos a sentir" [this town is so clever, we don't even get hungry].  Before that, she sang something about a bloody cape giving a touch of gore.  After that, to Havanna because – as David Calzado recalled – the last recording was with the Cuban pianist Gonzalo Rubalcaba. The emcee also informed us that Miguel Ángel Cortés was at the tribute to Menese the other day accompanying Carmen Linares, Marina Heredia and Rocío Márquez and that he played differently for each one of them.  The first part ended with tangos, and again the verses are familiar, and as we're in Madrid, instead of alluding to the Puerta de Alcalá, the memory of Las Grecas is conjured up, which takes us to the intermission with Esperanza dancing the classics.
Miguel Ángel Cortés opened the second part with a piece that contained ice and fire; before that, we were able to enjoy his talent as accompanist, now it was time to listen to the recital guitarist, and it made us remember a wonderful photograph of Paco Manzano's on Morente`s first Omega in which the guitarist seemed to be pulling out a note from hell itself.  That was more than 20 years ago, and Miguel Ángel plays better, and I'd say more rebelliously than ever, and always with the right touch.  In other words, his playing is so so so…traditional, that he never stops creating.  And Esperanza is in the same mode, her singing is so connected to her ancestors that she doesn't cease to reinvent it, and a good example is when she returns to the stage, taking note of the excitement generated, and she doesn't know whether to sit down (and break the mood and the atmosphere), or sing standing to bring the concert up a notch.
She decides to stray from the script and continue upwards with a Cuban street vendor's song that leads into guajira, someone asks her to sing songs of El Titi.  She doesn't accept, and with good judgment she jumps off the cliff.
Before ending with bulerías and working everything up to a froth, she tells us it's the first time she's performed with the rhythm and cheering of Bandolero on percussion, and dancers Nino de los Reyes and Pol Vaquero who improvise frenetic acoustics, a prodigy of hip sound and swing.  Esperanza sings without amplification, and dances with that feeling of hers so so so…classic and so modern.
Video & photos: Rafael Manjavacas