Tuesday, August 14th, 2018. 10:30pm. Puente Genil. Patio Colegio Agustín Rodríguez
GOOD SINGING, A POWERFUL DANCER, BRILLIANT GUITARS AND A GENIUS NAMED "PELE"
Voice: Manuel Moreno "El Pele", La Macanita, Julián Estrada, Pedro "El Granaíno", Rocío Luna (winner of the Membrillo de Oro 2018). Guitar: Niño Seve, Antonio Higuero, Manuel Silveria, Jesús Zarrias, Patrocinio Hijo, Ángel Mata. Percussion: José Moreno. Rhythm: Manuel Pantoja "Chícharo", Macano, Fernando Gamero, Álvaro Gamero, Richard Gutiérrez, Alberto Moreno, Isabel León, Isabel Pelaez. Dance: Rafael del Pino "Keko" with Alejandro Hurtado and Manuel Martínez (guitar); Miguel del Pino and Carmen García (voice); Carlos Jurado (percussion); Richard Gutiérrez and Cristina Tapia (rhythm).
Text and photos: Estela Zatania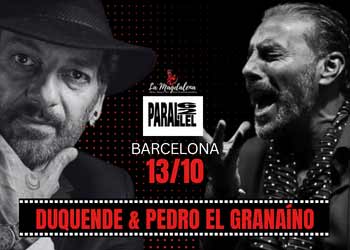 Publicidad DeFlamenco
They say it was the veteran singer Juan Talega who once said: "Everything north of Despeñaperros [the geographical division that separates Andalusia from the rest of Spain] is Germany".  Others came along to modify that sentence so as to pull in the boundaries of the so-called "zone of flamenco singing", excluding Puente Genil, Córdoba.  Which has little or nothing to do with reality, if only because this city was the birthplace of another maestro, Antonio Fernández Díaz "Fosforito", whose nickname is part of the title of one of the oldest existing flamenco events: the Festival Cante Grande "Fosforito" held annually since 1966.
From the same town, there was also a young singer destined for glory, Manuel Jiménez Rejano, but his voice was prematurely silenced by illness.  Last night in Puente Genil, the festival's 52nd edition was dedicated to his memory, and a video recording of Miguel Poveda praising him was projected.
It's a happy sight, year after year, to find Fosforito (1932) in the front row, enjoying in good health the honors and affection heaped upon him by his hometown and admirers in general.  For my generation, he was for many years the great maestro who knew all the cantes and delivered them with knowledge, flawless rhythm and a highly personalized, haunting voice.  On this occasion, he sat attentively for the performances of five singers and a dancer.  Young Rocío Luna, winner of the Membrillo de Oro contest, in addition to another homegrown singer, Julián Estrada, idol of the local audience with his clean uncomplicated voice, accompanied on guitar by the greatly underestimated Manuel Silveria, Macanita who put the Jerez touch with the fabulous guitar of Antonio Higuero – what an invigorating flamenco sound – and the biggest star of the summer, if such things are to be measured in number of performances, Pedro el Granaíno.  Dancer Rafael del Pino Moreno "Keko", in the Farruquito line had bits and pieces reminiscent of Marco Flores, and perhaps something of Antonio el Pipa, not a bad recipe at all.
However, ladies and gentlemen of the flamenco fold, as occurred at the Potaje Gitano de Utrera several weeks ago, the night belonged to Manuel Moreno "El Pele".  Unequivocally.  When others are polishing up their material, digging deep inside themselves to find the thread of communicative power we all want to pull, when serious flamenco followers are debating what styles this man sings…because his repertoire is that personal and stylized…El Pele is light-years ahead of us all, and we come running along from behind trying to assimilate that degree of creativity and risk-taking.  The mystery of his voice moves effortlessly through various registers, from the sharp trumpet to insistent sobbing; sound as a visual tactile element, painting a landscape that is simultaneously attractive, surprising and alienating.  Pele knows the rules and how to apply them, instinctively pushing the limits to just the right degree.  His sweet-and-sour voice is well-accompanied by the young guitar maestro, Niño Seve.  There are those who say everything has been invented in flamenco.  Manuel Moreno "El Pele" can't be bothered with that narrow-minded judgement, he just sings his flamenco and doesn't sound like anyone else.
It all wrapped up at 5 a.m. with the fandangos of El Granaíno sung without amplification, triggering the protests of people towards the back where the sound didn't reach or was drowned out by noisy audience chatter.