José Manuel Gómez Gufi
Lin Cortés presents "Indomable" , his second recording, the surprising "Gipsy Evolution", with which he revives the gypsy groove in contemporary Spanish music.  But in the flamenco universe, as in life, miracles and strokes of luck are few and far between.  We all know there's a funnel effect present in Spain, according to which only one (more or less flamenco) artist passes through each year.
Now we're able to discover talents with a simple click.  Now the risk of passing unnoticed by the general public is tremendous.  Now records don't sell and the difference between the divine and the commercial is insignificant.  Now is when we need great artists and great songs.
The musical talent of Lin Cortés is a well-known "secret" that has enriched the recordings and tours of Vicente Amigo, Raimundo Amador and Rosario.  On his first record "Gipsy Evolution", he delivered a batch of songs that could have become legendary with some concerts that should have been featured at our major festivals of pop music.  We compared Lin Cortés with Prince.  An intense groove with a top-rate band that at the time included Jorge Pardo, another draw.  Now bassist Josué Ronkio first shares the guitarist with Buika and now with Ketama. The guitarist went with one, and the bassist with the other.  "Va Bien" tranquilizes Lin, there are many good musicians with hang-ups, but…
If traditional flamenco people are slow to catch emerging talent, those in charge of pop are even lazier when it comes to tuning in to universal flamenco talent.  The most explosive combination of modern Spanish music went unnoticed for jazz, pop, funk and flamenco festivals. ¡Jerks!
It's as if Miles Davis, James Brown, Bambino and Las Grecas had been snubbed with a single blow.
 "Jeesh, it's a blast to be compared to Prince, but it's a bugger, and you're not the first one to do it, years ago Estrella Morente said the same thing".  In actual fact, what this journalist wrote was that "Prince would have liked to make a record like Gipsy Evolution",  and I stand by those words, the year Prince came to Madrid to the Vicente Calderón, he wanted to fill the stage with gypsies.  The manager convinced him to feature Ketama as an opening act.  So, yes, if Prince had recorded "Gipsy Evolution, Prince would now be alive.
We agree that the death of Prince was tragic, and what's worse, it was an overdose.
All in all, it's possible Lin Cortés would better off as a first-class collaborator rather than a star.  "Look at the Mellis, they're everywhere" he says, we laugh when we begin to muse that in actual fact, there aren't two Mellis, but six or seven.  We begin to list the artists with whom we saw them this year and it looks like the Mellis have been throughout half of Spain and half the world.
The record begins with "Indomable" where we see the return of this musician's typical choruses: "Ya no quiero ver tus uñas/ es que no sé donde esconderme" with the collaboration of the Granada man Dellafuente (one of the idols of trap).  Warning: it's best to listen to this on a quality stereo, as is only fitting.  With an MP3 or on the computer, a great deal of quality is lost.
For "Volar", Odille sings with a powerful "soul" voice: "That needs to be sung in English" says one of the great voices of soul.  We agree with that, soul in Spanish seems like a different kind of music.  And without a doubt, Lin gets it right with "Culo", a very funky piece: "we did it with very short words", and there's also a supertrumpet arrangement of Raynald Colom's, "Roy Hargrove just died and he was possessed".
One of Lin Cortés' specialties is ballads in half-time, that's where a song stands out that he's been doing for a long time: "La Duda".  "I've already got a pretty powerful repertoire, this year I also produced the record of my brother Nani Cortés, that's where there are themes that are more flamenco".
The physical presentation of the record is like a comic, designed by illustrator Sete González.  Lin is particularly proud of the song in which he sings a text of Frida Kahlo's, and the record ends with a recitation of Oscar Wilde's: "Society, as we've constructed it, has no place for me".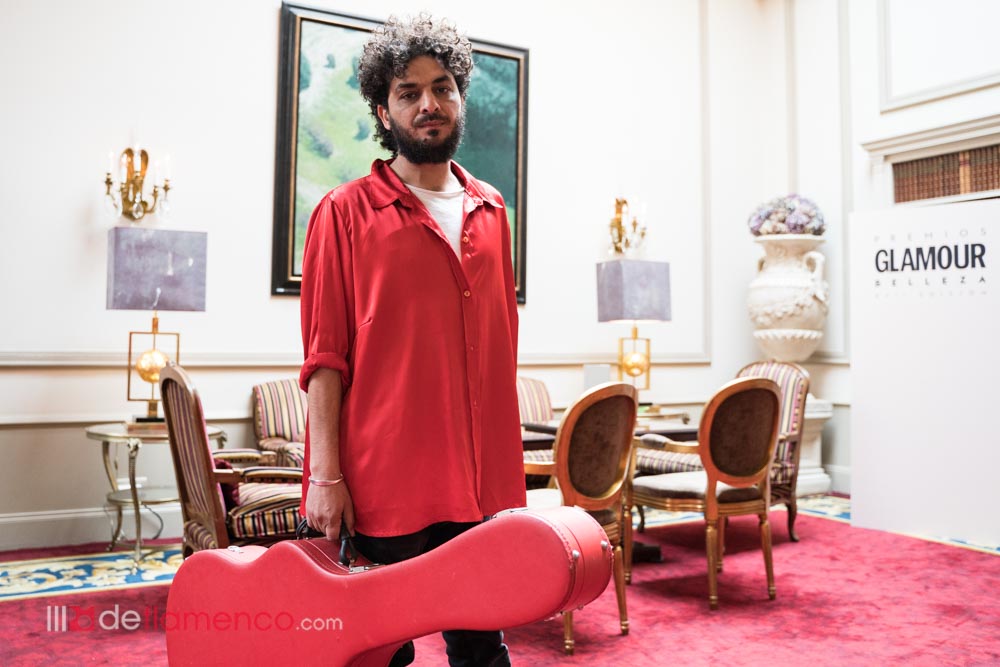 Lin Cortés | Presentation Indomable | GRANADA – Sala Aliatar
Lin Cortés | Presentation Indomable | MADRID – Joy Eslava
Lin Cortés | Presentation Indomable | BARCELONA – Sala Sidecar
01 Jun. 2019 – At 11:30pm
Lin Cortés | Presentation Indomable | VALENCIA – Sala Wah Wah