Estela Zatania
Photos: Ana Palma
22nd FESTIVAL DE JEREZ
Antonio Molina Choro "Gelem"
Thursday, March 8th, 2018. 9:00pm. Teatro Villamarta. Jerez de la Frontera
Dance, director and choreography: Antonio Molina "El Choro". Voice: Jesús Corbacho, Pepe de Pura, Jonathan Reyes. Guitar: Juan Campallo, Manuel de la Luz. Percussion: Paco Vega. Guest singer: Pedro El Granaíno. Artistic director: Manuel Liñán. Special collaboration in choreography: Valeriano Paños (farruca).
The last time Antonio Molina "Choro" performed in this Festival with the brilliant work "Aviso: Bayles de Jitanos", it earned him the prize for Best Newcomer, and that was enough to open the doors of the Villamarta Theater, the main venue of this event.
"Gelem, Gelem", the international gypsy hymn, is the inspiration for the title of this new show, but with the expressed oddity being that the dancer wanted to "break the confines of gypsy dancing" that "rejects certain forms, such as petenera, guajira and farruca".  Even considering these are generally less danced forms, and taking into account the myth of the petenera being a harbinger of bad luck, I don't actually detect that rejection (beginning with the farruca which is synonymous with the Pelao family).  Carmen Amaya was also told "gypsies don't play castanets", and look how far she went with them.
But since all librettos are suspect as far as I'm concerned, and what matters is that which is danced, sung or played, I accept the pretext at face value and offer no resistance.  Choro's style is of the school of "do something amazing – mark time – do something else amazing – mark time" etc., inspired in the Farruco approach…and no complaints here whatsoever!  Elegance, tense calm, power which is contained or unleashed, depending on the moment, an imposing presence and a personality that traps your vision making it impossible to blink except when absolutely necessary: the silences are eloquent, and you never know when that temperament is going to lash out.
Fandangos de Huelva, and this Huelva dancer's style continues to project "gitano".  Petenera, guajira, soleá…  Makes no difference – the 12-beat phrase opens the doors to that flamenco that sucks you in effortlessly when managed by someone who knows how to do it.
Lebrijano's work "Persecución" is remembered with his famous "Libre como el aire, libre como el viento, como las estrellas en el firmamento", to prologue bulerías in which Pepe de Pura discreetly pays tribute to the Montoya family and their recently deceased matriarch, Antonia la Negra, with verses popularized by them.
Invaluable the collaboration of singer Pedro el Granaíno, the inspired choreography of Manuel Liñán and Valeriano Paños and the excellent work of singers Jesús Corbacho and Jonathan Reyes, in addition to Pepe de Pura, the guitars of Juan Campallo and Manuel de la Luz and the percussion of Paco Vega.  One could protest the total absence of women, but we'll leave that for others…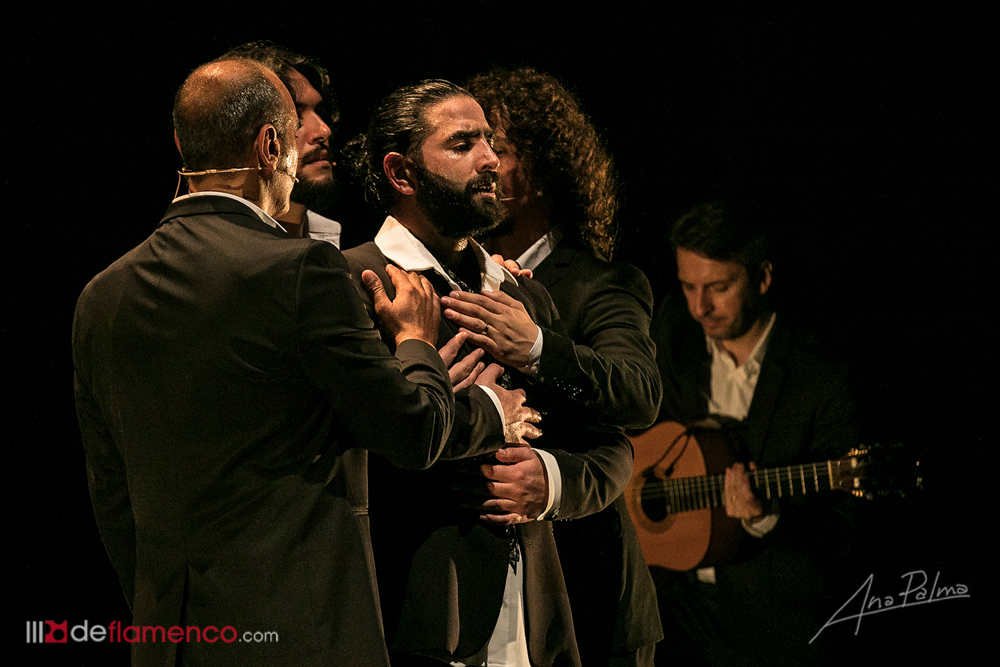 Video:
SARA CALERO "PETISA LOCA"
At seven in the evening, at the Sala Compañía, dancer Sara Calero presented her show "Petisa Loca".  It's not the first time the collaboration of Calero with the wonderful singer Gema Caballero has resulted in an interesting iconoclast show, full of symbolism and unusual elements that challenge the spectator's imagination.  After reading a feminist manifesto demanding, among other things, greater participation of female choreographers, and tolerance of dancers who choose to employ nudity, Calero told the story, in her own way, through dance, music and sounds, at times mysterious and gloomy, at times sweet and light, of the forced exile of her grandfather in Argentina.  It was difficult to understand Gema's sung narrative, due to the high volume of the music and footwork, but the excellent level of the two women, in addition to the guitar of José Almarcha and the electronic music of The Lab of José Corredera and Miguel Lazarón, added up to a positive experience that was well-received by the audience.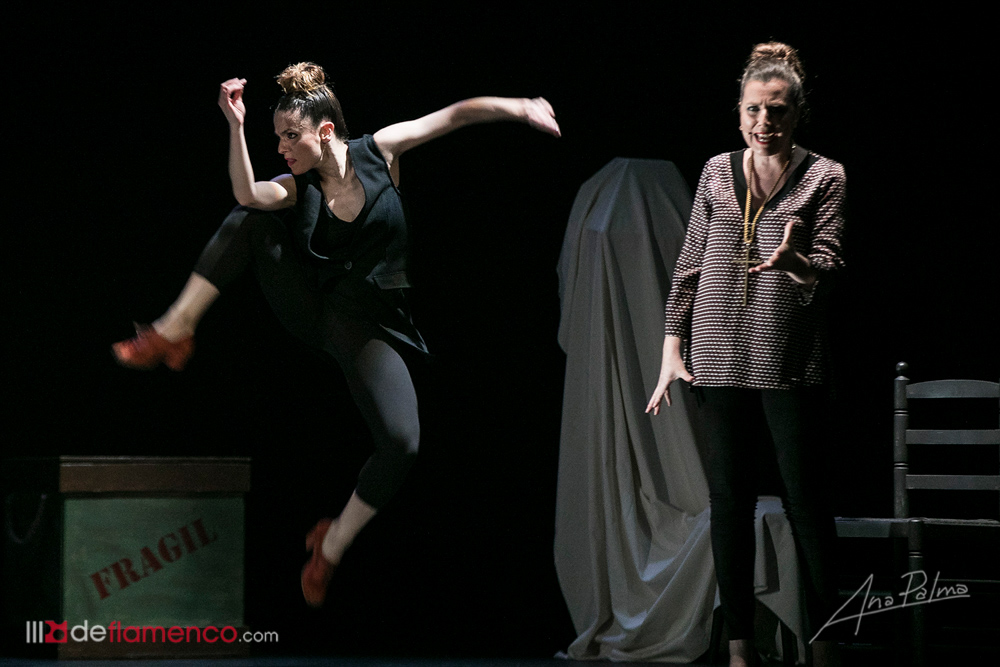 Video:
---