Encarnación Fernández & Carlos Piñana with the Orquesta de la Región de Murcia at the Cante de las Minas
The third gala show of the Festival Internacional del Cante de las Minas was held on the tribute day to the region of Murcia, with the participation of the most representative flamenco artists of the region.
August 11, 2015
Twittear
Encarnación Fernández, two-time winner of the Lámpara Minera, along with Antonio Muñoz (winner of the Bordón Minero) on guitar with his group, represent the finest flamenco of La Unión. From the Piñana family, Carlos is the most international flamenco guitarist, and they all performed with the Orquesta de la Región de Murcia in a one-time concert.
Encarnación Fernández, the queen of mining cante, came on first, accompanied on guitar by her son, Antonio Muñoz Fernández. A new professional encounter between the double Lámpara Minera (1979 and 1980), and the youngest winner of the guitar prize, the Bordón, in the history of the festival (1989). Together, the offered a fine performance, first, with classic flamenco...malagueñas, soleá, cantiñas, taranto and murciana, then moving on to garrotín, rumba and bulerías.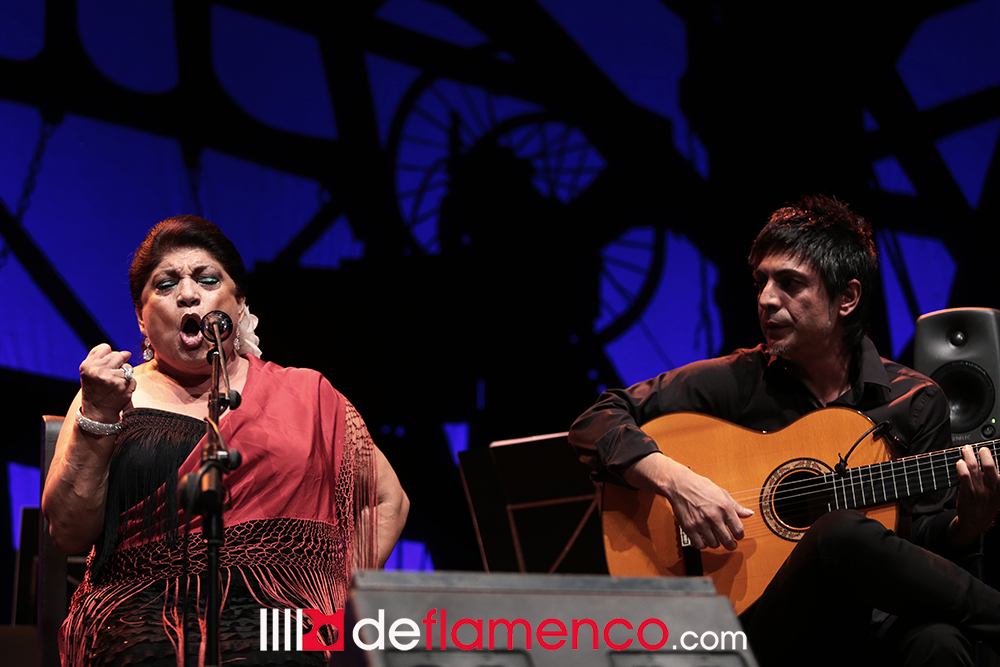 In the second part of the evening, classical music and flamenco guitar joined forces. Carlos Piñana and the Orquesta Sinfónica de Murcia interpreted the suite for flamenco guitar and orchestra "El Cuidado de una Esencia". A composition of eight movements based on flamenco forms such as guajira, zapateado, rumba, alegrías, farruca, balada and jaleos. The work was composed by Carlos Piñana, and arranged by composer Juan García Escudero. It is an adaptation for chamber group that last night was directed by the maestro César Álvarez. The percussion arrangements were the work of Miguel Ángel Orengo.

Piñana achieved his goal of communicating, not only with flamenco followers, but with music-lovers in general. The musician addressed the audience towards the end of his performance to remember his father and grandfather, two basic maestros in his personal and professional life. The guitarist recalled his performance in La Unión in 1996 when he won the Bordón Minero, which was an important turning-point in his career.
Preceding the concert, the Castillete de Oro was awarded to ex-soccer-player and current trainer, José Antonio Camacho.