Text: Estela Zatania
Photos: Ana Palma
Friday, February 20th, 2015. Jerez de la Frontera
Special 19th Festival Flamenco de Jerez – All the information
THE FESTIVAL DE JEREZ GETS UNDERWAY WITH POPULAR YOUNG STARS
Spring-like weather set the mood for the first day of the nineteenth edition of the world's most important festival of flamenco and Spanish dance.  The venerable Festival de Jerez offers a sixteen-day program of shows to be presented at a variety of venues, in addition to a extensive program of performances at flamenco associations and traditional taverns, exhibits, workshops and courses.  But upon entering the lobby of the Villamarta Theater, the emotional climate was one of nostalgia for the maestro Paco de Lucía who left us exactly one year ago, during the last Festival de Jerez.  We are greeted by the exhibit "Memoria de Paco" with images and quotes that run through the life and work of the genius from Algeciras.
---
MERCEDES RUIZ "ELLA"
Teatro Villamarta, 9:00pm
Dance: Mercedes Ruiz. Special collaboration: Antonio Canales. Cante: David Lagos, Londro, Rocío Márquez. Guitar: Santiago Lara.  Piano: Miguel Ángel López "Lenon". Percussion: Perico Navarro. Libretto,  staging, lighting, stage direction: Francisco López.
The responsibility of the opening the festival fell upon Jerez dancer Mercedes Ruiz.  With a show simply titled "Ella" ('she'), the dancer risked a lot, and gave a lot.  The "giving" part was through a complete and varied program with three highly competent voices, those of David Lagos, El Londro and Rocío Márquez, and the expressive guitar of Santiago Lara, along with Miguel Ángel López "Lenon" on piano and Perico Navarro managing the percussion which did not include a cajón, but rather bongos, without this leading to an outdated sound.
At the press conference the previous day, the artist stated she would not travel down the same old paths, that we would see a "new Mercedes Ruiz".  It's possible she achieved that objective.  What's not clear is whether or not we prefer the old Mercedes Ruiz.  The new one, that of "Ella", employs an extremely soft lyrical style that rejects the brisk moments and movements that give flamenco its characteristic flavor.  In fact, it's welcome relief when Mercedes allows us a few minutes of mining cante interpreted with her dancing, or the guajira with a certain retro flavor (thank you David), with bata de cola, among other less dreamy segments.  That was the giving.
The risk was having chosen to share the stage with Antonio Canales.  A stage animal if ever there was one, spontaneous, creative and audacious, slightly nutty and thoroughly flamenco.  The popular dancer filled the Villamarta with his flamenco energy por alegrías, earning him an enthusiastic ovation.
Together, with castanets and to piano music, they danced panaderos and sevillanas, super slow, beautiful in the innocent "preflamenco" quality of the music, and ending with fandangos de Huelva.  Why not?
Various rhythms are insinuated…siguiriyas, bulerías, tangos, tanguillos…  Canales, the eternal bohemian, danced to bamberas and soleá de Triana, as well as a samba (?) with Mercedes.
Intellectual concepts in a tug-of-war with art.  Hard to say which of the two came out on top this time.
---
MIGUEL ORTEGA "AMALGAMA".
Sala Paúl, 12 noche
Cante: Miguel Ortega. Guitar: Salvador Gutiérrez. Piano: Pablo Suárez. Bass: Juanma Ruiz. Chorus and palmas: Los Mellis. Palmas: Diego Montoya. Guest artist in dance: Olga Pericet
At the Sala Paúl, singer Miguel Ortega from Los Palacios, presented his second recording, "Amalgama", backed up by seven people including popular dancer Olga Pericet.  Seven strong personalities, but the singer wouldn't be dominated, and seemed get what he wanted every step of the way.
Miguel put his powerful voice and considerable knowledge at the service of good solid flamenco singing: soleá apolá, and a stylized petenera danced by Pericet.  In tientos, it was nice to find a singer able to give this cante all the entity it had years ago when it was much more than a simple introduction to tangos.  Updated abandolao, bulerías, liviana and serrana taken at a clip and adorned with piano and a tonal drone provided by the Mellis.  The piano and bass were employed generously, proving that a great flamenco singer can deliver his cante with nearly any sort of accompaniment without betraying the most classical forms.
And there was still the chance for a last get-together with friends and little flamenco at the all-night Centro Cultural D. Antonio Chacón.  That's how it goes at the Festival de Jerez…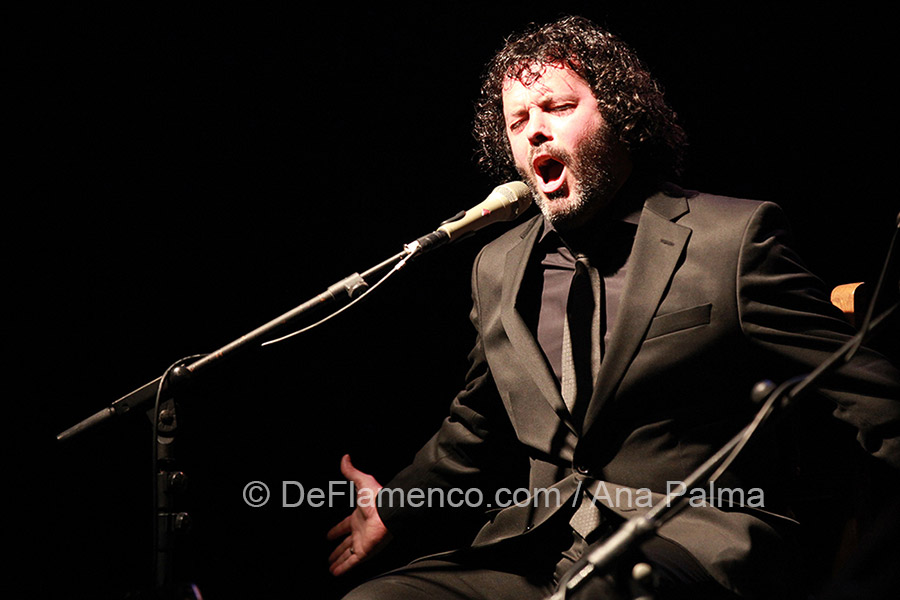 ---