23rd FESTIVAL DE JEREZ
Compañía Joaquín Grilo "La calle de mis sueños"
Argentina en Concierto
Friday, February 22nd, 2019
Estela Zatania
COMPAÑÍA JOAQUÍN GRILO "LA CALLE DE MIS SUEÑOS"
Teatro Villamarta, 9:00pm
Dance: Joaquín Grilo, Cynthia Cano, Marta de Troya, Noelia Vilches, Paula Salazar. Dancer-Actor: Fernando Galán. Guest artists: "Duendes de la Música" Makarines. Voice: May Fernández. Guitar: Francis Gómez. Keyboard, piano: Rodrigo Carmona. Percussion: Ané Carrasco
On Friday night, February 22nd, the 23rd edition of the Festival de Jerez opened.  Each February this city with the personality of a small town fills with expectation as the event approaches.  This year more than ever, you can feel flamenco in the street thanks to an abundance of performances in the flamenco clubs (peñas) and tabancos (small taverns) throughout the city, or even in such a popular area as the Plaza Plateros in the city center.
And as has been the custom, a much admired Jerez artist had the honor of opening the program at the venerable Villamarta Theater.  However, Joaquín Grilo is no "local artist", but rather an international star with a long record of success and important collaborations.
The work that debuted last night, "La Calle de Mis Sueños", in the line of "danced theater", follows a fanciful synopsis based on: "dreams are real; what's off is reality".  And as tends to occur when someone explains to you the dream they had last night, it comes off a bit incoherently.  Joaquín is in top form, his personal elegant style sprinkled with humorous "drunk" moves and rag-doll postures, it's all there and perfectly under control, because we're talking about a genius.  And geniuses have a permanent license to try and then fail, if not, there would be no vehicle for their creativity.
There are plenty of fine moments in the show.  Noteworthy, the bulerías (of course), both Joaquín's and of the female dancers dressed as lower-class housewives who imitate Joaquín's characteristic moves.  Admirable was the warm sincere soleá of José Carpio "Mijita", and the powerful singing of May Fernández who recalled Paquera and others, and a sequence which could be described as Latin Broadway: a delightful take on Michel Jackson and another on Fred Astaire and Ginger Rogers, flamenco footwork as tap dance and an actor who looks suspiciously like a character from the Wizard of Oz.  All in all, the show is like a series of good ideas, basted but not yet sewn.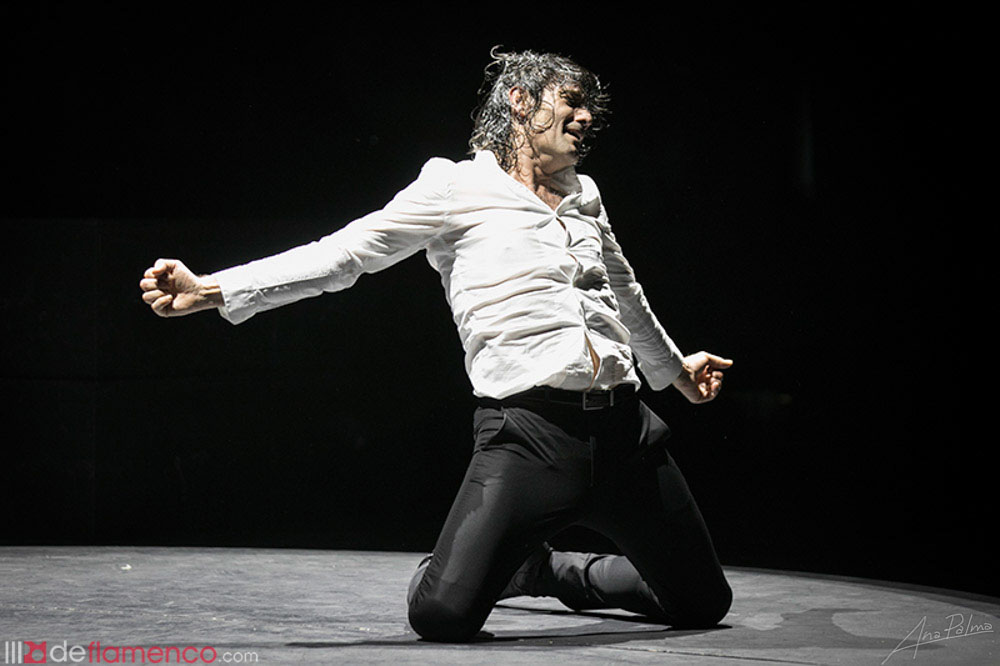 Video: Joaquín Grilo en el Festival de Jerez
---
ARGENTINA EN CONCIERTO
Bodega González Byass. 12 midnight
Voice: Argentina. Guitar: José Quevedo "Bolita", Eugenio Iglesias. Chorus. rhythm: Los Mellis
At midnight, at the González Byass winery, Huelva singer Argentina María López offered a very complete and generous recital.  From the first moment she came on stage to win over the audience, and leave everyone exhausted from the energy she radiates and the high-octane delivery that is her trademark.
Her repertoire, based on the most classic sort of flamenco singing, reveals much investigative work and composition, with ideas of her own that work well.  Argentina addressed the audience and said she had been "looking forward to this moment since she was a child to enjoy being with the people of Jerez".  And she was careful to incorporate songs and styles popular in this city, most notably bulería por soleá accompanied by José Quevedo "Bolita", hotter than hot.  Classic forms to please the most traditional fans, from Jerez siguiriyas with the María Borrico ending, malagueña de Chacón, guajiras, tientos tangos, tarantas, alegrías and historic lyrical songs to bulerías compás, including a powerful version of "María de las Mercedes.  After getting the audience to sing along for fandangos de Alosno, pretty much everything was said.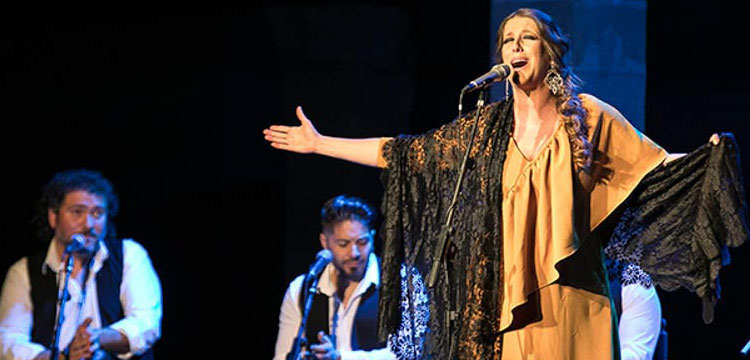 Video Argentina en concierto: