Silvia Cruz Lapeña
You have only to hear one note to realize she has a lovely voice.  It takes somewhat longer to get to that certain something of Mariola Membrives, that thing she only delivers in small doses, sometimes, when she wants to, or more like when it comes forth.  That doling out is welcome in these times of very clean well-tuned voices, some of them over the top.  "Often I don't even know what I'm looking for, but I keep looking non-stop" she says laughing, a little nervous, because she knows that being austere, like jumping without a net, sometimes works out, but other times, it's a punishment.  Her performance in Ciutat Flamenco is an example, and that's why she defines her collaboration with the Piccola Orchestra Gagarin as "wonderful madness".
The trio, made up of Sasha Agranov, Paolo Angeli and Oriol Roca, does free meridional jazz, joined by Membrives singing the Romance of the Monja Contra su Voluntad, an "impure farruca" and "annihilation tangos".  "Mariola must be the most flamenco thing in the show" says Roca, the drummer, an essential part of the jazz scene and to whom flamenco is not unknown, as she participated in Rocío Márquez' last recording, Firmamento..  Even so, the Catalonian is prudent: "In this project, I would highlight Mariola's bravery because the rest of us come from another discipline and we don't pretend to be flamenco, but she's more into it and decided to take a chance".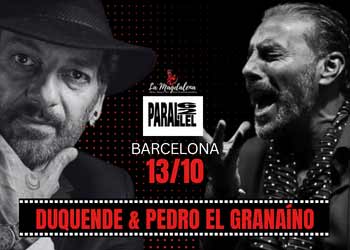 Publicidad DeFlamenco
A daring singer
Improvisation, freestyle, madness.  Summed up in this way, it would seem  Friday's show  is going to be an out-and-out experiment, but at this point we all know there's no inspiration without practice, without genius and without hard work, which is why they've been working on the project for a long time.  Sometimes, at a distance.  "The conversations we've had and the interchange of ideas have been extremely interesting", says Roca, who has great faith in Mariola's experience to be able to take on the most flamenco audience.
The four of them have a guarantee: until now, Membrives has been sticking her neck out, and it's worked out.  Upon looking back, the singer sees the good reviews from Federico García, a biography of the poet, staged by director Pep Tosar and in which she sings; just as happened in the last show of La Fura dels Baus, FreeBach 212.  Membrives, born in Andújar, raised in Córdoba and now settled in Barcelona, also does well with the most classical material, as demonstrated in the Réquiem of Enric Palomar to Enrique Morente and in which she sang Falla's El Amor Brujo with exquisite style.
Multifaceted
Clearly, the verb Membrives most conjugates is to seek, which is why, when she works on her own projects she gets involved in complexities such as versioning the Granada singer's Omega.  She still trembles upon remembering it: "I was crazy, I still am, but I had to do it".  Up close, Membrives is delicate and wide-awake and appears to be more fragile than she is: no one fearful gets involved in these complications.
It's also clear she throws herself into her multiple facets: she studied dramatic arts with Cristina Rota, flamenco with Mayte Martín and Arcángel, and she herself is now a flamenco singing teacher at the Taller de Músics.  And as if that weren't enough, she also designs jewelry.  "I took it up because I liked it, but also because this performing thing is very unstable, and you never know…"
On Saturday in Ciutat Flamenco, once again she'll collect her bravery and return to the Sala Hiroshima where she presented Llorona in 2014, her work with Japanese bassist Masa Kamaguchi which includes a version of "Todo es de Color" of Lole and Manuel which shows that path of tireless searching this Cordoban woman follows.  In that venue on Barcelona's Paralelo she'll offer two performances from her most recent "wonderful madness", at 8:00pm and 10:00pm, and she'll insert her most flamenco voice into her most jazz-like one, with many influences (indie, pop, dub, minimal…) of the Piccola Orchestra Gagarin to offer her "tarantas del amor", a liviana and an "apocalyptic" polo.  And they'll do it with drums, an adapted instrument and a saw.  No guitar, cajón or handclapping.  And with respect as they say, but fearlessly.