Rocío Márquez lives in the free territory of flamenco artists in a strange equilibrium with traditional flamenco.  She has a splendid new recording, "Visto en el Jueves" that appears to be as classic as it is audacious and adds projects to her career such as the duo with Jorge Drexler that will be seen at Flamenco on Fire de Pamplona.
José Manuel Gómez Gufi
Flamenco has changed a great deal in recent times, but depending on what you're talking about, it hasn't changed at all.  Nowadays, a flamenco artist with a new record tends to do a round of interviews with a dozen media that were formerly closed to this genre.  Rocío Márquez sings in the Prado museum and has appeared on the cover of both rock and flamenco magazines, which is a symptom of having risen above the small area of the flamenco following.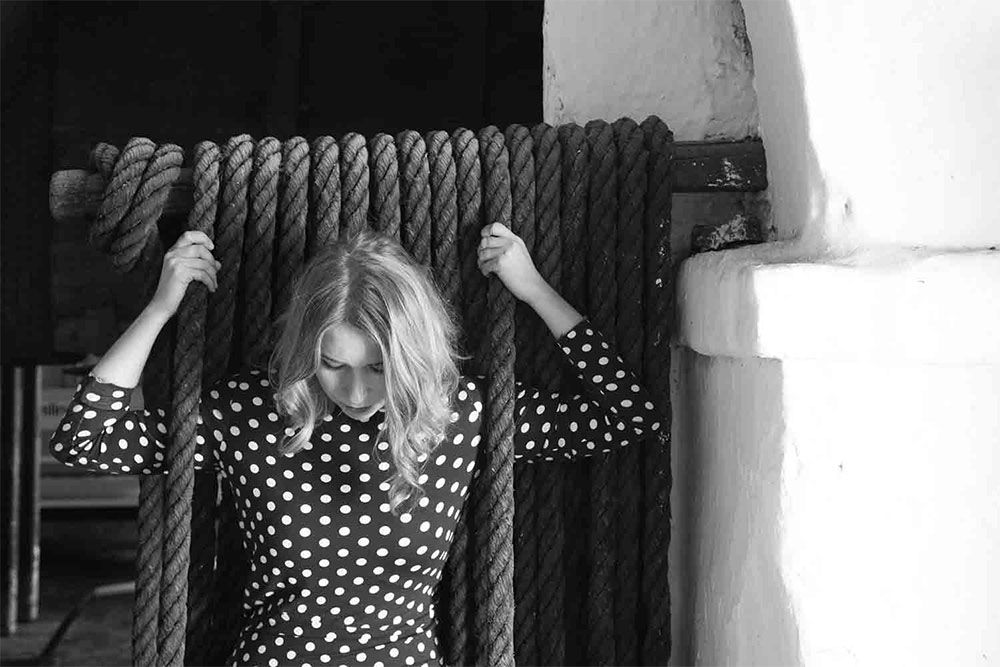 THE CONTROVERSY
A few days after doing this interview a confrontation erupted with a veteran journalist from Seville who wrote in two articles that he had supported Rocío when she started out but that he no longer liked her, that Rocío gives a lot of interviews and always talks about the same thing.
Maybe the problem is with the journalists, we're always asking the same thing.  When "Firmamento" came out, I interviewed Rocío on my radio programa (Planeta Jondo) and off the air I mentioned some declarations Niño de Elche in which he said about her: "I don't like the way she dresses".  Rocío got very serious and said something like: "I don't know what Paco has going on that he feels qualified to talk about my clothing".
On the other had, Rocío is still laughing about when I asked who was her "guitarist" on "Firmamento".
…but did you listen to the record at all?
MARX & ENGELS
Rocío Márquez is presenting her new record "Visto en el Jueves" with the Seville guitarist born in Catalonia,  Juan Antonio Suárez "Canito".  A record which, on the surface, is based on a "lighter" concept than her previous work in the sense that she gets back to basics: voice and guitar.  Now that she's taking charge, it's interesting to take a look at her recent producers: "El Niño" (Refree/ Faustino Núñez, 2014); "Firmamento" (Refree, 2017); "Diálogos de Viejos y Nuevos Sones" with Fahmi Alqhai (Agustín Diaserra, 2018).
In the promotional blurb one reads: "You can only do something new based on what already exists", the first time I read a quote of Marx and Engels on a record.  Just in case her position is not clear, Rocío adds: "I'm not interested in being a mere copying machine, because looking to the past is no guarantee of anything if you don't intend to change the present".
I think it's an audacious recording although not something to trigger a revolution.  There are no fiery statements in the verses of Moreno Galván, although you can detect the hand of Paco Ibáñez in "Andaluces de Jaén".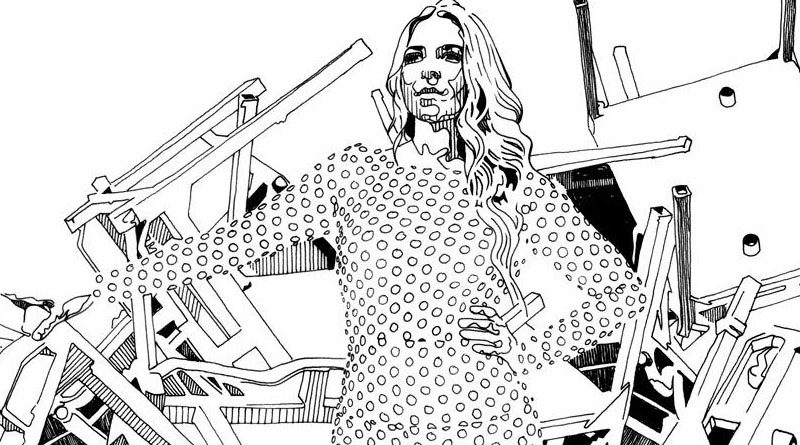 HAND-ME-DOWNS AND CANITO
There's a whiff of second-hand markets, tangos and old songs, of stinging boleros.  Of grandmother's reusable possessions, hand-me-downs from the elders adapted to your own taste.  In other words, Rocío revives pieces of Cabrero, Bambino, Menese, adding her own personality.  More or less business as usual, and yet, for those seeking experiences, it will sound modern and novel…and for the oldtimes…also.
We're finally going to talk about guitarists!  Who is Canito I ask.  Rocío Márquez laughs, but immediately get serious when I joke that "it's all Refree's fault" referring to the evolution of the flamenco production.  "That's where you're wrong, Refree had nothing to do with it.  You have to listen to Canito", and she says this with urgency, as if it were homework.
MATERIALISM AND HEADLINES
I also confess I'm a "Marxist" (in the Groucho sense), but one who believes in dialectical (and historic) materialism, and without Rocío Márquez we wouldn't have Niño de Elche, and without Refree we wouldn't have Rosalía.
I believe Rocío tries to maintain an equilibrium between the strictly flamenco world she comes from and the one which embraces her creations without reservations.
But alas, recent headlines are devoted to Rosalía and El Niño and…if anyone doubts it…Refree.  Nor does Pedro G. (Romero) have a presence, but, they tell me Pedro Jiménez of "Voluble" is present and he goes live with screens and images just as we saw at the Matadero (a cultural center in the south of Madrid) with guitarist Raúl Cantizano.  In other  words, in the free-wheeling world of flamenco, each one is a world unto himself or herself.
She talks about the mercantile part of Rosalía, I gather she doesn't like it.  So I change topics, time is short.
-Are you going to do a concert of guitar and voice with this record?
-Yes, possibly with percussion.  I really wanted to mount an alternative project.  With Proyecto Lorca in "Firmamento" you need a truck to haul all the instruments.  For "El Niño", the drums.  With Fahmi, the violas. Sometimes a programmer calls and says they need it to be guitar and voice, usually due to economic reasons.
THE ART OF THE INTERVIEW
It's a blessing to interview Rocío Márquez, she's not one of these ones who gives a speech and straight to the publisher.  Rocío reflects, advances, you learn something, you dialogue, you laugh, she scolds you when you mess up.  You can do two interviews one after another on consecutive days, and you have the feeling that conversation follows its thread.  Something very complicated for any artist who does five interviews in one day with five different journalists.  Of those five interviewers, which is an imaginary example, some might know about flamenco, one may be opposed, another appears to be interested, another incisive, one is just looking for a headline, another is in it for the money (what a drag!), and so on and so forth, because the universe of journalists who interview flamenco artists is as wide open as that of the interpreters…although we may sometimes ask the same questions.
WOMEN IN FLAMENCO SINGING
Now, it's possible to do a more open, popular, accessible and rigorous DJ session with women singers.  I say this to her and Rocío stiffens up, as if it were a trick question.  On another occasion she told me women's creative moment makes her happy.  Now she points out: "We've had opportunities and we've taken advantage of them".
ALBERT PLA
Rocío is like a magnet who attracts odd people, and she has collaborated with Albert Pla.  "Now that was the fault of Raúl (Refree).  I was in Barcelona for something else, I called him and said: "I'm right near your house, I'm coming over to give you a kiss.  I got there and he says: "I was thinking of you because I'm producing this of Albert Pla".  I like Pla and was familiar with "La Carta al Rey Melchor" which includes a flamenco voice.  He put it on and I recorded it right there, improvising".
AL MERCADILLO DE CABEZA
The title "Visto en el Jueves" is unsettling, it mentions the Seville second-hand market.  "We thought long and hard about that, it's true that it's a very local reference.  It sounded good and it gets your attention.  I like the fact that it's not so obvious, explicit things bore me a little.  Also, Thursday is sort of the middle day, like  songs and flamenco singing".
THE DUENDE
Your doctoral thesis "The Vocal Technique of Flamenco" seems to seek objective answers for each of the forms.  So I ask you: ¿Do you believe in "duende"?
-I think "duende" is inspiration, and in flamenco that's what we call it.  And inspiration exists in all art forms, sometimes we want to separate flamenco from other musical forms, it's a genre sometimes capable of making your hair stand on end.  It can happen looking at a painting.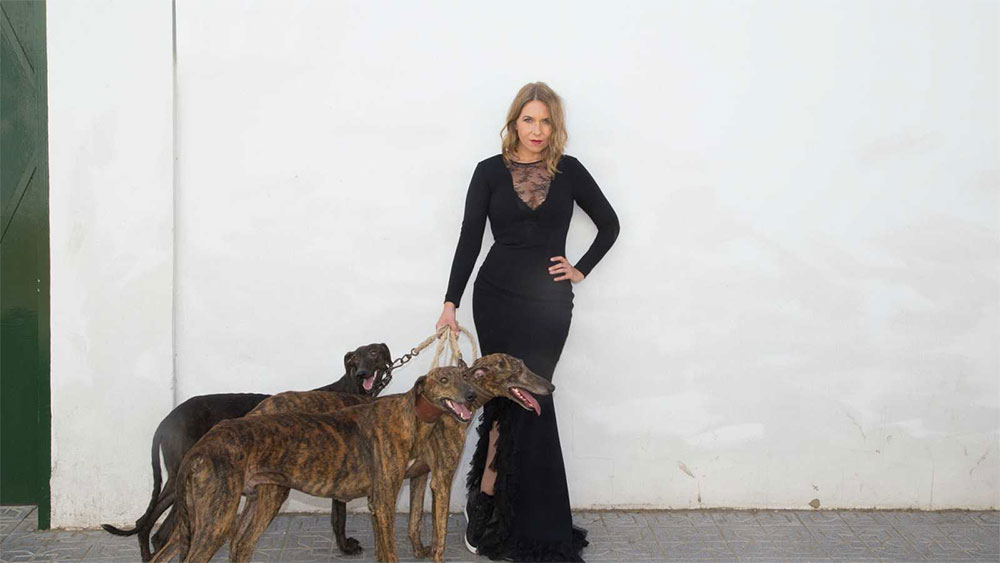 FAHMI AND THE ACADEMIA DEL PLACER
In Amsterdam I was seduced by the "Romances Entre Oriente y Occidente" of the Accademia del Piacere of Fahmi Alquai.  "That wonderful project".  And they tell me that before going to live in the country, I was living alongside Fahmi's office, and that's how "Diálogos de Viejos y Nuevos Sones" came about.  "It was very easy, he called me and said to pass by the studio, we're going to try something.  For me, the short physical distance is fundamental.  The same thing happened with "Visto en el Jueves", with Canito who's right next door.  In the same town is Manuel León who's the person who did all the artwork, the drawings.  We're all very near each other.  The next town over is the studio for doing the mixing and everything is like that, we're all within 30 kilometers of one another.
FROM CHILD PRODIGY TO WOMAN
We're talking about singing according to how you live, and I say I don't go for child prodigies, I prefer to see them grown up, and I realize that Rocío passed through that.
-Let me explain, I pestered my parents to take me to sing on television.  I was the biggest nuisance in Spain.  Singing all day long, I was a parrot.  And my  mom: "get outta here Rocío, that's all a big lie!"  She gave me the remote control of the TV (as a microphone), stood me up on a bench and said "now you sing to me".  She put me in front of the whole family to sing and get that obsession out of me.  In my case, I had to convince my mother.
Now, I've lived through some very difficult situations on some television programs where other kids were vomiting from nervousness.  It's very hard to know how much of it is the child, and how much is the parents.  It's not a place for children.  I spent a lot of time away from home, skipping school, with tutors, your friends are the kids who tour with you.  You remember it as good times.  Where's the reality?  It comes to an end, you have to return to school and go back to being a regular kid.  And I remember that as being a very difficult time.
-Is it true you wanted to be brunette like the other girls'
-I died my hair, I wore coral earrings and polkadots.  I wanted to belong to the group, I had my mind set.
THEMES AND TOPICS
We ran out of time…spoke about Rosalía (we're don't agree on that), of flamenco on television, and of whether there is a process of de-gypsification going on in flamenco.
"Eh, whassat?"
Of her tours in France.  We never got around to talking about Jorge Drexler.  Another day…