Fraskito: "I'm self-taught, I learned from two videos, one of the Montoya family, and "Sólo Quiero Caminar" of Paco de Lucía
The singer/songwriter from Alicante presents "Leche Negra" March 13th at Madrid's Café Berlín
José Manuel Gómez Gufi
Fraskito defines himself as a flamenco singer and songwriter.  He also plays a seven-string guitar, more common in Brazilian music or in heavy, than in flamenco.  And you have only to look at the cover of his recent record "Leche Negra" to realize the uniqueness of his work.
He's the composer of quite a collection of songs, the first record of Amparo Velasco La Negra which included one of the biggest hits of this century, "Es Inevitable", and he also wrote "El Zarandeo" for Remedios Amaya, "Enamorao" for Parrita…
"In the area of Elche, among gypsies, there are no "Pacos", we're "Frasquitos" says Francisco Rodríguez about his artistic name.  Among his records, "Camino de Agua" produced by Tino di Geraldo is noteworthy.  It includes the collaboration of Lin Cortés and the Cuban group Los Fakires.  "Tierra y Sandre" dedicated to Miguel Hernández and where Enrique Morente sings and the brilliant "Leche Negra" which he's presenting Wednesday March 13th at Madrid's Café Berlín.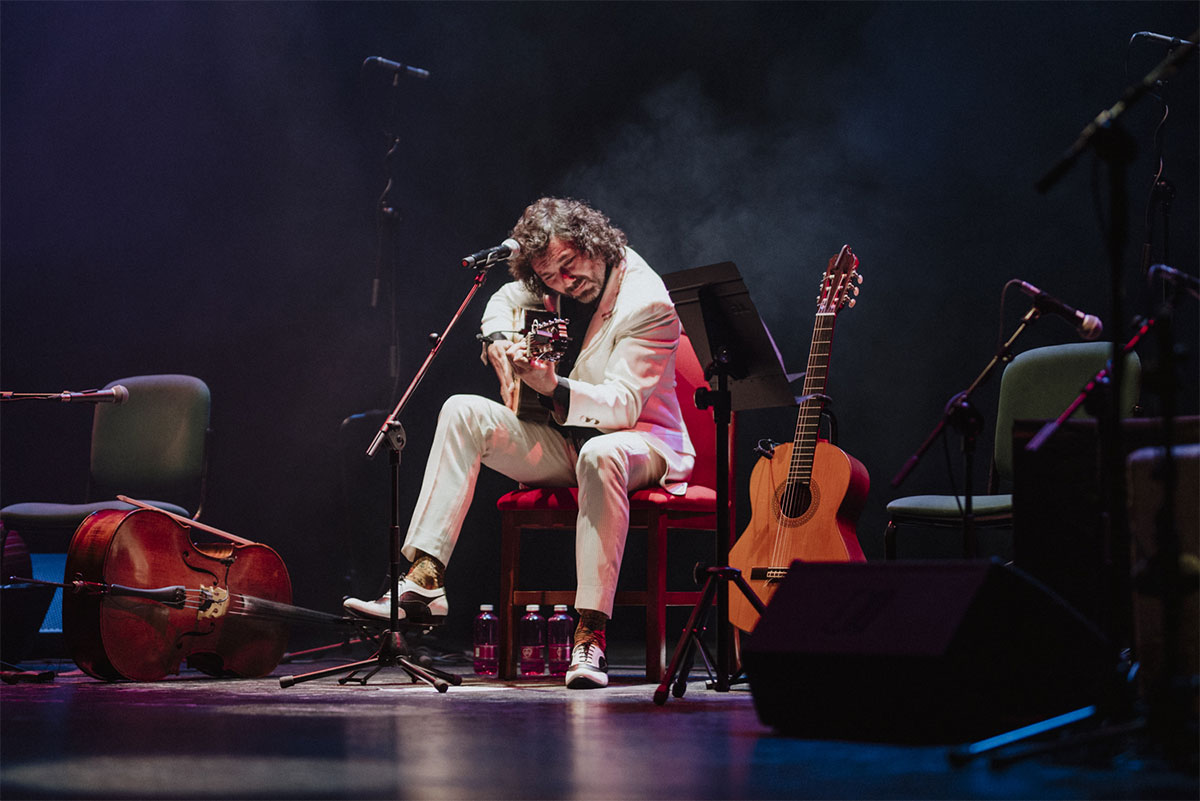 You told me it was Luis Delgado who said you had to take on the 7-string guitar as if it were a new instrument.  Now that you're doing a presentation with a band, what do you imagine first, the sound of the guitar or of the band?
-It all depends on the guitar, in fact I struck gold the other day.  I'm having a guitar made to use playing standing up, that's one of the things I want to change.  But it's not easy, the body of the instrument is very wide and your back suffers with the position, but I don't know if I'm going to make it for the Madrid concert.  But the investigation is done, looking for pedals that allow me to work naturally, the problem is…the amplifiers. I'm discovering new things.  I'm pleased because the band is going to sound strong and my guitar is going to be there.
That reminds me of the day Bob Dylan invented a gadget to play harmonica at the same time as guitar.
-Was that Dylan?
I had no idea, maybe he copied Pete Seeger (apparently not).
I tried to read the sociologist Zygmunt Bauman, and I have to admit I couldn't do it.  I'm interested in what he says, but I prefer to reread his interviews.  I think it's the first case in the whole world in which a thinker of his level creates a good song that talks about the lack of consistency of our relationships.  I love the irony of the song being sort of "liquid" as compared to the solidity  of his thinking.  How do you compose a great song like "Amor Líquido" from material like that of Bauman's?
-When it comes to composing, if the text is my own the music and the verse come at the same time.  If the text isn't mine, I work on the concept and with the phrases that catch my interest, and from that point on I build very slowly.  What I remember about "Amor Líquido" was constructing phrases that ended in liquid, while doing something else, while you're driving…
The chorus is liquid…
-From that point on, I construct with a flamenco foundation, in the case of "Amor Líquido" it's castanets of "La Sultana" of Camarón , and little by little you construct musical variations and phrases.
And it's translated to Django Reinhardt's swing.
-As you go along, you're never satisfied with what comes your way.  I reach Django because the rhythm of the text is very unusual, it reboots the path and since that works, well, you say let's go this way.  The text has very important power, at least for me.
"Despertar", the song that opens the record, has a very dramatic history that grows with the sounds provided by that extra string.
-There's a point of union in the deep frequency of that extra string.  The rhythm is different from that of a normal buleria.  It's more of a pop dynamic.  I think it has to do with the "gypsiness" I live around this land, the Mediterranean, the way I live my life, which isn't better or worse but it's different from what a flamenco musician experiences in Andalusia.  Also, there's the music I listen to in addition to flamenco.  I identify with Camarón and Paco de Lucía but I'm interested in music from many places, and that comes through.
I never thought of John Lennon's "Imagine" for alegrías, a form I recognize because I see the waves of Cádiz Bay, although I don't know if I ought to see those of Alicante.
-If I have to define myself as a musician, I'm flamenco before anything else.  I couldn't imagine "Amor Líquido", or "Despertar", or "Leche Negra" if I'm not playing soleá for a couple of hours.  I'm changing things through composition.  In "Imagina", since it's not a piece of my own, what I did was copy, literally, what I play for alegrías which is nothing more, nothing less than the cantiñas Tomatito used to play for Camarón and in which I give a wink to maestro Moraíto in one of the melodic variations.  And the only intention is to show how solid flamenco is, and how a modern composition reaches many generations.
Speaking of maestros, who were yours?
-I'm self-taught.  One day my father went to buy a Ramírez guitar in Granada, and he went with one of the Habichuela family related to a second cousin.  This man tried the instrument, told him the guitar was good and made me play a bit, I was eleven years old.  He suggested I be left in Granada to study, but my father didn't want to.  That was closest I ever came to receiving instruction.  The rest I discovered alone at home.  Man, what you can learn from the videos of Paco de Lucía.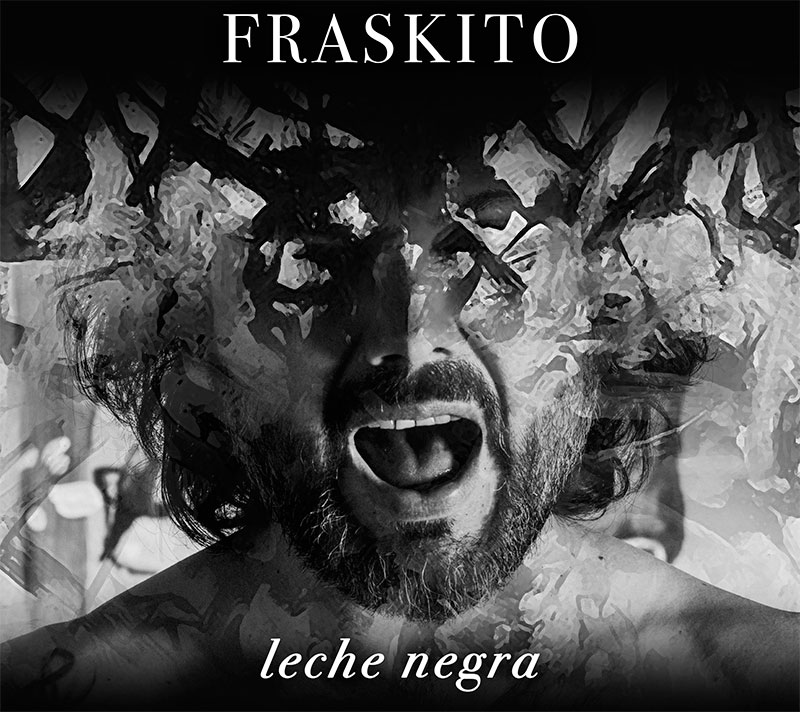 No kidding…
-And old cassettes, back and forth, and the videos.  I had a recorded recital of the Montoya family with Niño Jero, El Roto and Manuel Molina, and another with Paco de Lucía with "Sólo Quiero Caminar".  One that was very gyspy, and the other, out of this world.
I'm really enjoying "Camino de Agua" (2008), a record I missed when it came out, but you don't sing there.
-It's that I was hidden behind the guitar, that's why Lin Cortés and La Carbonera are there.  In 2005 I made the biggest effort regarding composition for another artist, which was the record of La Negra.  In 2002 I made a record for a big record company, and I hid behind the guitar and preferred not to sing, and then went on until 2010 when I invited Morente to participate in the recording dedicated to Miguel Hernández.  It was Enrique Morente who convinced me to return to singing.  Now I once again have a more natural voice which is how it was when I sang in in the evangelical church.