With '21', the artist takes a stand for accompaniment, exploring and broadening with his playing, the universe of eleven key voices of the 21st century.
Interview: Sara Arguijo
Although it might seem paradoxical, human beings sometimes need to face one another in order to find themselves, recognize themselves and understand who they are.  First of all, because the perspective of the world is much narrower, and also, because the dialogue forces us to rethink our limitations and explore our resources.  And even more so when the language is that of music.
At least this is what Dani de Morón seems to have gone through in  '21',an album in which he defends accompaniment guitar, putting his music at the service of artists such as El Pele, Miguel Poveda, Estrella Morente, Arcángel, Rocío Márquez, Marina Heredia, Pitingo, Esperanza Fernández, Jesús Méndez, Duquende and Antonio Reyes, the key flamenco voices of the 21st century.
An exercise that has forced him to set in motion those directions he already showed in previous work and which have also allowed him to develop new abilities from active listening.  Because, furthermore, this expansive artist wrestles with his instrument in the isolation of his room, but it's when he shares his desires with others  that he has a good time.  His upcoming dates with this show are July 13th and 20th, in Jerez and Itálica (Seville) respectively.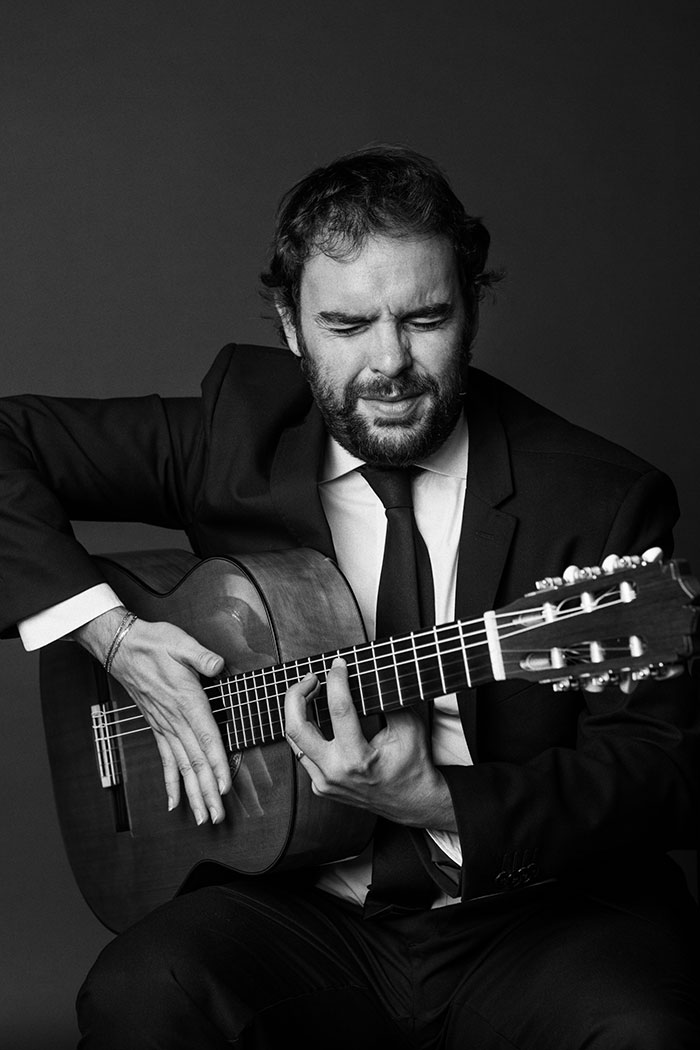 -From the time you started to toy with the idea of '21', up until the recording became a reality, you might even have added a number, isn't that so?
– (Laughter).  Well, in fact, I took even less time to record this than the previous ones.  The thing is, we announced it in the previous Bienal, when we did the show, and it seems like it's been much more time, but it's been a year and a half.  In fact, at that time, we had already nearly half the singers recorded.  Naturally, my work actually began at that point.  What I mean is, I started working the arrangements after hearing each one of them, trying to put together what the vocals suggested to me, trying to pick up on the spirit of each.
"More than ever, my guitar is at the service of the singers to put together what the vocals suggest, each one's particular universe"
-In that sense, does Dani de Morón put his hands at the service of singers, or trap the singing with his hands?
-I think I'm at their service more than ever.  Especially, since they've been extremely generous putting their voices in my hands.  Like I said, they recorded the voice without hearing the final result until they had the record in their hands.  They let me work their songs with absolute freedom.
-And after defending concert guitar in earlier recordings, isn't it risky to go back to accompanying flamenco singing?
-Risky yes, because '21' isn't a recording of guest artists in which singers add their personality to my compositions.  Here I've had to split the functions to serve the vocals with my guitar without  losing my personality.  Just as done by so many other guitarists such as Melchor for example.  Which is why, in no way do I consider it lesser than what I did before.  In actual fact, it was a lot more complicated, also because of the responsibility involved.
 "Music is made to be shared. I can't conceive of flamenco guitar-playing if it doesn't let itself become influenced by the other.  Letting it all come down to a musical riff is a shame"
-Because in general, would you say, as others do, that there are fewer and fewer interpreters interested in listening to one another?
-Well, if that happens, it's completely wrong.  You have to close yourself up many hours with your guitar, but in the end, music is for sharing.  The guitar, I've always said this, is made for accompaniment, although there are plenty of reasons for it to shine on its own.  I can't imagine playing guitar without letting myself be contaminated by the other.  If a guitarist saves himself for a musical riff, that's a shame.  Right now I just came from rehearsing with Patricia Guerrero for her show "Distopia" that's going to debut at the Bienal and where I'm directing the music, and that interaction is wonderful.  That's what flamenco is, a dialogue where we're seeking out beauty.
-You said your work was at the service of the eleven voices on the record.  In the end, do you see yourself there?
-I think my personality is there because there's knowledge behind it all.  In the end, you have the original chords so assimilated, you can allow yourself to get carried away and everything flows.  It's got nothing to do with looking for something new in any kind of artificial way, nor being a rebel…first you have to study, and then find yourself.
"To surprise others, you have to live.  When you sit down in a chair, the audience perceives everything"
-To what extent does a singer's lament influence how you play? 
-More than by a lament I'm inspired by what I perceive in each interpreter, in the world each one seems to suggest.  For example, the musicality of Rocío Márquez takes me to a melodic sketch that makes me think of percussion, or multiple guitars.  However, El Pele is depth.  Perhaps that's the reason I take on his soleá in the tone of rondeña.  Needless to say,  that doesn't mean it's the best formula, because there are millions of possibilities, but it is a reflection of how I see them.  Most of the songs on the record were developed when guitar was still very young and people didn't have access to today's resources.
-From the moment you began this project you knew which artists had to be the ones that would take part…did anyone surprise you in particular?
-I was surprised by everyone's choice of when to record, they all chose the morning.  Nothing about this thing they always say about flamenco interpreters, that things come out of inspiration during the night.  There are no miracles here, just lots of hours.  The night is for relaxation, but this is something serious.
-When you presented this show, Israel Galván said you made him remember numbers…do you sometimes wish you had a sixth finger?
-(Laughter). Before that I'd take two strings from the guitar, and three fingers of mine so everything would be easier (he jokes).  I don't know, I think that precisely for this reason I like a recording studio, because it lets me get close to the sounds I have in my heard and which you can't always get in natural way.  That doesn't mean that afterwards on a stage you're more limited, because you can develop other things, but yes, the studio is sometimes like that extra finger you wish you had.
-Because of your rhythmic and melodic qualities, some people situate you as a guitarist of the future.  Do you identify with that?
-That's big praise.  In any case, I think that if my playing stands up, it's because I come from a very flamenco place.  I was lucky enough to be born in a place that has allowed me to familiarize early on with things that someone else would have to take a long time to learn.  In this sense, I've been able to explore my obsessions earlier and feel more free to compose, because I have basic classic training, which is where everything else comes from.
"I'd prefer to lose a finger rather than my communicative ability.  Playing very well doesn't make any sense if you can't get anything across"
-As an artist, what would you be most worried about losing…technique, creativity or motivation?
-Motivation, without a doubt, it's the force that makes everything work.  Of course technique is very important, and you worry about losing it, but, in the end, it all depends on how many hours you put in, and also, on taking care of yourself.  Nowadays we guitarists are more aware of this, and we incorporate habits such as visiting an osteopath once a month.  But the important thing is motivation.   We mustn't forget that in order to surprise other, you have to live.  When you sit down to play, the audience perceives everything, and if you're burnt out or anguished, it shows.
-And is that scary?
-Well, when I'm nervous or not having my best day, I always think that more important than how you play, is how you are.  At least it serves the purpose of keeping me from stepping down from the stage.  Without a doubt, and although it  sounds a little extreme, I'd rather lose a finger than the ability to transmit emotions.  Playing very well doesn't make any sense if you can't get anything across.