What is Casa Patas?
Casa Patas is a tavern-restaurant and flamenco tablao located in the center of Madrid, considered a point of reference in the world of flamenco, and a point of encounter for artists and fans.
And much more, an entire building devoted to the art of flamenco on Cañizares Street number 10, in the most flamenco neighborhood of Madrid. In addition to a nightly flamenco show, with two performances on Friday and Saturday, on the first and second floors is the center for the Conservatorio Casa Patas Foundation with intense activity both in training at the flamenco school as well as the distribution of flamenco, with a Café Cantante for groups and special events, and the wonderful Sala García Lorca where exclusive flamenco recitals are held.
Downstairs at the flamenco tablao, which is independent of the restaurant, the nightly shows have an excellent artistic program, without a doubt a fine showcase for flamenco newcomers. Each week there are new performers and a new show headed by a major dancer, in addition to important guest artists on the weekend.
Leading to the tablao entrance is the tavern-restaurant, one of the most interesting places in Madrid, with the walls lined with photographs of flamenco artists who have passed through over the thirty-year history, a must-see place for flamenco fans and curiosity seekers.
Casa Patas has one of the best flamenco atmospheres of Madrid, fans and artists who work in other venues throughout the capital tend to end up the night at the tavern. Another characteristic is its audience, being the Madrid tablao that most Spanish clients receives, welcoming flamenco followers and other flamenco artists settled in Madrid or just passing through, something which stimulates the performers on stage resulting in a truly magic evening of high art.
This venue is open to the general public, and there's no need to make a reservation to have a beer, a glass of wine, and the famous Madrid tapas at the bar, or sitting for dinner or going inside to see the nightly performance – in which case it is recommended to make a reservation. The food served is based on excellent products and recipes of traditional Spanish cuisine. The client may stay at the bar, enjoy the restaurant or the tablao, or move from the bar or restaurant to the show in the tablao.
So, if you come to Madrid and feel curious and attracted by flamenco, don't fail to visit Casa Patas where you can live and breathe flamenco, where you find a unique atmosphere and will be able to enjoy its tavern-restaurant as well as shows with the best and most up-to-date flamenco.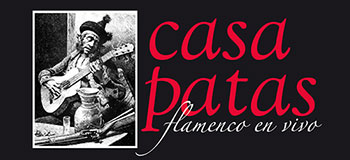 Casa Patas

Calle de los Cañizares, 10
28012 Madrid – España
Teléfono:
913690496-
Email:
casapatas@casapatas.com
Web:
www.casapatas.com
Facebook
,
Twitter
,
Flickr
,
Youtube
Content related to Casa Patas