---
23rd FESTIVAL DE JEREZ
María Pagés Compañía "Una oda al tiempo" Lela Soto "Mi herencia cantaora"
Saturday, February 23rd, 2019.
Estela Zatania
COMPAÑÍA MARÍA PAGÉS "UNA ODA AL TIEMPO"
Teatro Villamarta, 9:00pm
Director: María Pagés, El Arbi El Harti. Music: Rubén Levaniegos, Pyotr Ilyich Tchaikovsky, Antonio Vivaldi, Georg Friedrich Händel, Sergio Menem, David Moñiz, Isaac Muñoz. Dance: María Pagés, Eva Varela, Julia Gimeno, Marta Gálvez, Virginia Muñoz, José Barrios, Rafael Ramírez, José Carlos Avecilla, José Ángel Capel. Music: Ana Ramón (voice), Bernardo Miranda (voice). Rubén Levaniegos (guitar), Isaac Muñoz (guitar). Sergio Menem (cello). David Moñiz (violin). Chema Uriarte (percussion).
The flamenco genre includes an enormous variety of tendencies, styles and concepts, but María Pagés travels a path all her own that is not easily pigeon-holed.  Along with her partner, El Arbi El Harti, she investigates, discovers, reveals and interprets that which she needs to communicate, making use of a surprising variety of elements.  The libretto cites the thoughts of Plato, Borges, Heidegger and other personalities of world culture  You almost have the feeling that flamenco is a replaceable accessory in the grand scheme of this artist's inner life.
María lays out the serene face of flamenco, that of the beauty of curved forms and movements: this isn't the "angry flamenco" cliché image beginners look for, but a kind of sweet sadness made digestible thanks to María's intelligence and sensitivity.
The work "Una Oda al Tiempo"…even the title is light and fanciful…enjoyed great success at the last Bienal de Sevilla, and is pure Pagés, in the most positive sense.  Flamenco that tranquilizes rather than perturbs.  Such as the lovely siguiriya María interpreted with castanets and a red bata de cola, as an extension of her own body.  Or the group number "Cuéntame el Tiempo" inspired in Neruda's "Oda a los Números".  A soleá performed by eight dancers, sixteen feet pounding an amplified stage, possibly too much percussion for such a delicate song-form.
Great importance is attached to the original verses of El Arbi El Harti, although inadequate acoustic and amplification conditions made it difficult to enjoy this element.
Original, surprising and sublime was a dance in which the real center of attention was the large swirling movement of shawls tossed energetically and continuously, seducing our vision with new forms: the kind of creativity and exquisite taste that characterizes María Pagés.  Also noteworthy was the danced alboreá, as well as the visual composition in which the corps de ballet appeared to be a flock of seagulls or wielded canes like rifles for an antiwar manifestation.
The show included alegrías, threshing songs, vidalita milonga, petenera and levantica, but in María's work, that which shines above all else is her own imagination and fearlessness.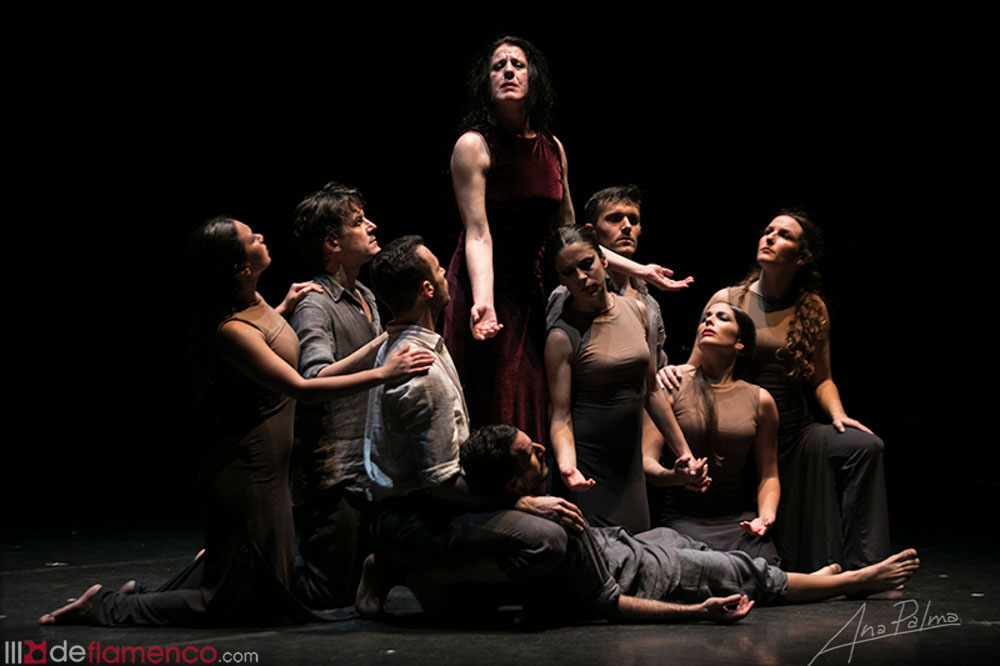 LELA SOTO "MI HERENCIA CANTAORA" Bodega González Byass. 12 midnight
Voice: Lela Soto. Guest artists: Vicente Soto Sordera, Enrique Soto Sordera, José Soto Sorderita, Ricardo Moreno. Guitar: Nono Jero, Antonio Malena jr., Fernando de la Morena jr. Cello: María de Goñi. Rhythm: Manuel Cantarote, Juan Diego Valencia. Percussion: Carlos Merino.
Who could possibly have seen that 1971 episode of Rito y Geografía del Cante and not fallen in love with the whole family having such a good flamenco time together?  Many years would still have to pass before our singer, Lela Soto, would come into the world, but there you see her father, her aunts and uncles, the grandparents… A scene that's worth more than a thousand words to show what moves the great flamenco machine: genuine first-hand experience in intimate surroundings.
Nearly 50 years later, at midnight, in the González Byass winery, Lela's big night unfolded, surrounded and supported by her family and noteworthy collaborators.
In a recital that included a variety of styles, the one that most sounded like Jerez was the bulería por soleá with forms defined by the singer's legendary grandfather, Manuel Soto Sordera.  But Lela didn't limit herself to Jerez and dared to take on milonga, granaína, cantinas… The moving round of tonás included the participation of Enrique Sordera whom we haven't seen on stage in quite some time.  Also noteworthy was the fiesta dancing of Lela's mother, Luisa Heredia, to the singing of her father, Vicente, who later declared "the Sordera line of flamenco artists will not be lost!".