Fantastic demonstration of talent with his guitar, in the singing of Jesús Méndez, Antonio Reyes, Duquende, the rhythm of the Mellis and the dancing of Patricia Guerrero
José Manuel Gómez Gufi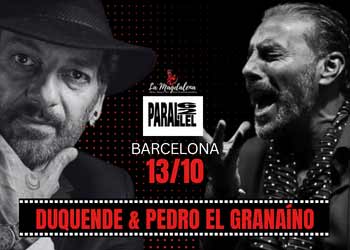 Publicidad DeFlamenco
The importance of the concert became evident when the audience burst into a combination of applause and cheering in every known language on a Sunday night on which the artists attended the theater with the audience and – Duquende spoke! – summing up: "the last time I was here it was with Paco de Lucía, and now with Dani".
It was a wonderful guitar concert that began with the man from Morón playing bulerías, then he interpreted tientos from the record with Jesús Méndez singing, in his serious solid line, and just when it seemed everything was more than taken care of, the primal scream came out, and the dance bit of his aunt, Paquera de Jerez, a harbinger of what was about to follow.
And Patricia Guerrero came out wearing a modern satin dress – they tell me she's dancing farruca – and she condenses all the expressive languages of flamenco and semi-classical dance with the harmony and magnetism of artists who steal the spotlight for themselves, offering beauty and making you forget all the rest.
Getting back to the vocals, it was the turn of Antonio Reyes who also recorded on "21", a guitar recording with 11 singers; as everyone knows, Antonio made a splendid record with Diego del Morao (from the brilliant generation of young guitar maestros with Dani and Rycardo Moreno), the thing is Dani adapts so well to the quality and taste of each singer, that they ended up going for the tangos their friend recorded.
At this point the guitarist is alone again and offers a suite, and it's clear this continues to be a guitar concert no matter how much song and dance is included.  But the guitarist is at the service of the singer of the moment and gives a lesson in brevity and creativity when he has to accompany, and in that sense, his record "21" is a never-ending source of surprises.  So, when Duquende came on, instead of doing the siguiriyas from the record, Dani paid tribute to Paco de Lucía, he hinted at a song from Paco's posthumous record, he reworked a variation and paved the way for the singer to evoke Camarón's tarantas.  Then he interpreted "Lo bueno y lo malo" of Ray Heredia with a delicate minimalist intervention by the Mellis (wisely subdued throughout the evening). The singer knows who to lend gravity to that song "a la italiana" of Ray's, he offers it in his repertoire as the reflection of an era and a generation which is of "young flamenco artists" who, due to their age and knowledge are now grey-haired and wise.
By now, anyone else would have called it a day: some bulerías and home to bed, but Dani still had a lot to offer as did the others.  He had played a string of different styles (including his own), but he had yet to be true to his name and the variations of Diego del Gastor, and they came out in the bulerías that set the stage for singer Antonio Reyes who quickly gave in to his Camarón leanings, followed in the same path by Duquende, while Patricia filled in different nooks and crannies dancing in trousers, and then it was time for Jesús Méndez who sang to Patricia Guerrero who danced to the singing, and it was a pleasure for everyone in attendance to experience that sublime moment in which many years of hard work turned into ART, and the people feel like their senses are exploding, and that was more or less what Federico García Lorca was trying to explain with that thing about "duende".