We're with Chico Pérez, a young man with a diploma from the Conservatorio Superior de Música de Jaén in the specialty of piano which he has taken along the path to flamenco.  Lately, people are talking a lot about him thanks to his participation in the AIE Flamenco series.  Now he's presenting his first record, "Gruserías", with which he will continue opening the way at music circuits of jazz and of flamenco.
Interview and photos: Rafael Manjavacas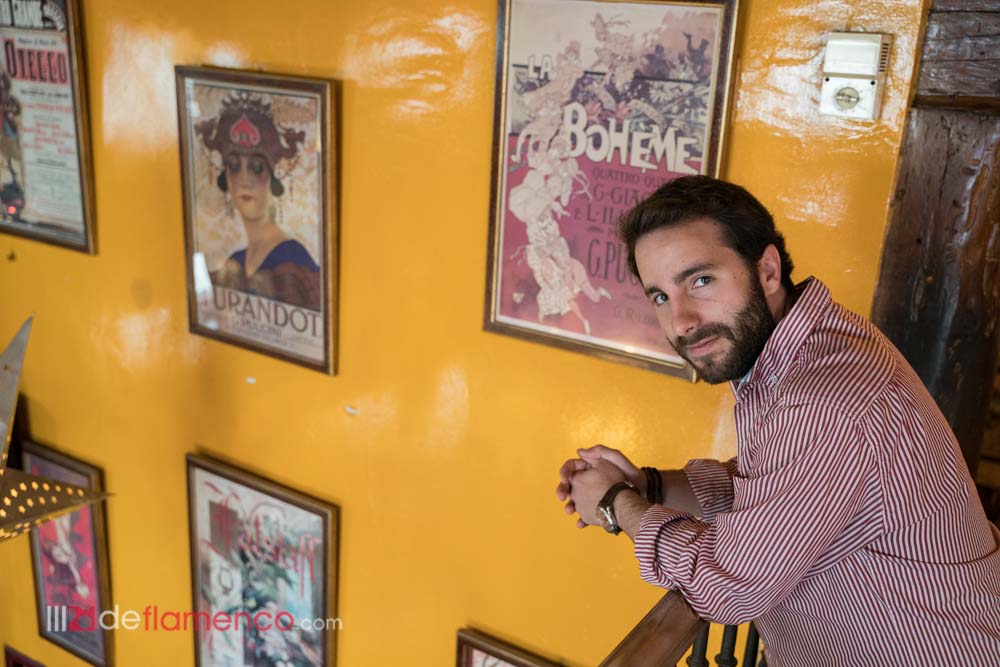 Gruserías?
Yes, it's a word I made up, alluding to composer Dave Grusin, there was a time when I listened to him a lot, so I put it to bulerías in a very simple fusion show, but I liked how it came out, a kind of music without frontiers.  That's why I named the piece as I did, and the record as well.
In your dossier it says you come from a family with a music tradition.
We're five brothers, I'm the baby, which is why they call me "Chico", one brother plays the guitar, another plays soul and blues on guitar, another sings and another plays the bass, so at home I was always listening to music in the room next door, it's very natural for me.  My flamenco guitarist brother always asked me to do the rhythm, so that's how I got into flamenco.
But not self-taught at all, a musician with academic training.
I studied piano at the conservatory, but always classic, there was no such thing as flamenco piano, and only a little jazz at the end of the studies.  I've had to learn flamenco on my own, there are no method books for piano, nor any place to study it.  In order to make the piano sound right with tangos, bulerías, soleá…I've really had to be resourceful.
But you did take classes.
I was taking classes with Dorantes whom I consider to be my maestro, I learned a lot with him, especially about how to view the piano.
Diego Amador told me the flamenco piano doesn't exist, that flamenco comes from the interpreter.
Yes, I think that's right.  Dorantes told me to imitate the guitar as little as possible, that it's another instrument, and yes, they play things that remind you of the guitar, but the piano is another instrument and you have to take on flamenco with the instrument you're playing.
The recording is based on flamenco, but logically it also includes jazz, classical music… How much is there of each type of music on the record?
There's no specific plan, you compose pieces, on a first recording you gather everything you've done up to that moment, in my case the classical music is in "A Tío Chopin", which is Chopin's music which I turn into a garrotín, but the base is classical even though I bring it to flamenco.
Another piece, "Por Parker", came out when I was studying Charlie Parker's music and that's what came out, there's a connection between flamenco and jazz there.
Who are your flamenco references for the piano?
Dorantes, Chano Domínguez and Diego Amador are the ones I most look up to, each one is different, and in a certain sense I'm influenced by all of them.  The drummer for the group, who didn't know Dorantes, upon hearing him told me that I came from there, although others also say my music reminds them of Chano Domínguez, who's more into jazz and improvisation.  I think it's normal to have been influenced by music I've heard.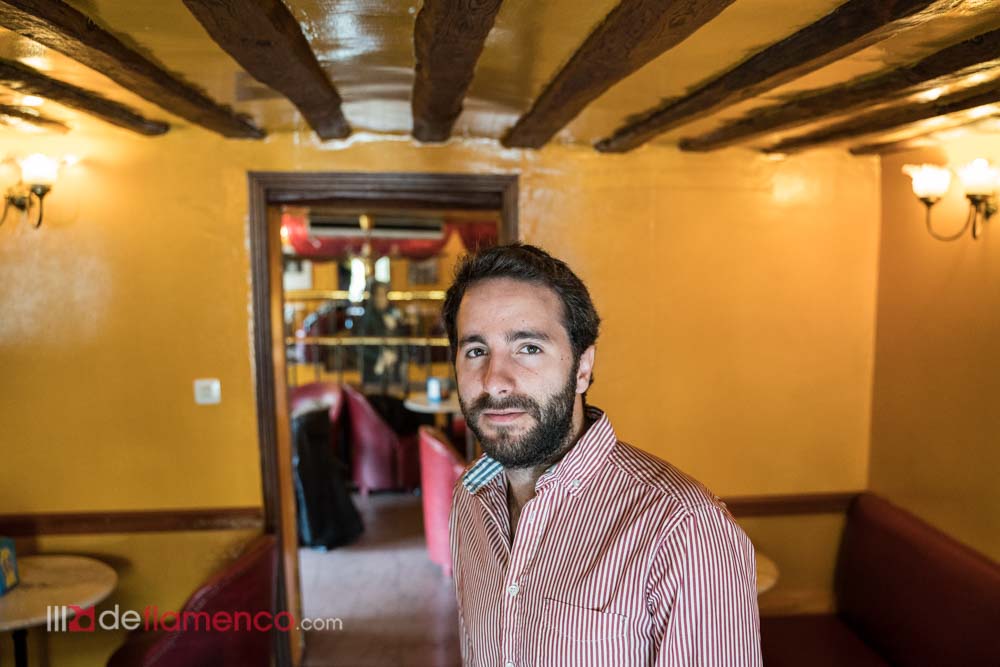 The record was made live.  What artists participate?
It's 98% live, I wanted to do it like that, you record the pieces 3 or 4 times until it sounds the way you want, we spent 5 whole days in the studio, ten musicians all together, all cheering each other on. In the end, it's like one big family.
The musicians on the record are the ones who've always accompanied me, both when I was in Andalusia as well as in Madrid.  Guillermo Hernansaiz on drums, Carlos Bueno on bass, Jesús Múñoz on flute, artists who don't come from the world of flamenco, and that's what I like because they give a different perspective.  The voice is provided by Belén Vega, and in live performance Ángeles Toledano.
And you come backed by numerous prizes, as young as you are, that must be because somehow your music is surprising.
Yes, you have to grab people's attention, and being a first recording, I think it's very lively, the other day someone told me he could tell I really wanted to do this…it would be too much if I didn't feel that way now when I'm just starting out!
And live, aside from your work in the musical "El Rey León", you're on tour with the AIE and already you've got concerts.
If I keep working with Rey León, I'm actually playing what I like and a job that gives me the freedom to go out if I have a concert, or when I had to make the recording, if I didn't have that liberty it would be impossible.  And the AIE deal is great because it gives you a lot of exposure, it's a series that puts you on the map, lots of people are familiar with it and follow those of us involved.
What kind of places do you prefer to perform at?…Jazz festivals, flamenco…?
I prefer flamenco places, but if a jazz or local festival calls me, that's fine, there's the Bogui, the Café Central, Recoletos, now we're at the Café Berlín, as far as I'm concerned, the more places the better.  What we like most is to take our music to the greatest possible number of places, now with the AIE tour we're in Alcalá, Sevilla at the Complutense, Oxford University, the Estival Cuenca, and I'll also be in Cazorla…little by little.
Have you considered going to the Cante de las Minas contest in the specialty of instrumentalist?
Yes, I'd like to go, if it's not too late I'd like to compete this year, I think you have to send a video and if it's selected you go to the semi-finals.  Sergio de Lope, we started out together, he won a few years ago, we'll see if I'm able.
In order to make the record you had to do a crowdfunding.
It was terrific, I wasn't asking much, in just 6 days we got it, so we added on objectives and there was a really good response.  And most of all, because the people who contribute follow what you do, when the record comes out, whether their T-shirt gets to them, you already have 200 people who want to listen to you, without crowdfunding it would never have been possible.