Interview: Rafael Manjavacas
Photos: Beatrix Molnar
Málaga dancer Adrián Santana is putting the final touches on his most recent show "Las Cuatro Esquinas del Perchel" which has the responsibility of closing out the Bienal de Flamenco de Málaga on September 14th at the Cervantes Theater.
The Perchel neighborhood was just outside Málaga, explains the dancer, "Málaga was originally a walled city, a fisherman's neighborhood, simple people with a very important mixture of cultures due to the many outsiders, and also a large gypsy population".  A neighborhood that was the origin of many Málaga flamenco artists.  In his family tree, Adrián Santana has his great-great-grandmother La Bizca, his great-grandmother Aniquita the singer, and he's the grand-nephew of Pepito Vargas, who was his maestro.
In preparation, an investigation was carried out: "I got the information by asking my uncle Tomás, brother of Pepito Vargas, and I found out a lot of things about my family, my roots, and I'm very grateful as well to Paco Roji who gave me a lot of help".  In Las Cuatro Esquinas del Perchel, on La Puente street, Cañeta, Repompa and El Chino were born, that's my father's side of the family, and Cañaveral street is where my mother's family is from, in addition to Zurradores and Imagen streets.
Also from the Perchel neighborhood is Pepita Duran, "who is considered a dancer of the bolero school, but at that time was a flamenco dancer" explains Adrian.  He goes on to say that "the hardship of life was alleviated by singing and dancing, it was a way of life, whoever had some talent made use of it to get through life begging for coins.  My great-grandfather made the rounds of the taverns singing and dancing, that was his way of subsisting, they told me he brought along his son Pepito Vargas, carrying him in his arms, and when the child danced he got more money".
"Las Cuatro Esquinas del Perchel" included four guest artists, two elder ones, Carrete de Málaga and Rafaela la Repompa: "she was retired five years, but she wanted to be in this show with me and I'm very grateful", and two younger ones, along with La Lupi "who revives the character of La Paula in the show", and Raquel La Repompilla – Rafaela's daughter – "each one of them represents a part of the "four corners".
Carrete de Málaga was also formed in the Perchel, "he's the best, a very special character, and he remembers everything perfectly, he told me his parents brought him from Granada to Málaga, and left him there as a child, so he was everyone's boy, and what most called his attention in those times was the forge, the fire, the singing, so in the show he's in charge of that scene, seguiriyas, martinete and the blacksmith songs".
Another part of the show is devoted to the "Circo de Manolita Chen" which was established in the neighborhood for many years.  "Popular singer Miguel de los Reyes would visit, and that's where we get the connection with La Paula, who danced that song in his show, and we've incorporated that, to honor La Paula".
For Adrian the show is a dream come true, the fantasy of how he imagines the Perchel, without actually trying to recreate the communal dwellings or represent the scene:  "I want people to get the feel of the neighborhood though the singing and dancing, it's a dream full of symbols".  A large format show that was overseen by Jonathan Miró, with fine lighting design by Olga Garcia, and Miguel Delgado on set design.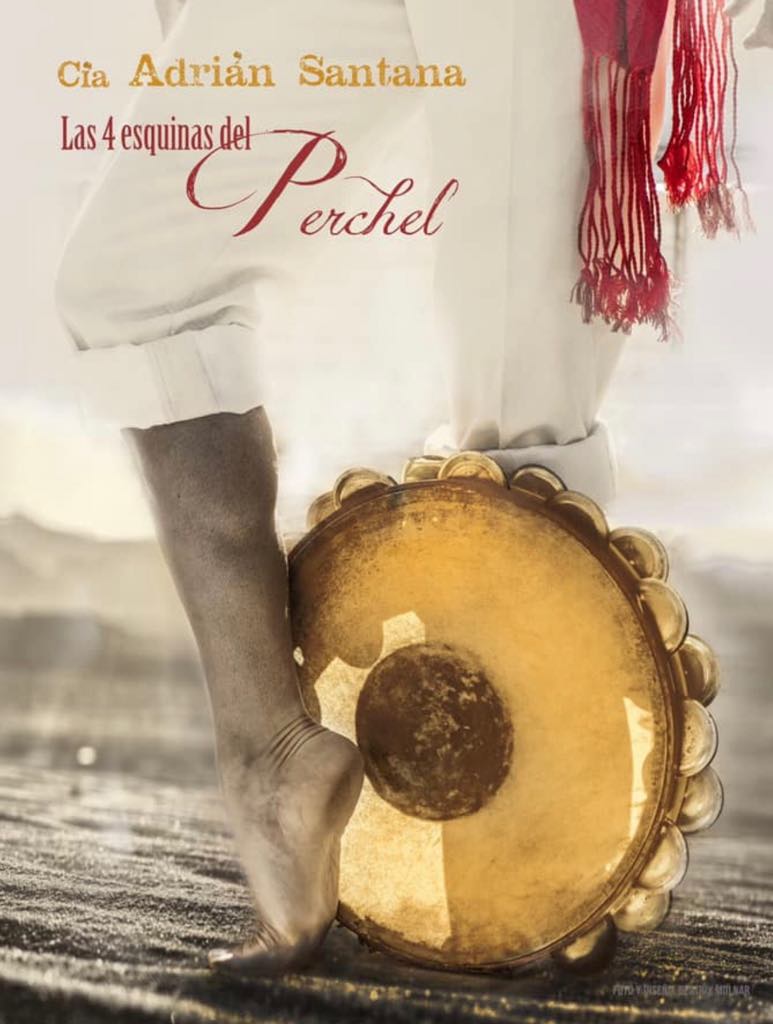 Málaga the homeland
Adrian always defends Málaga, the first time we saw him was in the Pradillo Theater in Madid in 2011 in one of his first shows which was titled "Siempre me Pasa lo Mismo".  "I'm more Málaga than the barefoot fish vendor, my shows always include verdiales, tangos del Piyayo, rondeñas, malagueñas…  But this show, it's never been presented in Málaga, it's an attractive debut worked as a group, not individually, a different vision".
The Flamenco Bienal of Malaga is held in the uneven years since 2007 throughout the province between March and September.  Adrián is very pleased "they thought of me for the closing of the Bienal, it's a very important  occasion and a great responsibility".
It's interesting to note that Adrián took up dance at the school of his uncle Pepito Vargas, as well as at the conservatory.   He explains "my cousin Elizabeth with Down's síndrome would always take me out to dance sevillanas at parties and I couldn't do it, so I told my mother to sign me up for sevillanas classes so I could dance with her .  In the student recital at the end  of  the year my mother was crying, she saw that for me it wasn't  just  a hobby and that I took it very seriously.  So the teacher counselled that I should be taken to the conservatory.  At the same  time my great-grandmother Aniquita said I should go to study with my uncle Pepito Vargas.  My uncle got angry and  said I shouldn't go to the conservatory because it would take away my personality, so I went to the conservatory behind his back.  And I was delighted to have both schools, the one more technical, and the other, pure flamenco". 
Last year Adrián won the second prize for dance at the Cante de Las Minas de La Unión where he surprised everyone with his use of castanets  and shawl: "it was a great experience, as a result of my participation some very positive things have come my way".  Hard  work has its reward. "I'm sure this show will do very well, I hope I can take it to festivals like those of  Albuquerque, Jerez or the Seville Bienal, I'll work hard to make it happen".