Text: Estela Zatania
Photos: Ana Palma
22nd FESTIVAL DE JEREZ
El Carpeta "A Bailar"
Pepe Habichuela y Diego de Morón
Saturday, March 10th, 2018. 9:00pm. Teatro Villamarta. Jerez de la Frontera
Dance: El Carpeta. Guitar: Román Vicenti, David Caro. Flute: Sergio de Lope. Piano and electric bass: Melchor Borja. Voice: Ezequiel Montoya "Chanito", Juan Fernández "El Negro", Iván Carpio. Percussion: Fali del Eléctrico, Lolo Fernández. Special collaboration: Rosario Montoya "La Farruca", África "La Faraona".
Saturday, March 10th, the twenty-second Festival de Jerez came to an end, not with a bang but a wet whimper.  The images that circulated of severe leakage at the Villamarta Theater from days of heavy rain, were more talked-about than the shows, and Manuel Fernández Montoya "Carpeta" offered a performance short on dance and long on filler.
Although the show "A Bailar" was announced as a premier performance, we saw it two years ago at the Viernes Flamencos de Jerez as "Sevilla al Baile: La Farruca y El Carpeta", with a nearly identical cast of artists, and the same format.  On that occasion I wrote: "they delivered their magic in small doses with two dances by Carpeta, and one by la Farruca, as interesting as they were brief".  It could be argued that it makes no sense to protest the extreme brevity of Carpeta's or Farruca's performances, because what they do is pure gold.  But the guitar solos, instrumental numbers, songs to piano and extravagant presentations and bows, tested the audience's patience and people began to trickle out towards the end.
Especially interesting was the soleá de Charamusco including, for the second time in this festival, "Reniego de los rosales" of Pepe Marchena who is actually becoming popular among the most flamenco-sounding singers.  La Farruca brought excitement in the few minutes she danced soleá, and África la Faraona was noteworthy with her strong personality dancing in the family line.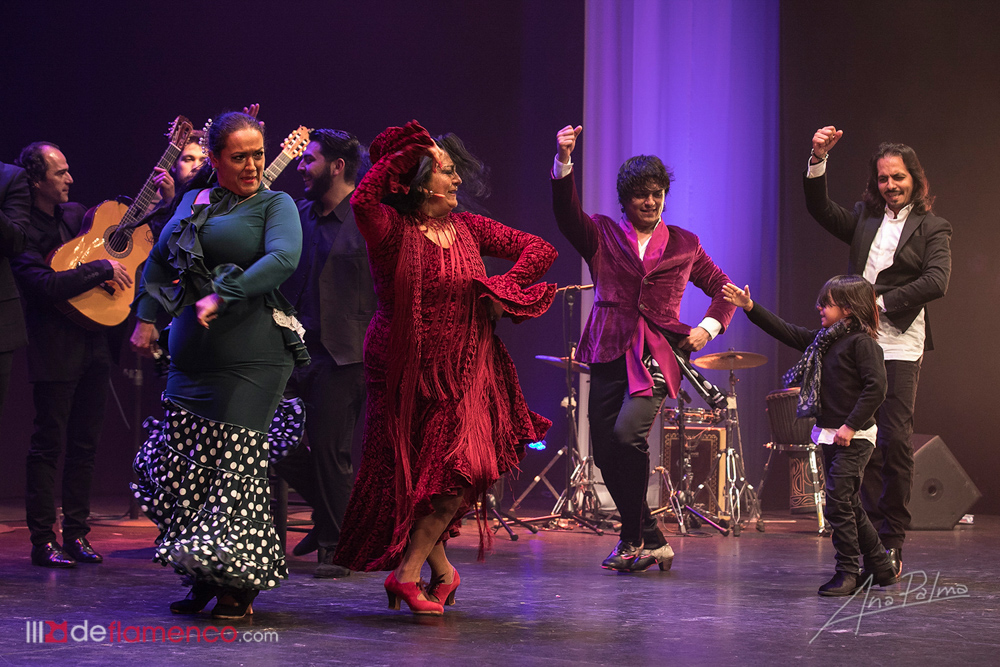 Video El Carpeta:
---
PEPE HABICHUELA y DIEGO DE MORÓN
Sala Paúl, 7:00pm
At seven in the evening, two veteran guitar players shared an emotional but simple  recital.  Two seventy-something men, defended the flamenco they've known since birth, and did it well because they don't want or know how to do anything else, rejecting contemporary harmonies and virtuosity as a legitimate end, each with his own strong personality that gives away their origens.
Diego de Morón, Dieguito del Gastor as I knew him more than 45 years ago.  To say "unmistakable sound" falls short.  That way of playing, that characteristic touch, that "cuerda pelá", the slides, the aggressive thumping on the face of the guitar and those "variations" of his uncle Diego, comprise a sound which is immune to evolution.  There's little more than bulerías and soleá, nor is anything else required, although Diego also played siguiriya, and a lovely rondeña: in Morón the mountains are close by, and their aroma emanates from this man's guitar.  He stops cold saying he has to adjust the tuning…and then continues right along.
He also apologized for deficient technique which he explained is the result of being little accustomed to playing in public, and a voice from the audience continually shouts "ole!" every few seconds.
Video Diego de Morón
Then it was Pepe Habichuela's turn, interpreting the powerful guitar style of his home turf of Granada, because this is all about socio-geographic identity.  Two places other than Jerez can boast of a clear personality in guitar: Morón and Granada, and Pepe Habichuela is the patriarch of the latter.  He shows the same humility and love for his heritage as Diego, and like the man from Morón, he uses the notes of his instrument as paint-brushes to show us his own particular landscape.  It's a somewhat more modern playing style, with the noticeable influence of Sabicas of whom he claims to be a faithful admirer.  Soleá, taranta, alegrías, bulerías, siguiriyas cabales, and at the end the two maestros bow together for a very grateful audience.
There was guitar before Paco de Lucía, and there will continue to be guitar, and for many many years to come…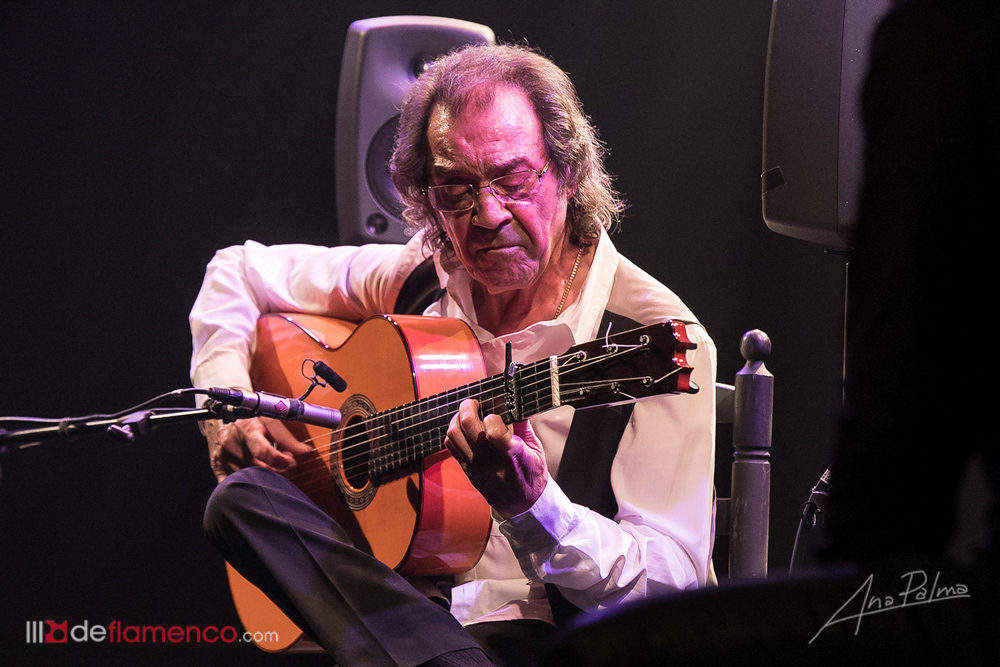 Foto Pepe Habichuela por Ana Palma
Video Pepe Habichuela
Foto Ana Palma
---