Text: Estela Zatania
Fotos: Ana Palma
Ballet Nacional de España
Friday, February 23rd, 2018. 9:00pm. Teatro Villamarta, Jerez de la Frontera
Special 22nd Festival de Jerez
BALLET NACIONAL DE ESPAÑA
ERITAÑA Choreography: Antonio Ruiz Soler. Music: Isaac Albéniz
SOLEÁ DEL MANTÓN Choreography: Blanca del Rey. Music: Jesús Torres
ZAPATEADO SARASATE Choreography: Antonio Ruiz Soler. Music: Pablo Sarasate
BOLERO Choreography: Rafael Aguilar. Music: Maurice Ravel
ALENTO Original idea and choreography: Antonio Najarro. Music: Fernando Egozcue. Recorded music: Orquesta de la Comunidad de Madrid. Fernando Egozue: guitar. Coni Lechner: piano. Martín Bruhn: percussion. Director: Joan Albert Amargós
Ballet Nacional de España. Director: Antonio Najarro. Assistant director: Azucena Huidobro. Main dancers: Esther Jurado, Francisco Velasco. First dancers: Aloña Alonso, Inmaculada Salomón, Sergio Bernal, Eduardo Martínez. Soloists: María  Fernández, Débora Martínez, Miriam Mendoza, José Manuel Benítez, Carlos Romero, Carlos Sánchez. Corps de ballet: Cristina Aguilera, Estela Alonso, Sara Arévalo, Pilar Arteseros, Marina Bravo, Cristina Carnero, Alba Dusmet, Alba Expósito, Patricia Fernández, María Martín, Tania Martín, Sara Nieto, Carla Prado, Irene Tena, Vanesa Vento, Javier Carabello, Antonio Correderas, Juan Pedro Delgado, Albert Hernández, Antonio Jiménez, Álvaro Madrid, Adrián Maqueda, Álvaro Marbán, Víctor Martín, Alfredo Mérida, Pedro Ramírez, Daniel Ramos, Axel Galán. Singers: Saray Muñoz, Gabriel de la Tomasa. Guitar: Diego Losada, Enrique Bermúdez, Jonathan Bermúdez. Percussion: Roberto Vozmediano. Piano: Juan Álvarez.
The twenty-second Festival de Jerez opened last night at the Villamarta Theater with the Ballet Nacional de España, under the direction of Antonio Najarro, with a numerous cast – the names of some forty interpreters, and another forty or so of the technical team appeared on the handbill – for a long program of historic choreographies, and some new ones, to display the diversity and excellent level of the company which this year celebrates the 40th anniversary since its founding.
It's always been the intent of the organization of this Festival to present both flamenco and Spanish dance, although the former has dominated the program year after year.  Historically, the repertoires of companies and "ballets" had long included both branches of this discipline, including that flamenco dancer par excellence, Carmen Amaya, whose shows included a large dose of what was called "semiclassical dance".
Having said that, the most concise review of what we saw last night would be: a high technical level, absolute discipline, a sincere desire to offer quality and opulence in the presentation, but with relatively lukewarm results, considering the investment, both economic and human.
The first piece on the program was arguably the high point of the show.  "Eritaña", of Antonio Ruiz Soler, which debuted in 1960, is a beautiful portrait of bolero school dance, based on traditional forms of the 19th century.  The impressively detailed wardrobe turned the stage into a picture postcard of the era.
The legendary "Zapateado de Sarasate", another choreography of Antonio's (no surname required since that's how he's know by flamenco followers), is celebrating seventy years since its debut.  The words of the famous dancer cited in the dossier, "you have to speak with your feet, not pound the floor", summarizes the essence of this piece, lovingly recreated by José Manuel Benítez who manages to reproduce the maestros famous moves and gestures.
La "Soleá del Mantón", a creation forever linked to the name of its creator, Blanca del Rey, was interpreted by Esther Jurado.  Now and again the magic of a pas de deux between the dancer and the shawl seemed to take shape, but since comparisons are unfair, let's just say it was a stylized and competent interpretation.
In Ravel's "Bolero", a popular favorite with generations of music-lovers and dance-aholics, the obsessive repetition of the music was not relieved by choreographic variety, and the piece didn't quite come together.
After intermission, the program finished with a creation of Antonio Najarro's.  "Alento" is a suite of six scenes, with some very good moments.  It oozes an urban feel with a contemporary patina and a certain street atmosphere, like an Iberian West Side Story.
In the end, what I most appreciated were the lovely wardrobe, the intelligent use of castanets and the professionalism of the entire company.
Photo: Ana Palma
Video:
---
ANTONIO REY "Dos partes de mí"
Bodega González Byass, midnight
Opening the program of recitals at the González Byass winery, young maestro Antonio Rey, born in Madrid and raised in Jerez, came to present his new recording, "Dos Partes de Mí".
Having won top prizes at the La Unión and Córdoba, and a Giraldillo, among other important distinctions, in addition to a collaboration with Paco de Lucía, his command of the instrument comes as no surprise.  A powerful touch and beautiful original music, contemporary in just the right degree, is the key to his style.  He came accompanied by second guitarist Manuel Urbina, his sister, singer Mara Rey, with her toasted caramel voice, a bassist whose name was not on the program and the versatile Makarines on chorus and compás.  The crowning touch was guest artist, dancer Joaquín Grilo.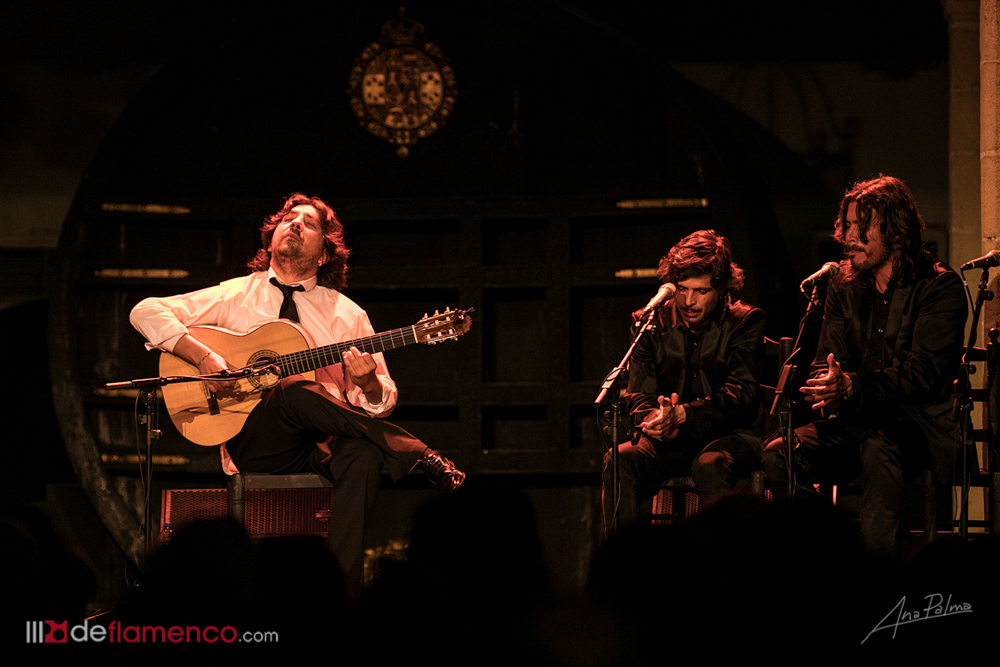 Photo Ana Palma –
Video:
---