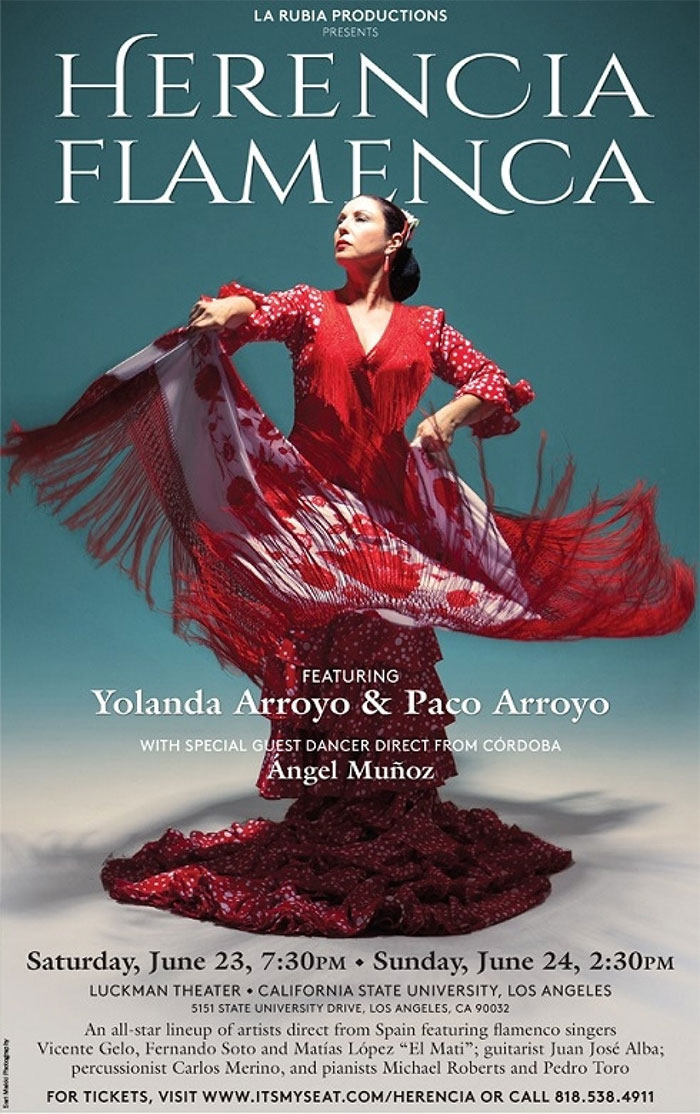 Herencia Flamenca – L.A.
"HERENCIA FLAMENCA"
Saturday, June 23, 2018 at 7:30pm
Sunday, June 24, 2016 at 2:30pm
Luckman Theatre Complex, Cal State L.A.
5151 State University Drive
Los Angeles, CA 90032
Premium Front Orchestra Seating both days:
http://www.itsmyseat.com/herencia
Photo Credit: Sari Makki Photography
"Herencia Flamenca" featuring Paco and Yolanda Arroyo continues its tradition of showcasing the artistry of flamenco's most explosive, passionate, and talented dancers and musicians June 23 & 24 at the Luckman Theatre.
Weaving a rich tapestry of culture, and deeply-rooted heritage, flamenco captures the heart and soul of Spain. La Rubia Productions is proud to present "Herencia Flamenca," an all-star showcase of flamenco artists poised to set the stage at the Luckman Theatre on fire. The performances feature explosive dancer Yolanda Arroyo and guitar virtuoso Paco Arroyo, along with guest artist Angel Muñoz and some of Spain's hottest vocalists, and instrumentalists.
"Herencia Flamenca" draws upon the passion and depth of flamenco to transport the audience to the heart of Spain. Since its premiere in 2014, "Herencia Flamenca" has garnered recognition and praise from audience members and media outlets alike. Their unrestrained energy, raw emotion, and commanding virtuosity have been described as "impressive" and exhibiting "outstanding skill" by well-established dance critics. This dynamic company represents the finest of traditional and contemporary flamenco.
"We are extremely fortunate to be able to present such exceptional artists in our upcoming season. They are brilliant performers, who are accomplished and well-respected throughout the world of flamenco, and it is our honor and pleasure to be able to share the stage with them in June."
– Paco & Yolanda Arroyo