Flamenco Festival London
Flamenco Festival London – 2 – 14 July
Ballet Flamenco Sara Baras
2 July – 6 July 2019 19:30 Sadler's Wells Theatre
7 July 2019 16:00
Sadler's Wells Theatre
Coinciding with the 20th anniversary of her dance company, "Sombras" (shadows) is defined by its creator as a "gran farruca". Sara Baras proposes with her last show a journey in time, through colors, silence and sound, crowd and solitude, light and shadows. "Sombras" is born out of the shadow of the "farruca", that has accompanied Sara and grown with her. A new magical scenery that is unique, and has Sara's signature all over it. She continues to cling to old school flamenco but taking us a step further into a new emotional dimension. Sara Baras takes the audience to new places where the can feel identified, where they can rest and wish to be part of the dance company. They wish to be a part of it to be able to feel, with every guitar chord, the "quejío" of the voices, to hang from the skirts of the costumes.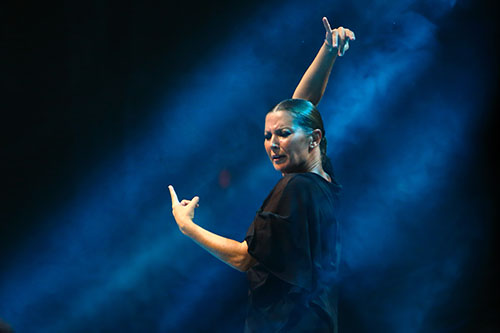 ---
Amir ElSaffar Ensemble
6 July 2019 17:30 – 20:00h Sadler's Wells Theatre
The acclaimed Iraqi-American musician Amir ElSaffar is known for effortlessly fusing the mysticism of the Iraqi maqam tradition with flamenco and jazz. In Luminiscencia, ElSaffar brings together an ensemble of great exponents of the new vanguard of Flamenco; including vocalist Gema Caballero, a rising star and one of the most distinct voices on the scene, Vanesa Aibar, a Flamenco dancer going beyond the conventions of the form and Flamenco percussionist Pablo Martin Jones, a regular collaborator to Flamenco artists. The ensemble also includes mastermind electronics musician Lorenzo Bianchi Hoesch, as well as ElSaffar's sister, Dena ElSaffar, who plays violin and traditional Iraqi fiddle. Using elegant, melodic arabesques to connect traditions, this special line up merges passions for classical forms into a unique evening of soulful dance and music.
Miguel Poveda
8 July 2019 19:30h Sadler's Wells Theatre
The flamenco singer Miguel Poveda is renowned for both his deep respect for the heritage of the music, and also his improvised approach to it.
In his first show at Sadler's Wells since 2014, Poveda takes the audience on a tour of the traditional musical forms of flamenco, from the cantinas of Cadiz to the demanding la soleá repertoire, all the while sharing his personal connection to the music with a spontaneity that ensures a completely unique performance.

Rocío Molina
9 July 2019 19:30 Sadler's Wells Theatre
The type of flamenco that Rocío Molina proposes in Caída del Cielo has something important, she goes deep into her roots and at the same time, freely, she brings her style of flamenco face to face with other languages and ways of interpreting the scene; while being aware that flamenco is an expression of freedom, and it cannot be and should not be domesticated.
This piece is a journey, a descent. We are witness to the journey of a woman, guided by her dance, which is intuition and substance, through lights and shadows, and with her we fall into the silence, the music and the noise within unknown territories. In our presence: what can be palpable and what it is normally hidden from our view materializes in Rocío's body. She dances and establishes a different relation with the earth and so you have the feeling that her dance is born from her womb and the soil she kicks, and thus her dance becomes the celebration of being a woman.
This descent or fall is the one-way journey of a woman, but Rocío does not lead us to the inverted image of The Fallen Angel, as it happened to Dante in his "Divine Comedy", but she takes us to a place of deep freedom. In her journey, it seems that her soul is breaking and that we are submerged into a dense and opaque sea, a dark landscape full of lightning bugs that guide and elevate us as we fall, towards a dark paradise and a colorful darkness in constant movement.
In conclusion, this piece is the journey, descent or transit of a woman who goes from having a body which is in balance to having a body that celebrates being a woman, a body which is immersed in the tragic sense of the celebration.

Dorantes, Tim Ries and Adam Ben Ezra – Jesús Carmona
10 July 2019 19:30h Sadler's Wells Theatre
Dorantes: piano
Adam Ben Ezra: double-bass
Tim Ries: sax
Jesús Carmona: Guest artist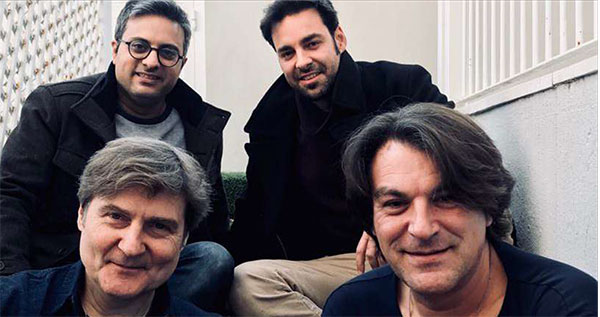 Olga Pericet
11 July 2019 19:30h Sadler's Wells Theatre
With this show, Olga Pericet embarks upon a personal journey through dance based on memories, injuries and embraces from the past. Time caresses her as if it were a dream, blending the real with the surreal in a single space and time: her interior.
It is an artistic journey having a personal language that ventures into the unknown, based on her roots, sowing new flowers, creating a universe in which the feminine and the masculine, humour and the dramatic appear in equal parts, leading way to a meeting of lights and shadows of mankind. It fiercely questions, in the images stored away in the memory of a strange and not always complacent beauty, where the dark walks quietly and spills over in sporadic gusts, so as to finally discover the light.
A gallery of dramatic games where the woman remains in power in a miscellany of sculptures and transformations, where she lives, between the beautiful and the ugly, happiness and the bittersweet, restraint and the lewd, sensuality, the hen and the horse, youth and decay, all framed musically within a mixture of songs and rhythms that move together, beating in one flamenco style and its opposite.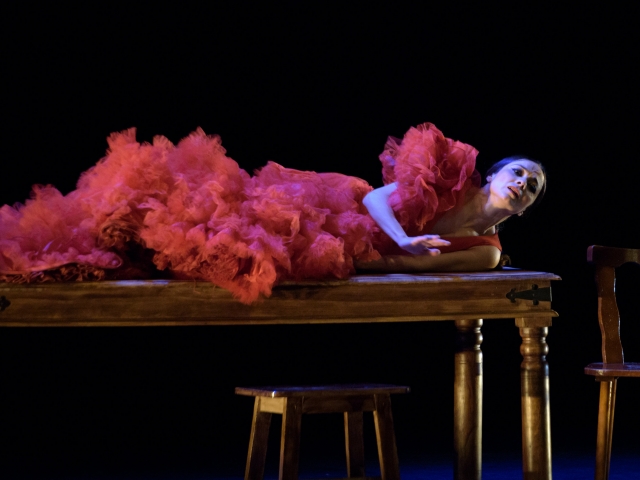 Gala Flamenca
Mercedes Ruiz · Eduardo Guerrero · María Moreno · María Terremoto
12 July 2019 19:30h – 13 July 2019 15:30 – 13 July 2019 19:30h – Sadler's Wells Theatre
Always a highlight of the Flamenco Festival, the annual Gala Flamenca is a showcase for the very best in flamenco. Welcoming back Manuel Liñan as director, this year's line-up features "obsession made flesh" (Financial Times) Mercedes Ruiz, "flamenco in its richest current incarnation" (Dance Magazine) Eduardo Guerrero and Cĩa Eva Yerbabuena dancer María Moreno, joined on stage by singer Maria Terremoto – the youngest ever recipient of the Giraldillo award for new artist at the Seville Flamenco Biennial.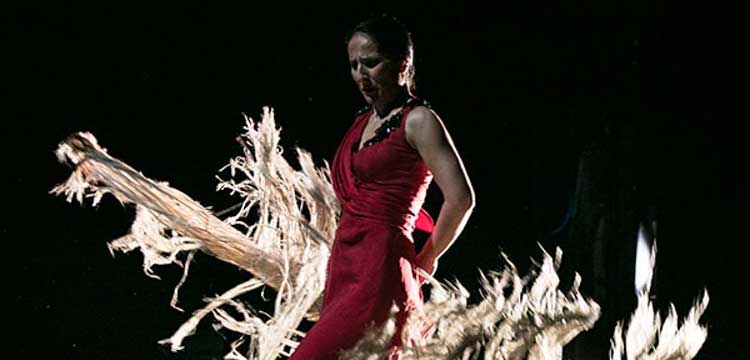 David Carmona
12 July 2019 18:00h Lilian Baylis Studio
A virtuoso of flamenco guitar, David Carmona performs "a crazy dream" for his London debut. Playing off the musical traditions of Andalusia, Carmona conjure up an entire world in his compositions. "Blessed is David Carmona because the guitar in his hands points to the sky", El Mundo.
Kiki Morente
12 July 2019 20:30h – Lilian Baylis Studio
The son of a legendary cantaor and a bailaora, the singer and guitarist Kiki Morente has flamenco in his blood. Referring to the historic Gypsy neighbourhood in Granada, Morente's Albayzín, filled with classical tradition and contemporary innovation, is in many ways a homage to his father and features a young dancer from the region, Irene Rueda.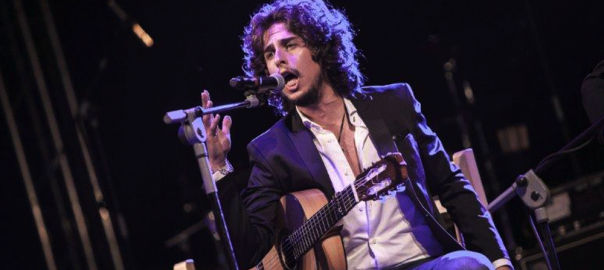 Sergio de Lope
13 July 2019 20:30h – Lilian Baylis Studio
The award-winning flautist and saxophonist Sergio de Lope brings true flamenco soul to his jazzy compositions. For his London debut, he and his ensemble pay homage to the flamenco masters who influenced him, with rising star of the next generation Cristina Aguilera appearing as a guest dancer.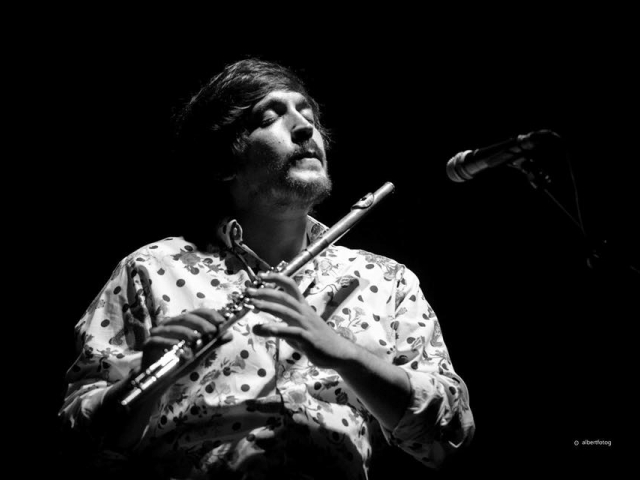 Jesus Carmona
13 July 2019 18:00h – Lilian Baylis Studio
Formed over an intensive week-long artistic residency with the festival, Jesús Carmona shares the results of his delve into the idea that masculine and feminine energies are not based in gender in an attempt to transcend social conditioning and narrow definitions of masculine identity.
Patricia Guerrero
14 July 2019 19:30h – Sadler's Wells Theatre
It is the beat and the dance out of context, voice and percussion, joyful music. And on top, nourishing, floats the story, a reflection over what's mystic, a character above reality with an essence between human and divine, living its story in mourning, in threat, in fear.
It is transit, transformation, loss, madness. It is the attempt to defeat destiny. Catedral is all about an initiation in which the devoted observer comes to a stop, silence their words, and set their hearts ready for the sacred liturgy of the dance, for the dialogue with the world of creation. It is the connection of our outer space, the profane, with the sacred inside.
It is the Dance that, as an Architect, organizes a structure that allows it, through the use of technique, to transfigure and dissolve all substance of the building elements, reaching clear sensations of elevation and ingravity.