Flamenco Courses - Off Festival de Jerez
La Guarida del Ángel and Faro Producciones with Centro Andaluz de Flamenco
September 7, 2015
Twittear
DANCE, CANTE, GUITAR AND RITMO&COMPÁS
From 22 February to 4 March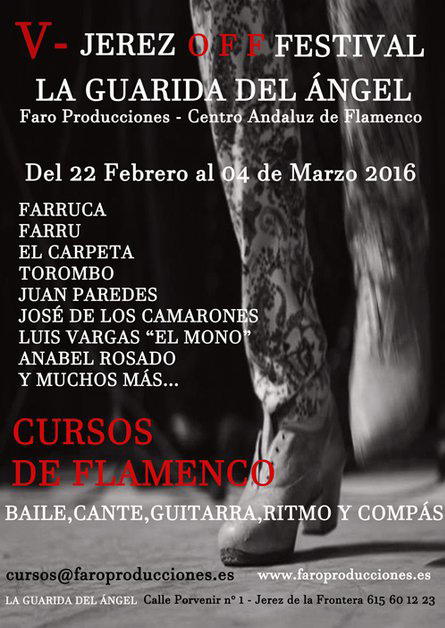 ---
DANCE:
Familia Farrucos (La Farruca, Farru and El Carpeta), Juan Paredes
Torombo
---
RITMO Y COMPÁS
Carlos Grilo
Torombo
---
CANTE:
Luis Vargas "El Mono"
José de los Camarones
Anabel Rosado
---
GUITAR:
Jesús Agarrado
Antonio de Cos
---
PROGRAMME OF THE COURSES:
LEVELS:
1st BEGINNER/BASIC.
2nd INTERMEDIATE/ADVANCED.
Duration of the course:
10 hours (2 hours a day)
---
1st COURSE Days: From 22 February (Monday) to 26 February (Friday)
2nd COURSE Days: From 29 February (Monday) to 4 March (Friday)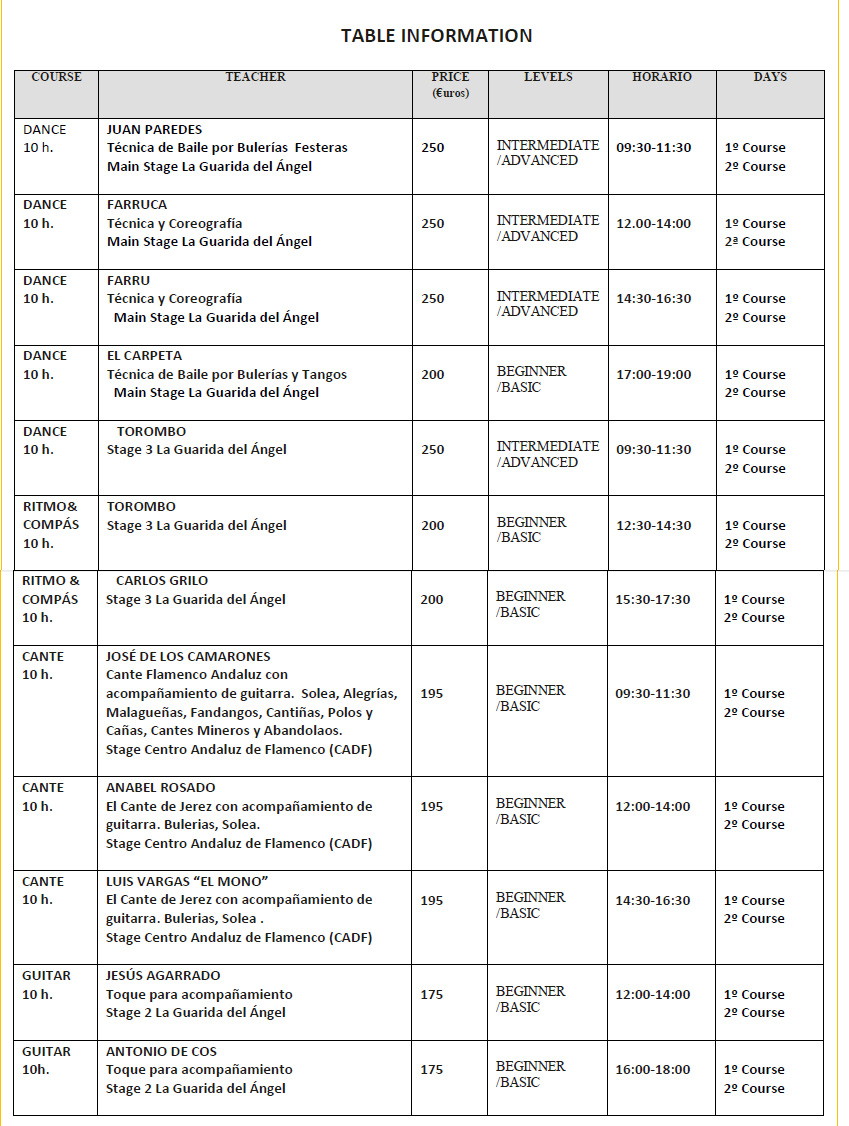 Venue:
Sala La Guarida del Ángel Calle Porvenir nº 1. San Miguel neighbourhood, Jerez.
Centro Andaluz de Flamenco (CADF) en Plaza San Juan s/n, Jerez.
Timetable:
Monday to Friday from 09:30 to 19:00.
Number of participants:
25 participants per course.
The course will be taught in Spanish.
The participants that enrol in more than one course on the same week will have a 15% discount.
-----------------
RULES FOR PARTICIPATION ENROLMENT
Enrolment applications can be made as follows:

Via email to: cursos@faroproducciones.es stating in the subject: Enrolment COURSE.

Or directly at the Office of Faro Producciones situated at Plaza del Arenal, nº14, 3ºIzda, Jerez de la Frontera, 11403

ENROLMENT PERIOD: FROM AUGUST 15.

Due to the limited number of participants, the enrolment to the Courses will be done in strict order of arrival.

METHOD OF PAYMENT:

The payment of the enrolment will be made in Euros and by means of one of the following procedures:

-Bank Transfer in favour of Faro Producciones - Bank account number: ES21 2100 8540 8002 0010 1065 CAIXESBBXXX from La Caixa at Plaza del Arenal, 3, 11403 Jerez de la Frontera, Cádiz Tfno.: + 34 956 15 02 10

- Paypal at web link (www.faropodrucciones.es)

The copy of the bank transfer must be sent via email to: cursos@faroproducciones.es

The name of the Student and the Course must appear on this copy.

Once the bank transfer is received, a confirmation email will be sent, confirming the enrolment to the course, not being able to cancel and, therefore, no refunds will be made under any circumstances.

ATTENDANCE CERTIFICATE.

La Guarida del Ángel and Faro Producciones, with the collaboration of the Centro Andaluz de Flamenco, will issue an attendance certificate, which will prove the number of hours taught and the corresponding teachers, to all participants.